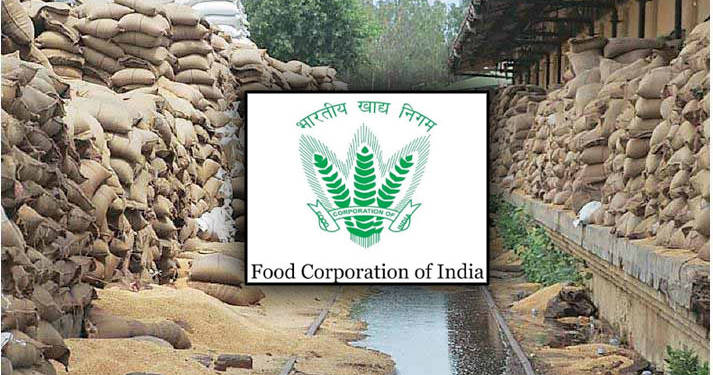 Strengthen the procurement system and provide adequate budgets to the Food Corporation of India (FCI), said farmers and other people's organizations in a memorandum to be submitted to the Union Ministry of Consumer Affairs on April 5, 2021.
Marking the day as "FCI Bachao Divas," farmers announced a plan to gherao all FCI offices and demand various corrections to FCI's procurement along with longstanding demands of a legal guarantee for Minimum Support Prices (MSP) and withdrawal of the three farm laws.
"The farmer is concerned about the value of his crops. Major procurement agencies including the FCI are escaping from procurement," said the Samyukt Kisan Morcha (SKM) in a press release.
As such, farmers warned of intensified struggles if the central government did not agree to repeal the decision to submit Jamabandhi for wheat procurement. Similarly, the provision of direct payment to bank accounts must be withdrawn. Farmers said that implementing such a policy in haste may result in many complex problems that will keep farmers from availing proper crop prices.
Moreover, farmer leaders said crops must be bought on remunerative MSP. Otherwise, concerned buyers should face strict action. Accordingly, the government should provide proper funds and procurement centres to the FCI. Crop procurement must also be done within minimum time while ensuring that farmers do not face any problem due to shortage of bags and other facilities.
The SKM reminded that India's Public Distribution System (PDS) service functions through the FCI to provide food for millions of people. Storage should be continued by the government and run smoothly so that people do not have to suffer from hunger. Further, contract employees should receive permanent charges and vacant posts in the FCI should be filled.
On April 3, the Mitti Satyagraha yatra that started from Dandi, Gujarat reached Sirsa, Haryana. There, participants built a kisan chowk to honour the people, who died while participating in the farmers' struggle. However, farmers alleged that the Sirsa administration and other parties destroyed the memorial at night.
"Earthen pots with soil from the land of martyrs across India were destroyed. The SKM strongly condemns this incident. This is another occasion from where BJP has proved that they are not only disagreeing with the farmers but are also extremely hostile towards farmers," said farmer leaders.
Nonetheless, the yatra will continue towards Delhi where a 'martyrs' memorials' will be built at border protest sites using the soil collected from across the nation.
Related:
Farmers' struggle, a battle against a single party's communal thoughts: Punjab SKM leaders
Protection of FCIs, a matter of food growers' future: AIKMS
Farmers to commemorate Samvidhan Bachao Diwas on Babasaheb Ambedkar's birth anniversary
Assam's rice farmers express fears concerning government's free rice scheme
Farmers may lose nearly Rs. 5,000 crore this season: MSP Loot Calculator