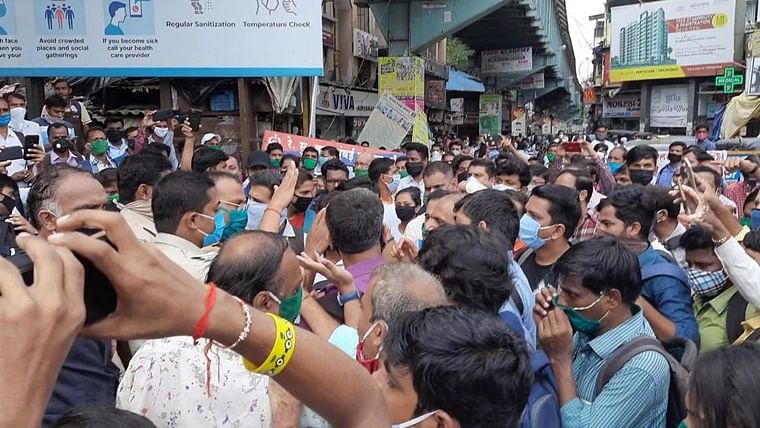 Angry Virar office-goers demand restart of Mumbai local trains
Jimit Rathod travels from Virar to Andheri every day using his own vehicle. He leaves his home by 10 AM and reaches his office at 1 PM, thus spending about 6-7 hours of his day in travel. When asked about public transport, Rathod said he considers State Transport (ST) buses his last option. Buses in Virar run at a low frequency of one or two buses per hour, he said. Moreover, the one time he had travelled by a public bus he estimated a crowd of 30-35 people inside the vehicle.
Rathod said traffic congestion was the biggest problem as far as road transport is concerned. Private vehicles had increased on the road during the lockdown.
When asked about traffic police, he said the number of personnel had dwindled in his opinion. For the last month, he had not seen any traffic personnel on the street although he travelled nearly every day to his office. Even so, he said he preferred to drive directly to his office rather than be dropped off by the bus at a common bus-stop.
Building on this notion, Professor Yatin Ingle who travels from Virar to Vile Parle once a week, said that commuting to work had become a question of finance. Railways, the lifeline of Mumbai, remain closed for civilians except essential service workers. Accordingly, civilians choose private vehicles over public transport in a bid to save time and energy. Ingle has no other option but to invest in private cars because he needs to reach his college on time.
"Nowadays, even Rs. 2,000 to Rs. 2,500 is not enough for a day's travel," he said.
Even private buses charge Rs. 500 for a one-way ticket to Mumbai. So, it becomes a question of paying more for less time or paying less and spending more time on the commute to work.
Ingle was not a part of the Virar protest on Monday where people demanded the reopening of trains. However, he said that he wouldn't mind the start of trains as long as social distancing norms were adhered to.
Meanwhile, on the other side of town, a government official travels from Thane to South Mumbai by private car. Although a government official, the person – who wished to remain anonymous – preferred not to travel by train because the number of railway travellers had allegedly increased, which added to the anxiety of catching coronavirus.
So, citizens seemed to prefer private vehicles as less of a health hazard. However, BEST PRO Manoj Varade assured that, even before the lockdown was announced, all 27 BEST bus depots in Mumbai conducted health and hygiene awareness programmes in the first week of March. The public body also said they distributed masks, sanitisers, plastic screens and hand gloves among their employees. As a further precaution, they washed each of their buses after a trip was completed.
"Currently, we are running approximately 3,400 buses per day. If each bus makes 10 rides a day, we wash the bus 10 times," said Varade.
Accordingly, he encouraged more people to travel by public buses. Before the lockdown announcements, BEST buses interacted with as many as 30 lakhs passengers. Once Railways were shut for civilians, even those passengers depended on public buses. Varade insisted that the BEST has enough personnel and infrastructure to bear the load of the city.
"We can't just add buses. So, we appeal to people to wait for the next bus even if they do not reach on time. We also appeal to them not to abuse conductors and drivers who uphold social distancing norms," he said.
He acknowledged that the huge number of private vehicles on the road interferes with the scheduled trips. Varade said that the organisation had been requesting the government for a dedicated lane that would be reserved for public transport and ambulances alone.
Despite Varade's assurances, President of Bus For Us, Rohit Dhende argued that the combined strength of Mumbai and its suburban passengers would be too much even for BEST and ST buses combined. He said the strain would be too much for these buses that have been working since March 22.
Dhende pointed out that people as far as Dombivali, Thane, Borivali depended on trains. While buses could increase their frequency, they wouldn't be able to increase its employees some of whom, he said, had contracted Covid-19.
Additionally, he said that nobody adhered to social distancing norms. As many as 100 people can be seen riding a public bus at times. This makes the situation particularly dangerous for bus drivers and conductors. Thus, he stressed that all employees, not just BEST workers, should be given protective gear as well as due monetary compensation.
Related:
Citizens take a stand to keep Aamchi BEST alive
BEST threatens strike if drivers and conductors not given PPEs by Maharashtra gov't
ST buses pick up 21,714 stranded migrants from highways: M'tra
US KARO, BMC! Chief Pardeshi says BEST will only be a feeder service in the future