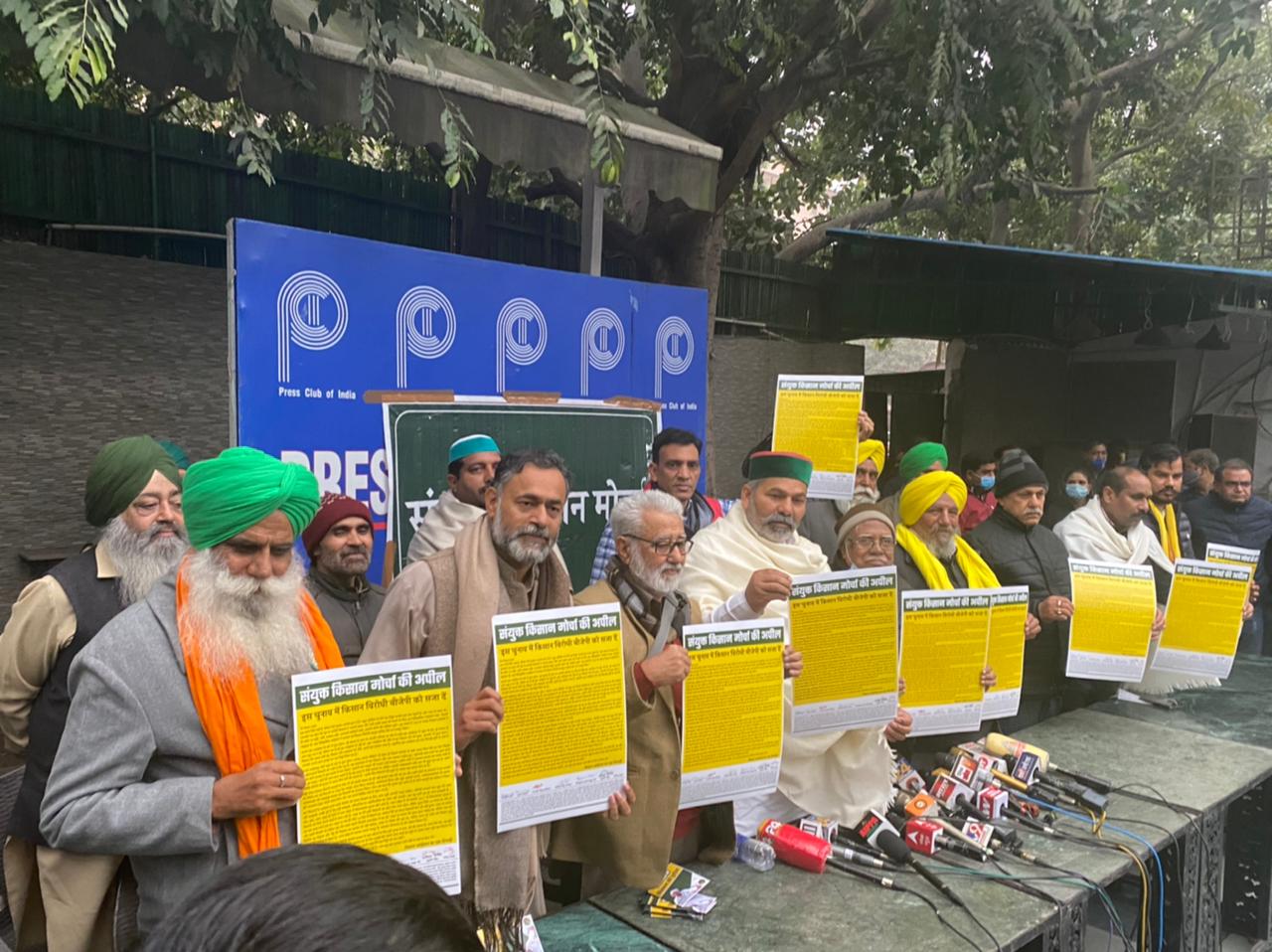 Punish anti-farmer BJP during state elections, farmers' umbrella body Samyukta Kisan Morcha (SKM) appealed to Uttar Pradesh, Uttarakhand residents on February 3, 2022 while announcing Mission UP/ UK.
"We have decided that "punish BJP" will remain the thrust of SKM's further initiatives. We will prepare a letter to be distributed till the district-level along with village-level or mohallah-level meetings to urge citizens not to vote for the BJP in this election," SKM leader Hannan Mollah said during a press conference At Club, New Delhi.
Leaders noted that the central government backtracked on its written assurances regarding an MSP committee, withdrawal of cases against farmers, compensation and many other fronts. Similarly, the matter concerning the Lakhimpur Kheri massacre on October 3, 2021 has remained an emotional question for farmers – as has Union Minister Ajay Mishra's continued position in the Union Cabinet.
Farmers continue to demand Mishra's suspension for his role in the incident wherein four farmers and a local journalist were run over by his son Ashish Mishra.
For this, the SKM released a pamphlet endorsed by 57 farmer organisations that said, "What did the Yogi-government that promised to end 'goondagardi' do about this? It saved the accused. The minister's son was caught only after the Supreme Court intervened. Even the court proceedings showed the attack was planned. Yet the culprit is roaming free. Why?"
According to SKM leader Rakesh Tikait this document will be distributed to the residents in UP and UK states. He said that UP sugarcane farmers have been waiting since 2017 for the government to complete procurement. Similarly, potato farmers have been suffering due to failed sales too.
"Across India, no farmer has properly received the benefits of MSP," said Tikait.
For this reason, the SKM has started its Mission that includes 8-10 events through UP to discuss farmers' issues. Leaders like Yogendra Yadav, Rajender Singh Dallewal, Yogender Singh Ugrahan, Mollah and Tikait among others will personally visit cities like Meerut, Kanpur, Muradabad, Lucknow, Jhansi, AIlahabad, Siddahrthnagar, Banaras and Gorakhpur.
State chapters will also hold press conferences to continue voicing grievances.
SKM leader Darshan Pal said that Mission UP was planned prior to the Kheri killings. However, the demand for Mishra's suspension has become a major part of farmers' demands now.
"The farmers' struggle and Lakhimpur Kheri massacre has greatly affected the BJP graph. As Mission UP continues people's anger against BJP is also becoming vocal. This matter needs to be addressed at the national level," he said.
Regarding elections, the SKM also talked about BJP's failed promises in 2017 like loan waivers for all when in reality only 44 lakh people received waivers upto ₹1 lakh. It had also promised sugarcane procurement with interest within 14 days, subsidised electricity – whereas UP now records the most expensive electricity rates.
"They promised to protect cattle but today the entire state is ridden with the problem of stray animals. Today UP has migrant labourers, wandering unemployed and suffering farmers," said the SKM in its pamphlet.
Related:
Budget 2022 ignores struggling farming sector
Farmers protest resume on Vishwasghat Diwas
Farmers still facing charges from last Republic Day parade
Sign the RODA Act and curb farmer suicides: SKM to Rajasthan Governor
Lakhimpur Kheri killings: SIT files chargesheet against farmers!