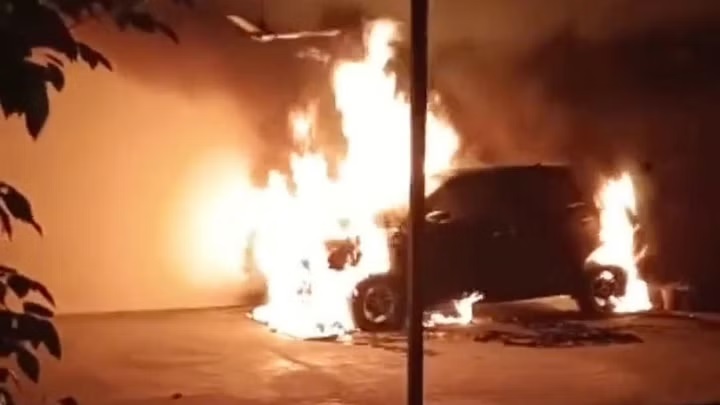 A group of miscreants vandalised a church in Punjab's Taran Tarn district, desecrating statues of Jesus and Mary. They also set the local pastor's car on fire.
According to News 18, this incident comes just two days after a First Information Report (FIR) was filed against some Nihangs (a sect of Sikhs), for allegedly disrupting an event organised by Christian missionaries at Daduana village in Amritsar district.
NDTV shared a screengrab from CCTV cameras that shows a person wearing a red scarf decapitating the statue.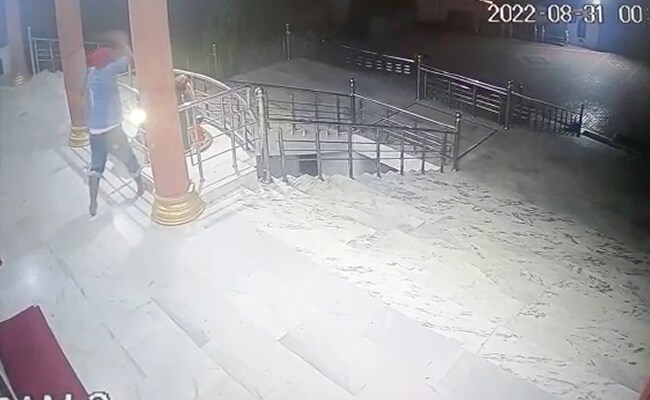 Screengrab of CCTV at Church courtesy NDTV
RS Dhillon, Senior Superintendent of Police, told the channel, "A few notorious elements tried to vandalise the idol of Jesus and set ablaze a car at Church in Patti. We're investigating the matter and have vital clues. There were fouur people, we are after the culprits. We hope to solve it soon. An FIR has been lodged."
According to the police the accused avoided main roads where there are police checkpoints and therefore it is taking time to track them.
Following the attack, Christians held protests demanding immediate arrest of the accused. They blocked all roads leading to Khemkaran, Bhikhiwind, Patti, Harike, and Ferozepur.
Meanwhile, in a video message released on Facebook released the same day as the attack, Akal Takht Jathedar Giani Harpreet Singh accused Christian clergymen of conducting forced and fraudulent conversions. He said in Punjabi, "So-called Christian missionaries have been forcibly converting Sikhs through fraudulent practices. Sikhs and Hindus of Punjab are being misled and converted. This is happening right under the government's nose. Though there are provisions in the law to book for superstitious practices in the name of religion, no government is ready to act against them (missionaries) due to vote bank politics."
The video may be viewed here:
Meanwhile, Chief Minister Bhagwant Mann has promised strict action against the attackers. In a tweet in Punjabi, he said, "No one will be allowed to break the brotherhood of Punjab. Tarna Taran incident is very unfortunate. Investigate it and strict action against the culprits."
ਪੰਜਾਬ ਦੀ ਭਾਈਚਾਰਕ ਸਾਂਝ ਤੋੜਣ ਦੀ ਕਿਸੇ ਨੂੰ ਇਜਾਜ਼ਤ ਨਹੀਂ ਦਿੱਤੀ ਜਾਵੇਗੀ..ਤਰਨਤਾਰਨ ਵਾਲੀ ਘਟਨਾ ਬੇਹੱਦ ਮੰਦਭਾਗੀ ਹੈ..ਇਸਦੀ ਜਾਂਚ ਅਤੇ ਦੋਸ਼ੀਆਂ ਖ਼ਿਲਾਫ਼ ਸਖ਼ਤ ਕਾਰਵਾਈ ਦੇ ਨਿਰਦੇਸ਼ ..

— Bhagwant Mann (@BhagwantMann) August 31, 2022
It is noteworthy, that at 1.3 percent Christians are still a minority in the state. However, some right-wing publications have been publishing reports of a huge spike in the numbers of Christians and attributing it to "forced conversions". For example, in August 2020, Hindu Post ran an article titled 10% of Punjab is now Christian! Why are people converting and what can be done?
In the article, the writer Pawan Pandey, claimed that while there were only about 3.5 lakh Christians in Punjab as per the 2011 Census, their numbers were now close to 32 lakhs! He arrived at the figure after some very questionable extrapolations. He alleged that many Christian pastors "keep saffron robes, live in ashrams and make temple like churches." He further said that Christians were appropriating Hindu and Sikh practices to confuse rural Sikhs. He said they had texts titled Yeshu Puran, Yeshu Sahastranama, Yeshu Veda and Yeshu Upanishad.
It is noteworthy that in the recent state assembly elections, the Aam Aadmi Party (AAP) had toppled the long-ruling coalition of Shiromani Akali Dal (SAD) and Bharatiya Janata Party (BJP). This was mainly due to SAD severing ties with the BJP over the agricultural laws that led to the farmers' agitation.
Meanwhile, next door in Haryana, the BJP-led government passed an anti-conversion law this year. In the run up to the passage of this law, local Christians in Haryana had faced intimidation from right-wing mobs. On December 26, the life-size statue of Jesus Christ at the Holy Redeemer Church in the cantonment area in Haryana's Ambala was desecrated. Then, a Christmas celebration was disrupted in Kurukshetra when right-wing zealots who while shouting slogans of 'Jai Shri Ram' took over. They entered the venue and made their way to the state, and started playing Hanuman Chalisa on loudspeakers, even as hapless local Christians looked on in shock and disbelief.
In fact, according to a report, by the United Christian Forum (UCF), 2021 was one of the worst years for Christians in India. It said that its toll-free helpline number 1800-208-4545 has responded to more than one complaint of anti-Christian harassment or violence a day. The year has ended with over 500 such complaints being reported on the helpline. The Evangelical Fellowship of India (EFI) recorded over 305 cases of attacks on Christians until November end. On Christmas weekend, communal mobs were out targeting Christians, and others, celebrating the festival of joy, including at school functions, across the country.
Related:
2021 was 'most violent year for Christians in India': UCF report
Had a happy Christmas weekend? Have a look at how communal mobs celebrated theirs