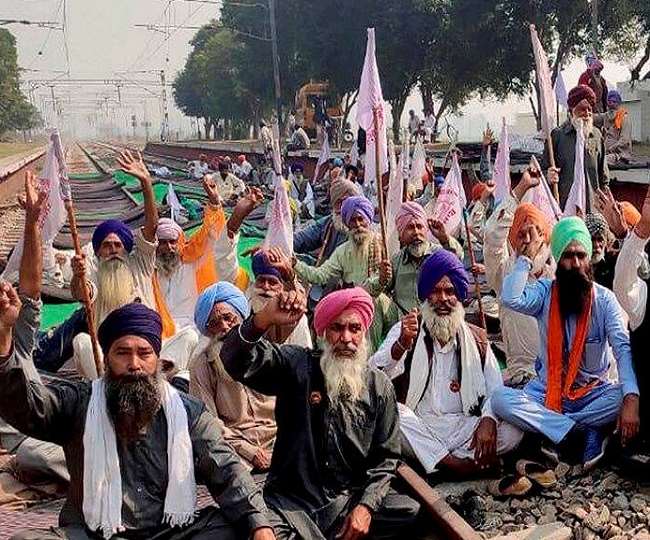 The Samyukt Kisan Morcha (SKM) told SabrangIndia it hopes for another successful nationwide protest on February 18, 2021 where farmers will observe rail roko protests to protest the three farm laws of the central government.
According to mediaperson Paramjeet Singh, Punjab farmers prepared for the blockade across the state. Similarly, Firozpur Divisional Manager told SabrangIndia that trains will be regulated from 12 PM to 4PM on Thursday.
Haryana peasants have planned huge protests at Bahadurgarh, Karnal, Sonipat and other districts. Meanwhile, farmers near Shahjahanpur in Rajasthan prepared to demonstrate at the Rewari railway junction from where many trains head towards the state capital Jaipur.
"The SKM appeals to everyone for a peaceful protest in nationwide rail roko. This program will be organised from noon to 4 PM with support expected from all over the country," said the farmers' organisation in a press release.
This call also received responses from various districts of Uttar Pradesh. On February 17, an impressive turnout of farmers attended the jan sabha in Bilari district. Farmer leaders said this indicated that the farmers' movement is gathering more strength. Speakers in this Jan sabha included Medha Patkar, Gurnam Singh Chaduni, Tejinder Singh Virak, Harpal Singh Bilari and others.
Meanwhile, the SKM denounced the attack by Vishwa Hindu Parishad (VHP) "goons" on a peaceful protest organised by the All India Krishak Khet Majdoor Sangathan (AIKKMS) in Muzaffarpur.
"The banners, placards and sound system of the protestors were destroyed by the attackers. The inaction of the police is equally condemnable," said SKM.
Regarding the high-level meeting of the Bharatiya Janata Party (BJP) member JP Nadda with elected party leaders from Haryana, Uttar Pradesh, Punjab and Rajasthan, Cabinet and other Ministers like Amit Shah, Narendra Singh Tomar, Sanjeev Baliyan and others, the SKM said, "It is clear that instead of resolving the ongoing struggle's demands, BJP is trying its best to counter and destroy it."
Leaders demanded that the government resolve farmers' issues immediately without any further delay. Working towards this, the organisations said it will intensify the struggle and mobilise more farmers in its support.
Related:
Farmer leaders plan for Feb 18 rail roko
International organisations support Indians farmers: NYT carries full page declaration
Farmers honour fallen CRPF soldiers and martyred farmers on February 14
Are the new farm laws constitutional?
SKM condemns Centre's insensitivity towards farmers deaths
We continue to fight for the same rights as Sir Chhotu Ram: Farmer leaders