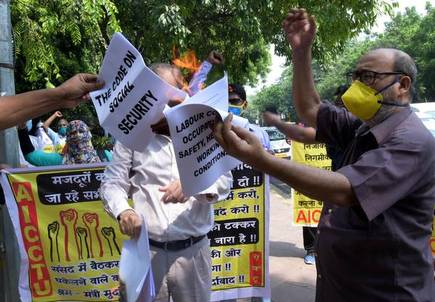 Thousands of workers and their kin will agitate at the Patiala district of Punjab on March 12, 2021 to decry the new labour and agriculture laws of the central government, said Contract Employees Struggle Morcha Punjab leader Varinder Singh.
In a press release on March 10, Singh said that the new labour codes that will be implemented from April 2021 will increase corporate exploitation of workers.
"According to the new labor law, the rules for fixing wages have been changed and the working class has been deprived of the new labor laws," he said.
The Morcha also pointed out that despite four years of governance by the Captain-Amarinder-Singh-administration, other demands such as regularisation of contract workers in all departments have not been resolved. Further, union members demanded that retirement of all departmental workers be stopped, retrenched workers be reinstated, pay-scale of best post to be given to contract workers after 3-5-10 years of service, restoration of old pension and reinstatement of dismissed power workers.
Accordingly, workers will also protest towards this end at the Chief Minister's hometown on Friday to stop the privatisation of government agencies and agribusiness. Singh warned that workers would intensify protests if the ruling powers refused to accept their demands.
Related:
Punjab's Workers Union promises to look after fields until farmers return
Labour Codes Issues: Spelling out the ABCs
Gross Interference: MEA on UK Parliament debate over Farmers protests
Farmers to discourage voting for BJP in Assam and Bengal?
Mahila Kisan Diwas: A sea of dupattas Centre's decry farm laws
Farmers observe special meeting to honour martyrs of the movement
Youths, women, workers and farmers prepare for Feb 6 'chakka jam'