The 23-year-old sprinter has been named as Sportsperson of the Year 2019 by Vogue India
The fast and the fearless, sprinter Dutee Chand has had an eventful 2019. Apart from recently winning Vogue India's Sportsperson of the Year, 2019, she had earlier broken her own records in the 100m race to become the first Indian to win a gold medal in the women's 100m sprint at the 30th Summer University Games in Naples, Italy, the News Minute reported.
She is the first sportsperson in India, and also the first woman sportsperson in India who has openly admitted being in a same-sex relationship.
Born in Chaka Gopalpur in Odisha to cotton weavers, Dutee has been championing the cause of eligibility of female athletes in track and field events.
Elated on winning the award, she tweeted: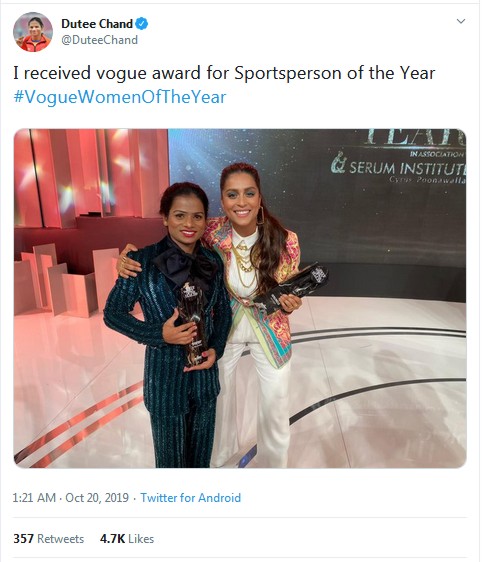 She couldn't hold back her happiness on being featured as the 1stOdia girl on the Vogue India cover too.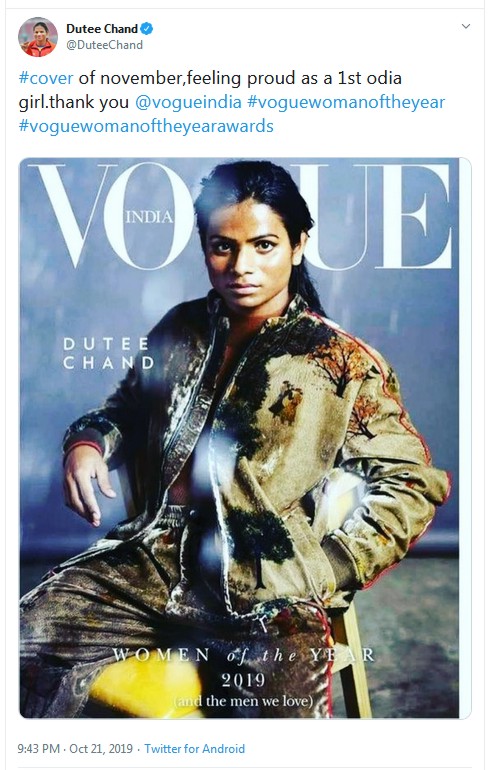 While Dutee is happy to be riding her on her success, she says that her ultimate aim is to bring home the gold medal for India in the 2020 Tokyo Olympics.
Dutee had also recently starred in a video called PROPAH ladies, focusing on the strong women in India and their everyday badassery. The video in collaboration with PUMA is an ode to every woman who has broken stereotypes, cultural convention of the word 'proper' and is not afraid to make her own choices.
Dutee had earlier been featured on the cover of Cosmopolitan in the month of July, where in an exclusive interview she had spoken about her journey as an athlete and her coming-out story.
Chand had revealed that she was in a same-sex relationship with a woman from her rural village in eastern India. She was forced to come out after an older sister told media outlets about the same, she had told The Sunday Express in May.
The Supreme Court had decriminalized section 377 in September 2018. Dutee had said, "I have always believed that everyone should have the freedom to love. There is no greater emotion than love and it should not be denied. The Supreme Court of India has also struck down the old law. I believe nobody has the right to judge me as an athlete because of my decision to be with who I want. It is a personal decision, which should be respected. I will continue to strive to win medals for India at international meets."
Dutee has broken records and glass-ceilings to become the fastest woman in India. She has not only run through to glory through her sprint victories, but has risen above all odds to become the fierce. Fearless and defiant face of national pride.
Related
Beneath the glitter – Looking at The Asian Games
"For the first time, the rights of LGBTQIA are being spoken of in electoral politics"
Consensual sex between adults of any sexuality in private no longer a crime under Section 377: SC
Harish Iyer appointed to NHRC Core Group on LGBTI Issues