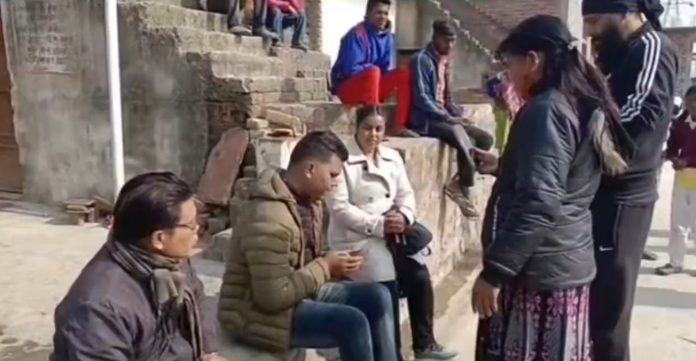 A video has emerged on social media, wherein three Christians can be seen being subjected to verbal and physical abuse, and being accused of forcefully converting people. This video has emerged from Jhajra district of Dehradun, Uttarakhand. In the video, Radha Semwal Dhoni, Hindutva group leader, can be seen abusing and thrashing a group of Christians over the allegations of religious conversion.
The video starts with Radha Semwal asking the group of Christians, two men and one woman, to tell their name. She can be seen forcing one person, namely Manish, to give her his phone number. She then moves onto verbally and physically harassing the woman, namely Neha. She asks Neha to tell how much money she gets for allegedly indulging in these activities of religious conversion. When Neha says that she does not get any money, Radha Semwal can be seen slapping her. When another member of the group, namely Jimmy, stands up to protect Neha, Radha Semwal heckles him and threatens him of further violence.
She then goes on to accuse the three of coming to their village uninvited and trying to convert the children. Throughout the video, the three of the Christians can be repeatedly heard saying that they have come to the village to offer educational services and coaching to the children at the basic amount of fifty rupees. Radha Semwal then accused the three of forcing the students to leave idol worshipping, as is practiced by Hindus, and teaching them Bible. A young spectator is then called by Rahda Semwal, who says that at the coaching, they make them do prayers and teach them the Bible.
The video cuts to a policeman arriving on the scene. The policeman then asks the group of Christians about their vehicle. Radha Semwal then can be heard saying that the group needs to be taken to the police station and she will also be accompanying. She can further be heard saying that she will bring the mobile phone of Jimmy to the station directly, and will go through it to collect evidence against them.
The video can be viewed here:
This is from #Jhajra, #Dehradun, #Uttarakhand.#Hindutva group leader #RadhaSemwalDhoni abused and thrashed a group of #Christians over the allegations of religious conversion.

Later, she handed them over to the police. pic.twitter.com/z8yPypI4zj

— Hate Detector ? (@HateDetectors) February 1, 2023
Interestingly, Radha Semwal was also making a live video of the whole incident, which is available on YouTube. The live has been posted with the title "धर्मपरिवर्तन कराने वालो का इलाज कर दिया | Radha Semwal Dhoni | Christian Missionaries Exposed" and has 1.3k views on it till now. This ten minute video has been recorded from Radha Semwal's phone itself. This video starts with Radha Semwal accusing the three Christians of having converted the whole colony. She can be heard urging the woman, Neha, to show the contents of her purse.
She repeatedly harasses and accuses the three Christians of conducting religious conversions. She especially targets Neha, utters abuses, threatens violence, fat-shames her, and attacks her religion again and again. She even threatens Neha of facing violence if she is ever seen near the village.
The three Christians also explain that they belong to a non-governmental organisation and work towards providing education to children from the marginalised communities.
The video can be viewed here:
Related:
Hindu mob attacks Catholic NGO staff, accuses them of indulging in religious conversion
Chhattisgarh: 1,100 Christians converted to Hinduism in "gharwapsi" ceremony, by BJP Sec
Chhattisgarh: A dead woman's 'gharwapsi' before final rites were allowed
Over 300 attacks on Christians reported this year, over 2000 women, Adivasis and Dalits injured
Ambedkar and the call to Conversion!