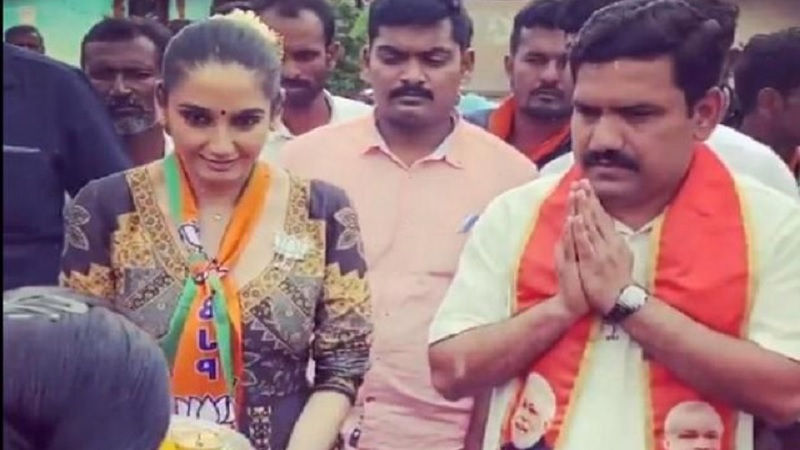 Image Courtesy:newskarnataka.com
Bharatiya Janata Party's (BJP) Karnataka unit has been quick to publicly disown one of its star campaigners Ragini Dwivedi, who is accused of being involved in an alleged drug-network. The party's state leadership issued official statements, and took to social media to distance themselves from actor Ragini Dwivedi after her arrest in a narcotics case.
The political leadership got all hands on deck from its various IT teams, and influencers, after non-BJP social media users began sharing photos and videos of Ragini Dwivedi with BJP candidates, and BJP affiliated celebrities. The BJP was nagged with taunts such as "'Koi bhi CASE ho Link BJP se hi milega' (in any case, a link will be found with the BJP only)," and, "Actress Ragini Dwivedi will end up joining."
Koi bhi CASE ho Link BJP se hi milega???? ft. Ragini Dwivedi #Arrested #Republicpic.twitter.com/NoyFo3ATEM

— Phooka Boora⚪ (@RofIGandh_) September 4, 2020
Actress Ragini Dwivedi will end up joining @BJP4Karnataka pic.twitter.com/aZVev5gYoj

— Bhushan (@bhushannag) September 4, 2020
The barbs pinched and the party officially responded stating "We have nothing to do with it", they went on to add that they "disown Ragini Dwivedi." They have not explained yet why they have to even disown someone they claim no association with?
Of course, they tried to explain that she was perhaps just one of the "hundreds of celebrities from different walks of life" who campaigned for the BJP "voluntarily", in the run up to the 2019 by-elections. "Ragini Dwivedi may have been one among them," BJP spokesperson Captain Ganesh Karnik said in his media statement on Sunday.
The BJP Karnataka upped its damage control and started hashtags like #DrugsMukthaKarnataka and told its followers that, "The BJP government is committed to root out the drug mafia."
ಡ್ರಗ್ಸ್ ಮಾಫಿಯಾವನ್ನು ಬೇರು ಸಮೇತ ಮಟ್ಟ ಹಾಕಲು ಬಿಜೆಪಿ ಸರ್ಕಾರ ಬದ್ಧವಾಗಿದೆ.#DrugsMukthaKarnataka pic.twitter.com/oGvGoGCcAY

— BJP Karnataka (@BJP4Karnataka) September 6, 2020
They state that the Kannada actor Ragini Dwivedi, arrested in a drug case, was never a member of the party. However, in the face of the visual evidence they do accept that she "may have campaigned" as a 'volunteer' for the party in the 2019 Assembly by-elections. The statements came a day after the actor was arrested.
According to local media, the BJP said it was against any sort of, or any form of anti-social activity by anybody. The BJP spokesperson Capt Ganesh Karnik stated that "Ragini was not a member of the BJP, and the party had not assigned her any responsibility for electioneering."
Nalinkumar Kateel, president, Karnataka BJP, and RS Member of Parliament from Dakshina Kannada constituency, echoed the same statement.

ತಮ್ಮಲ್ಲಿ ಡ್ರಗ್ಸ್ ಜಾಲದ ಬಗ್ಗೆ ಯಾವುದೇ ಮಾಹಿತಿ ಇದ್ದರೆ ಪೊಲೀಸ್ ಇಲಾಖೆಗೆ ನೀಡಿ, ನಿಮಗೆ ಏನೂ ತೊಂದರೆ ಆಗದಂತೆ ಪಕ್ಷ ನೋಡಿಕೊಳ್ಳಲಿದೆ.

ಡ್ರಗ್ಸ್ ಮುಕ್ತ ಕರ್ನಾಟಕ ಅಭಿಯಾನದಲ್ಲಿ ಜೊತೆಯಾಗಿ.

4/4#DrugsMukthaKarnataka #DrugsMuktaKarnataka

— Nalinkumar Kateel (@nalinkateel) September 6, 2020
The party maintained that it "will neither encourage nor support such activities," and "hence, we disown Ragini Dwivedi for her involvement in the drug racket." According to news reports, Ragini, who was arrested on Friday is among the 13 people booked so far in connection with alleged drug abuse in the Kannada film industry. They have been charged with supplying drugs in rave parties through drug peddlers, stated the news.
News updates added that another foreign national was also arrested by the Central Crime Branch (CCB), during the probe. He has been identified as Loum Pepper Samba, and is alleged to have been supplying drugs to celebrities.
Related:
Guilty as charged: Investigators, judge, jury and executioners of TV news 'debates'