Trump says "When you're a star, you can do anything, grab them by the p*ssy". Yogi Adityanath while referring to inter-religious marriages talks about how if 'they' take one Hindu girl, then we'll take away 100 Muslims girls. Trump mocks a reporter for his disability because the reporter is critical of him. Yogi Adityanath warns that if 'they' kill one Hindu, we won't file an FIR but will get 10 'such people' murdered. Trump labels Mexicans as rapists and criminals while Yogi Adityanath labels Muslims as Jehadis. Now, how does one choose between these two forms of extreme bigotry? Well, apparently some people can and Rahul Kanwal, the managing editor of India Today, is one of those who has this unique ability to choose between these two forms of bigotry.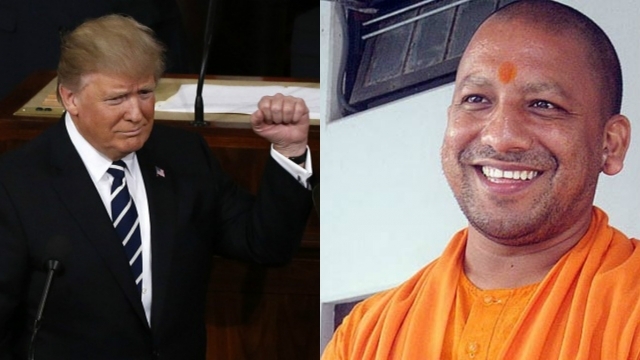 Let us first look at Rahul Kanwal's views vis-a-vis Donald Trump as expressed via his tweets about the American President.
So, Rahul Kanwal thinks that it says a lot about 'US Politics' that a person like Trump is taken seriously. He's essentially trying to point out at the degradation in US politics because a person like Trump was taken seriously. These were his views before Trump was elected as the President. In the last month, after Trump officially took over the charge as the US President, many people of Indian origin in the United States have faced racial attacks. In one incident, an Indian citizen, Srinivas Kuchibhotla, was shot down after being asked to go back to India by an American military veteran. This happened in a bar in the state of Kansas. What does Rahul Kanwal think about that?
He thinks that the bigotry that Trump has brought with him is a dangerous landmine, an opinion influenced by the fact that his brother felt rattled because of his 'fancy beard'. In fact, Rahul Kanwal's dislike for Donald Trump is such that he even recommends an application that will block anything related to Donald Trump.
So, if bigotry is a dangerous landmine as Rahul Kanwal claims in reference to Donald Trump, something which Yogi Aditynath has in abundance, you'd think that Rahul Kanwal would have a problem with Yogi Adityanath becoming the Chief Minister of Uttar Pradesh? If bigotry is a landmine, and you're opposed to it because your brother is 'rattled' because of the consequences of that bigotry, surely you wouldn't want your fellow citizens to be a victim of such bigotry? So, what does Rahul Kanwal think about Yogi Adityanath?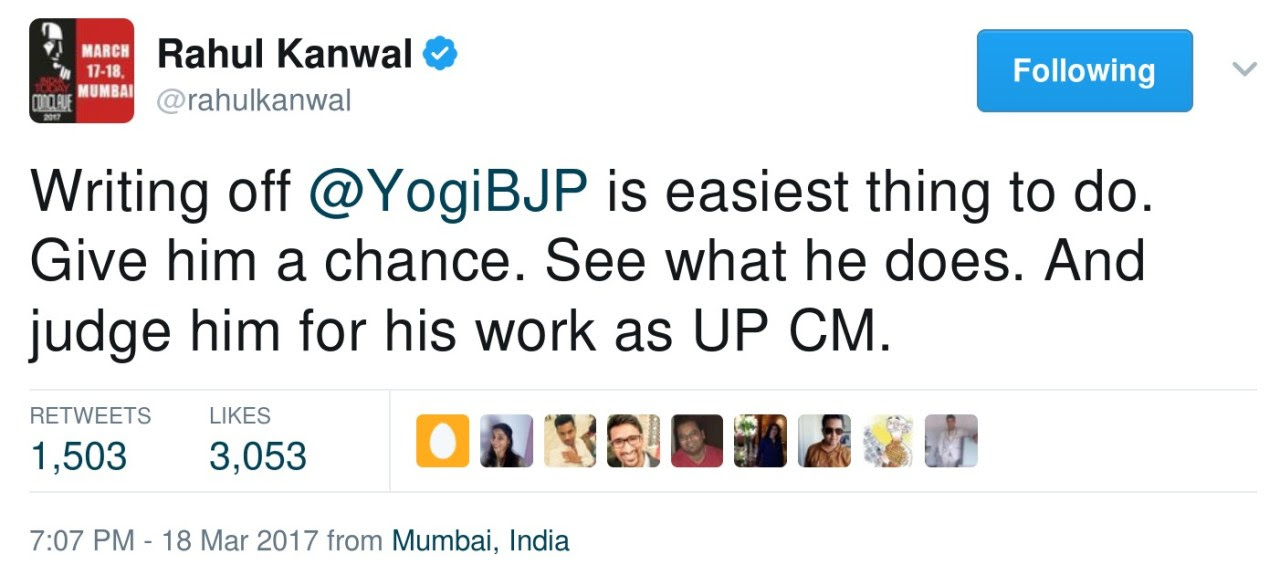 Oops! Apparently, not. Rahul Kanwal thinks that Yogi Adityanath's version of bigotry deserves 'a chance'. Rahul Kanwal thinks that a man who has given speeches in which he's warned that "If they kill one Hindu, we will kill 100 of theirs" deserves a chance. Rahul Kanwal thinks that a man who thinks that inter-religious marriages are a case of Love-Jihad deserves a chance. Rahul Kanwal thinks that a man who offers Guns to Hindus in Dadri after the murder of Mohammad Akhlaq deserves a chance. Rahul Kanwal thinks that a man who demanded for the release of all the accused in the Dadri case deserves a chance. "Give him a chance, See what he does. And judge him for his work as UP CM".
If only Rahul Kanwal's brother with his 'fancy beard' was in Mau district during the 2005 riots when Yogi Adityanath's Hindu Yuva Vahini reined terror, he probably would have used the adjective 'bigoted' at least once in reference to Yogi Adityanath.
Courtesy: Alt News