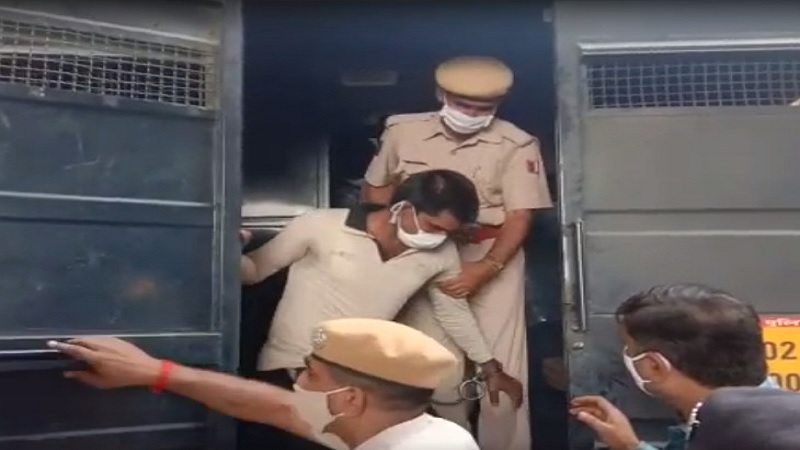 Image Courtesy:newsbust.in
Rajasthan's special court on October 6, 2020 awarded life imprisonment to four of the five men who sexually assaulted a 19-year-old Dalit woman in Rajasthan's Alwar in 2019, said a Hindustan Times report. The fifth man, who faced trial for circulating a video of the incident on social media was sentenced to five years in jail, said the special court for hearing cases under the Scheduled Castes and Tribes (Prevention of Atrocities) Act.
The four men Chhote Lal, Hansraj Gurjar, Ashok Kumar Gurjar and Indraj Singh Gurjar were booked for gang-rape, extortion, criminal intimidation, kidnapping and various other sections of the Indian Penal Code along with sections from the SC /ST Act and the IT Act. The fifth accused, Mukesh Gurjar, was charged under different sections of the IT Act for circulating the video. A sixth accused, who is a juvenile, faces trial in the district and sessions court.
According to the FIR lodged on May 2, 2019, a 19-year-old Dalit woman was sexually-assaulted by five men and a juvenile in front of her beaten husband on April 26, 2019 in Thanagazi village. The couple registered an FIR against the men after the video of the incident became viral on social media. The accused allegedly demanded Rs 10,000 from the woman to keep the video from circulating on social media.
Rajasthan government removed the then Superintendent of Police (SP) Rajeev Pachar and suspended the Thanagazi Station House Office (SHO) Sardar Singh on June 7 for failing to record information given to him in relation to a cognisable offence. Similarly, Circle officer Jagmohan Sharma was transferred out of the district while other staff was sent out of Jaipur police range.
Related:
Telangana: Minor survivors calls out her rapist
Rape survivor dies by suicide, family allege police inaction
Dalit girl gangraped by 'upper-caste' men dies: Will UP CM finally react?
Lynched, raped, left for dead: Dalits, women remain easy targets for criminals in UP