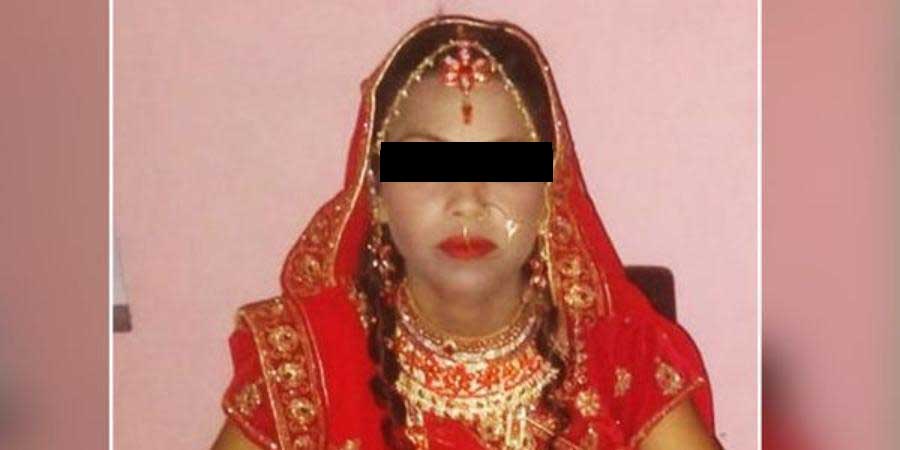 Deceased Pinky Saini / courtesy: https://www.newindianexpress.com
An 18-year-old woman's murder by her own father has added another splash of fuel to the eternally burning issue of caste dynamics. The Rajasthan teenager identified as Pinki Saini, was killed, allegedly by her own father, because she fell in love with and married a Dalit man. According to the Indian Express, the 18-year-old woman had received protection from the Rajasthan High Court, so that she could live with a Dalit man. However this proved to be no deterrent, and she was murdered allegedly by her father.
According to IE, the couple's advocates have said this murder is a result of "gross negligence" of the police. It is reported that the woman's father, Shankar Lal Saini, himself told the police on Wednesday that he had killed his daughter. He said he killed Pinki, at his home in Dausa town, stated the news report quoting district Superintendent of Police Anil Kumar.
The police subsequently recovered the body, which reportedly bore strangulation marks. According to the SP, "Pinki Saini had been married off to a man on February 16. On February 21, she ran away with Roshan Mahawar (24). On February 26, the couple appeared before the Rajasthan High Court, and the court ordered that they be provided protection by the local police, and taken to wherever they wanted to go."
According to the IE, the police took Pinki and Roshan to Jaipur, where they wanted to go. SP Kumar said, "On March 1, the two of them came to Roshan's house in Dausa. From there, the woman's family members took her away forcibly that same day." He added, "We were searching for Pinki. Yesterday (Wednesday) night, her father reached the police station and said that he had murdered his daughter. When we went to his house, we found the woman's body. Prima facie, it appears to be a case of strangulation."
Police have registered a case of murder against Shankar Lal Saini, and investigations are on to check for the possible involvement of other individuals in the crime.
However, the lawyers for Pinki and Roshan have blamed the murder on "gross negligence" on part of the police. They stated that the police were bound by the High Court's order to protect the couple, reported IE. It reported that in his order of February 26, Justice Satish Kumar Sharma of Rajasthan High Court had said, "Both the petitioners are present in person in the Court and they want to live with each other. Therefore, without expressing any opinion on merits of the case, learned counsel for the respondents is directed to advise his clients not to take the law in their hands and not to cause any sort of harm to the petitioners." It added, "Further, learned Public Prosecutor is also directed to inform the local police authority to give protection to the petitioners and to take them at a safe place as per their wishes."
The court was scheduled to hear the matter again on March 9, however Pinki was allegedly abducted on March 1. Then Roshan's family registered an FIR against 11 people, reportedly naming Pinki's father, uncle, and other relatives, and "15-20" others.
According to IE, the FIR was registered under IPC sections including those on abduction, criminal intimidation, and theft, and sections of The SC/ST (Prevention of Atrocities) Act. Roshan's family had alleged that Shankar Lal Saini and the other accused abused them using casteist slurs, damaged their house, stole Rs 1.2 lakh, and forcibly took Pinki away.
Advocate Nawal Singh Sikarwar, who had represented Pinki and Roshan in court said, "It is gross negligence of the police that despite the High Court's order providing the couple protection, Pinki was abducted and murdered. The couple had told the court that they feared for their safety, and wanted to live with each other of their own free will."
According to the IE, Circle Officer Deepak Kumar said the Dausa police were not aware of the High Court's order, "We didn't know that the court had provided them protection. It was only after the woman was abducted that we came to know. We did not receive any intimation through official channels about the High Court order."
Roshan was quoted by The Indian Express saying that after Pinki's murder, he now fears for his own life. He alleged that the police had not taken his fears for their safety seriously, "I knew they might kill Pinki. I had told police this when Pinki's family took her away. But they (police) said that after all, it was her parents who had taken Pinki away, and that they would bring her to court at the next hearing. I cried and pleaded with the police, but they did not take my concerns seriously."
According to Roshan the police have to answer, "How is it that she was ultimately found murdered in her house? If she was right here in Dausa, at her parents' home, why could the police not find her for three days? Her family had often threatened to kill us both. They demanded to know how I, a Koli, could even dream of being with Pinki, who is from the [OBC] Mali caste. They threw casteist slurs at me."
Roshan, stated that around 40 men and women, most of whom were members of Pinki's extended family, had come to his home to take her away, "We had come back to Dausa because we had run out of money." He said, "Right after we reached home, her family members attacked us and took her away."
Roshan, runs a gym and is also studying at an Industrial Training Institute (ITI), Pinki was a first year college student. According to the news report Pinki's family had forced her into a marriage, before she and Roshan eloped. He stated that he now feared for his life too, "I have learnt that three of her relatives, Kalu, Mukesh and Ranglal, have given money to some people to kill me."
Civil society groups have demanded action against the police. Kavita Srivastava, president of the Rajasthan unit of the People's Union for Civil Liberties (PUCL) said the incident "exposes the commitment of the police and the Rajasthan government towards women's security. Despite the High Court's order to police to protect the couple, Pinki Saini was brutally murdered," adding that the civil rights organisation has demanded the suspension of police officials including the Circle Officer, Dausa, the Dausa SP, and the SHO of the Kotwali police station. Srivastava said, "Roshan made several calls on the 100 [emergency] number after Pinki was abducted, but they wasted precious time by telling him to call the Kotwali police station."
Related:
Dalit RTI activist hacked to death in Gujarat
Hathras: Man accused of sexual assault, shoots father outside village temple
Dalit teenager killed, body dumped in Aligarh field