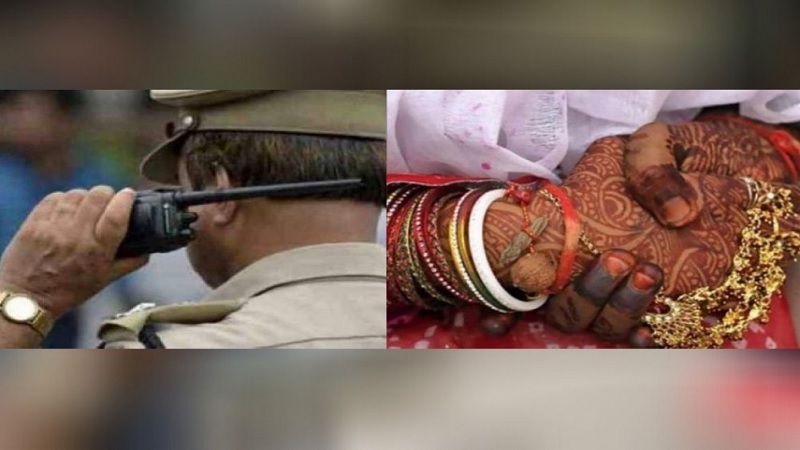 Image Courtesy:outlookindia.com
Rajasthan's People's Union for Civil Liberties (PUCL) condemned Dholpur district police on November 24, 2020 for forcibly bringing back a 26-year-old Sheena Choudhary from Delhi at the behest of her parents who are trying to marry her off against her wishes.
PUCL President Kavita Srivastava condemned the police's attempt to deny women's autonomy and criminalising her will.
"It is shocking that the Rajasthan police will never catch one accused of crimes against women with such speed but treat young girls who make a choice of not marrying, which is constitutional, as accused," she said.
The police, accompanied by Choudhary's family who allegedly lodged a false FIR of abduction, took her away to get a statement in front of the magistrate, although the PUCL said such an action was not required at that stage. Officials had initially confiscated the woman's phone which was returned following vehement protests by the PUCL.
The organisation also contacted Inspector General Sanjib Narzary, Director General of Police M. L. Lather and Superintendent of Police Kesar Singh requesting protection for the woman who did not wish to be presented before her parents.
Act Now for Harmony And Democracy (ANHAD) Founder Shabnam Hashmi, who was in contact with Choudhary since November 20, said the police as well as the woman's uncle manhandled and treated her like an accused.
"Choudhary was with eight young girls and boys from ANHAD at an eatery near the office. As they stepped out, Rajasthan policemen pounced at her. I was told they have taken her to Jamia Nagar police station. When I reached, she wasn't there. I met the SHO who told the Rajasthan police that they have to first bring her to the police station, but they did not listen," said Hashmi.
News of Choudhary's abduction came on the eve of International Day for Elimination of Violence Against women and nearly a week after the Rajasthan Chief Minister organised Shakti Diwas for women on November 19, in the name of former PM Indira Gandhi.
"Is this the shakti [strength] he wishes to ensure? That the police will use coercion on them, use fear and force them into marriages? If Uttar Pradesh Chief Minister Yogi Adityanath is denying women the right to choose partners, the Rajasthan police is trying to deny them the right to say no for marriage," said Srivastava.
Sheena Choudhary, was working in Dholpur as a Mahatma Gandhi National Fellow placed by the IIM Bangalore as part of the National Skill Mission. A graduate of Miranda House College and Delhi School of Social Work, Choudhary had no plans of marriage and wanted to pursue higher studies and a career.
According to a letter sent by Choudhary to Srivastava, she came to Delhi after her parents forced her to see a boy and threatened to stop her work when she refused the marriage proposal.
She sought legal help from the Delhi State Women's Commission's Chairperson Swati Maliwal on November 23 and the Deputy Commissioner of Police of the Parliament police station on November 21 along with National Federation of Indian Women's General Secretary Annie Raja.
During each of these visits, Choudhary made the following requests to officials:
1. A restraining order to prevent family from forcibly accosting her or contacting her
2. A protection order to prevent physical harm
3. A direction to local police to inform Choudhary parents not to contact her while she stayed in a place of her own choosing.
4. A transfer to Jaipur along with security so that the woman will feel more secure.
"My family is denying my right to make my own decisions with regard to my future. They want to perform my marriage without my consent and without any say in choice of my future husband. I have known my family to be conservative in such matters. They agree with some very regressive views and attitudes that people in the community have about women," said Choudhary.
Further, she said instances of physical violence against girls for disobeying orders were not uncommon in her family. Choudhary said many people in her community and family endorse conservative attitudes without hesitation.
According to the National Crime Records Bureau of India, 32,260 cases of women abducted or kidnapped for forced marriage were registered in 2019 nationwide of which 1,601 cases were registered in Rajasthan.
Related:
Uttar Pradesh has failed its Dalit community, especially Dalit women
UP SIT probe says there is no 'love jihad', rules out conspiracy, outside funding
Girls and young women continue to get hunted in UP, Rajasthan
Bid Curb Inter-faith marriages: Ruse to Restrict Women's Freedom