The officer told former vice-president of JNUSU that had a concentration camp been constructed, she would be the first person to be lodged to stop her from spreading her venom on twitter.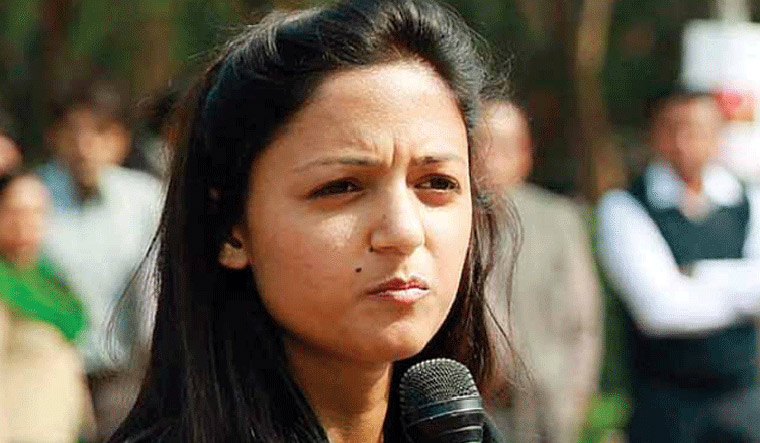 New Delhi: A probationary officer of Rajasthan Police justified concentration camps in a reply to a tweet by Shehla Rashid, former vice-president of the JNU student's union.

On Oct 21, Rashid had tweeted an India Express story with the caption "India's concentration camps!" The story was on the people in Assam who were declared foreigners and died in detention camps even though they had papers to prove their Indian nationality.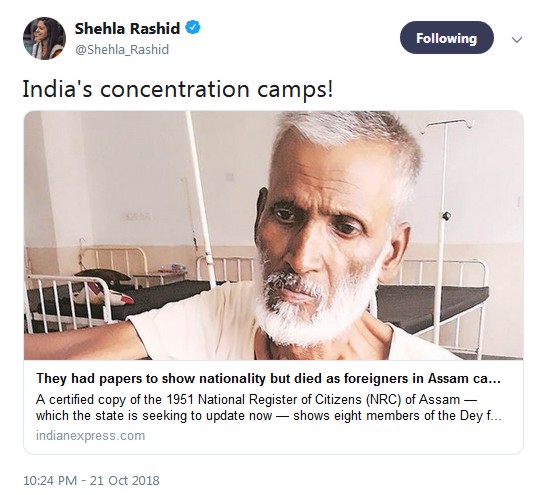 On Tuesday, Sandeep Saraswat, a Deputy Superintendent of Police at the police lines in Jaipur police commissionerate, replied to Rashid's tweet. "Had the regime constructed concentration camp, person like Shehla would have been the first to be lodged into that camp and she won't have been able to spread venom on Twitter," he wrote in a now deleted tweet.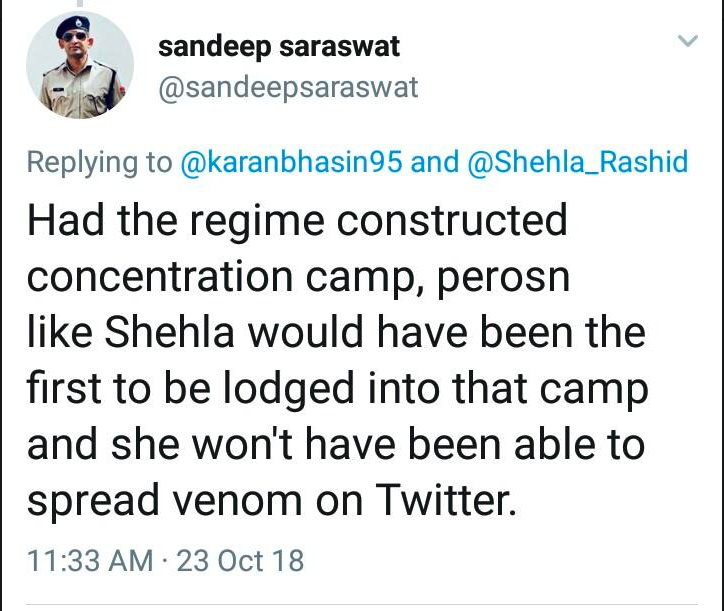 Speaking to The Indian Express, Saraswat (30) said that his comments were misinterpreted and he was only "defending" the state he serves. "My tweet was taken out of context and misinterpreted. I never meant that Shehla Rashid should be sent to concentration camps. I wanted to say that concentration camps were terrible places where Nazi Germany imprisoned dissenters and Jews. Rashid was wrong to suggest that such is the situation in India," said Saraswat.

He deactivated his Twitter account soon. "I felt that as an employee of the state, it's my duty to defend it. By suggesting that there are concentration camps somewhere in India, she implied that there is no rule of law in the country, which is wrong as I serve that law and order system," he said in the report.

Tejaswani Gautam, Jaipur commissionerate DCP (headquarters), said in the report, "It is not in violation of the model code of conduct of police because it is not an official account and thus what he writes there is not in his official capacity of a government servant." Gautam must not have seen the handle as Saraswat had a profile picture in full uniform.

Many condemned the Rajasthan police's response and said that it reflected their ideology as they were mute spectators when cattle labourers Pehlu Khan and Rakbar Khan were lynched by a cow-protecting mob in Rajasthan. Another Muslim man was lynched recently in September for fishing near a temple.

It would serve Saraswat well to read how Assam's detention camps are flouting human rights conventions by incarcerating innocent Indian citizens on the assumption of being foreigners. The Assamese populace that has not found itself in the hotly debated NRC have had their lives and families uprooted because of false accusations.

Sabrang India has consistently reported how Indian people in Assam have been detained in jails and detention camps alongside serious criminals who have committed murders and rapes. They have caught diseases, died in detention and even committed suicide.

The declared foreigners in Assam are meant to be sent to detention camps until they prove their citizenship in a higher judiciary. But what are these detention camps? Detention camps are real prisons. In the absence of detention camps, the declared foreigners are sent to prisons and are kept with prisoners. Hence the declared foreigners are neither citizens nor considered refugees there is no national prescription about their rights. To put them in prisons becomes a violation of their human rights. In this exclusive interview to Sabrang India, Adv. Hafiz Rashid Ahmed Chaudhary of the Gauhati High Court explains how the detention camps violate the rights of those who are termed Declared Foreigners

Watch Video:

Saraswat, being a police professional in the state of Rajasthan should know about the internment camps in Deoli, Rajasthan where thousands of Indian Chinese people were incarcerated during the Sino-Indian war in 1962. Even though the war lasted only for a month, the Indo-Chinese people were imprisoned for as long as five years.

Around 3000 Chinese-Indian families were rounded up from all over Bengal, Assam and the North-East and sent in trains to the internment camps. Families that had lived in India for 200 years had to give up all of their legacies and live in constant fear among the barbed wires.
Around 26 of them died in the camp and the survivors of the camp are still waiting for reparations and an unconditional apology from the India government. The elderly Indo-Chinese population is waiting for Indian citizenship after being labelled foreigners. They were born and raised here. They have to renew their residency permit every year and it costs them over Rs. 10,000.