A three-member team of the Rakhine Commission headed by former UN chief Kofi Annan visited the new Rohingya camp in Balukhali area of Ukhiya in Cox's Bazar on Sunday.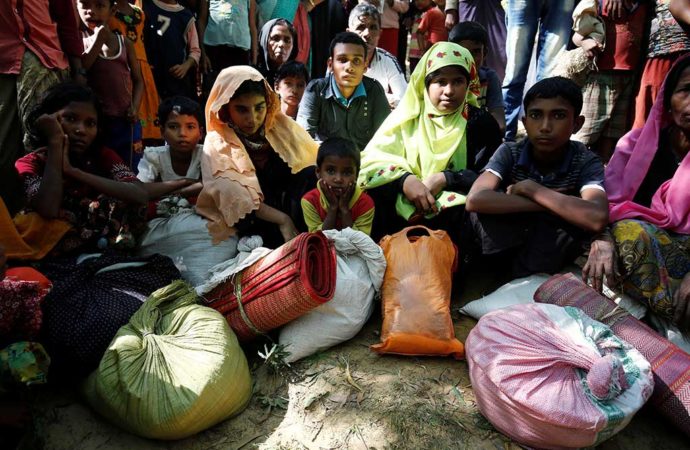 Representational pciture; Rphingya Muslims pleading for entry into Bangladesh. Photo Credit: Dhaka Tribune
They visited the camp around 11am and listened to the Rohingya people who took shelter in Bangladesh after the Myanmar Army launched crackdown in Rakhine State.
Foreign Ministry Joint Secretary Baki Billah, Cox's Bazar Deputy Commissioner Md Ali Hossain and officials of IMO, UNHCR and other human rights organisations were present during the visit.
Some 70,000 Rohingyas have so far fled to Bangladesh since October, according to government estimates and other international organisations, amid tight security measures at the border.
Even though the Bangladesh government refused to open its border it has asked Myanmar and international community to help solve crisis in Rakhine State.
The team – comprising two Myanmar nationals and a Lebanese – arrived in Dhaka on Saturday. They will sit with the foreign minister on Wednesday and also attend a seminar at the Bangladesh Institute of Strategic Studies (BISS).
The international commission, formed in August last year with nine members to solve the Rohingya crisis in Myanmar, will submit an evaluation report on the visit. They also went to Rakhine State after the violence erupted.
Earlier this month, the Myanmar government sent a special envoy to discuss the Rohingya issue with Bangladesh, the next-door neighbour where some 30,000 documented and over 300,000 unregistered Rohingyas have been sheltered for long.
Republished with permission from Dhaka Tribune.