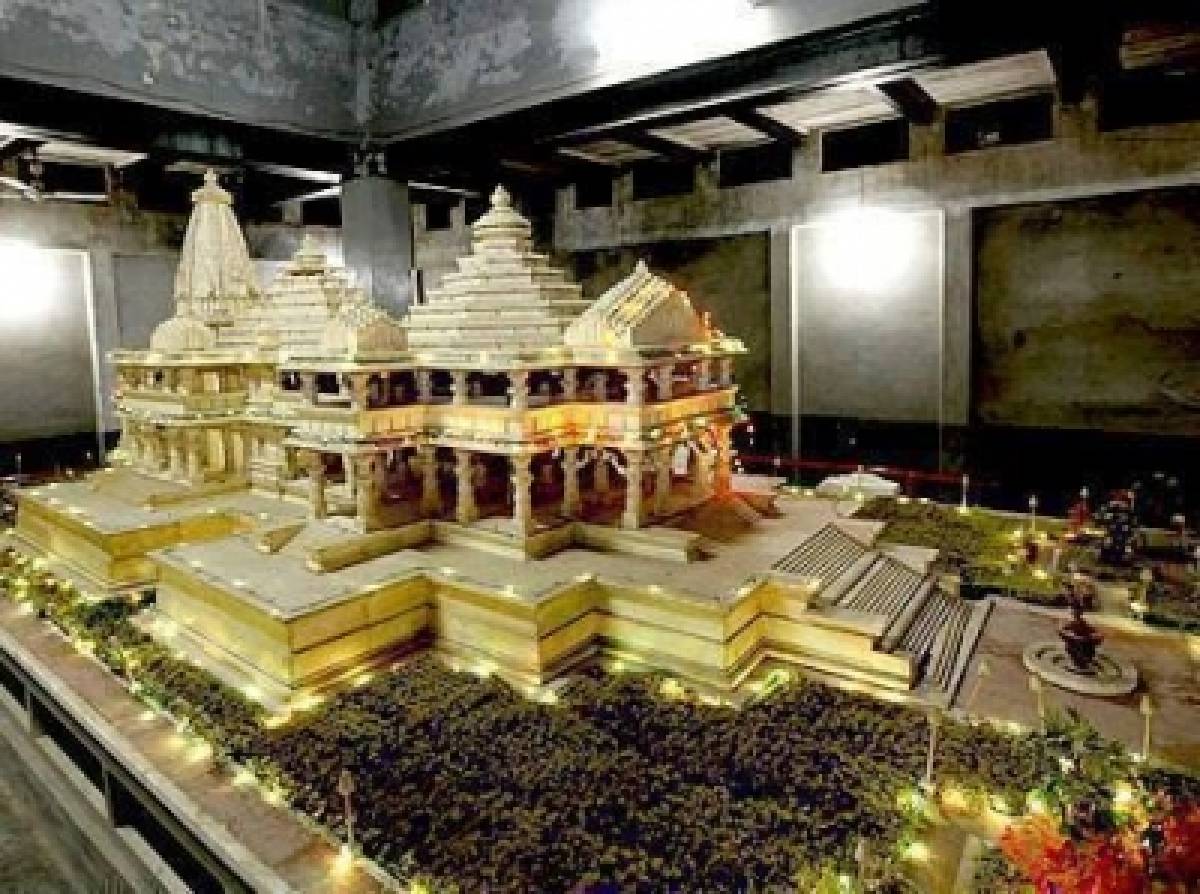 The Ram Janmabhoomi Teerth Kshetra Trust has big plans for August 5. It is when Prime Minister Narendra Modi is expected to participate in the bhoomi-poojan at the site where a Ram Temple is set to be constructed in Ayodhya. LK Advani, Murli Manohar Joshi and Uma Bharti, all of whom were present at the site during the demolition of the Babri Masjid in 1992 and were key members of the Ram Mandir movement, are all set to be present for the August 5 ceremony.
Word is that water is being sourced from rivers of religious significance for performing the abhishek and there are also plans to bury a time capsule at the site with history and 'facts' related to Ram Janmabhoomi purportedly to prevent future disputes. Kar sevaks carrying bricks to donate for the construction of the temple have already started walking towards Ayodhya. The mood is festive, not much unlike what it was in the run up to the Babri Masjid demolition.
However, it is the timing of the ceremony that has minorities, civil society and human rights groups on the edge. The August 5 date has been seared into the collective memory of all Indians as that date on which Article 370 that gave special status to Jammu and Kashmir was abrogated. It was on this day in 2019 that India's only Muslim majority state was split into two union territories. To pick this date for laying the foundation stone for the Ram Temple in Ayodhya doesn't appear to be a mere coincidence.
But Deccan Herald reports that this date was suggested by Vidya Vihar Vidyalaya Kulpati N R Vijayeendra Sharma. He was reportedly contacted by Ram temple trustee Swami Govinddevji Maharaj asking for an auspicious 'mahurat'. However, it is noteworthy that Sharma had suggested more than one 'mahurats'. According to Deccan Herald, these are: July 29 (after 9 A.M), July 31 (from 7 A.M to 9 A.M), August 3 (after 10 A.M) and August 5 (full day). Sharma told DH that he had himself drafted the letter listing the auspicious timings and sent it to the temple trustee.
Given all the options, one wonders once again… why was August 5 chosen? Was it only for the convenience of having the entire day at their disposal or was this a part of a more diabolical agenda to drive home the idea that culture and emotions of some Indians trumped those of others?
Predictably, the upcoming ceremony has led to much concern among secular democratic voices, as well as minority leaders, with allegations, insinuation and condemnation flying thick and fast on social media.
Former Finance and External Affairs Minister Yashwant Sinha took a jibe at former Chief Justice of the Supreme Court Ranjan Gogoi who made the Ayodhya judgment his swansong.
It is very unfair not to invite Ranjan Gogoi to the foundation laying ceremony of the Ram Mandir in Ayodhya on August 5. In fact, he shd be the chief guest.

— Yashwant Sinha (@YashwantSinha) July 24, 2020
All India Majlis-e-Ittehadul Muslimeen chief Asauddin Owaisi also raised concerns about the presence of the Prime Minister at what is clearly a communally polarizing event.
Attending Bhumi Pujan in official capacity will be a violation of @PMOIndia's constitutional oath. Secularism is part of the Basic Structure of Constitution

We can't forget that for over 400 years Babri stood in Ayodhya & it was demolished by a criminal mob in 1992 https://t.co/qt2RCvJOK1

— Asaduddin Owaisi (@asadowaisi) July 28, 2020
Activist Saket Gokhale had moved court against the ceremony raising concerns about the possibility of permitting religious gatherings amidst the Covid-19 pandemic. However, the Allahabad High Court dismissed his petition.
And there's lovely grounds here. Gatherings aren't allowed for Eid which falls on 31st. If MHA issues guidelines on the same evening for exempting religious gatherings (while not allowing for Eid), it's a violation of Articles 14 & 25 of the Indian Constitution.

Your turn, Shah.

— Saket Gokhale (@SaketGokhale) July 23, 2020
In fact, some right-wing fundamentalists also landed outside Saket Gokhale's residence and allegedly threatened his mother prompting the Maharashtra Home Minister to provide the activist security.
.@SaketGokhale We are taking very serious cognisance of this and have immediately ordered an enquiry into this issue. We will immediately provide you protection. Thane police have been instructed accordingly. #ZeroToleranceForHooliganism https://t.co/p9euseRSe4

— ANIL DESHMUKH (@AnilDeshmukhNCP) July 24, 2020
Meanwhile, the August 5 ceremony will be telecast live on Doordarshan. While on one hand this can be seen as a measure to prevent people from thronging the site, especially amidst coronavirus concerns, it also allows the direct transmission of what is perceived by many to be a deeply communally polarizing event, straight into the living rooms of millions of people, thus posing a threat to the delicate socio-cultural fabric of the country.
Related:
Court begins recording statements of Babri demolition accused
Places of Worship Act case: Jamiat-Ulema-i-Hind moves SC, pleads to be made party
Using Corona pandemic as an excuse to don fresh Hindutva masks?