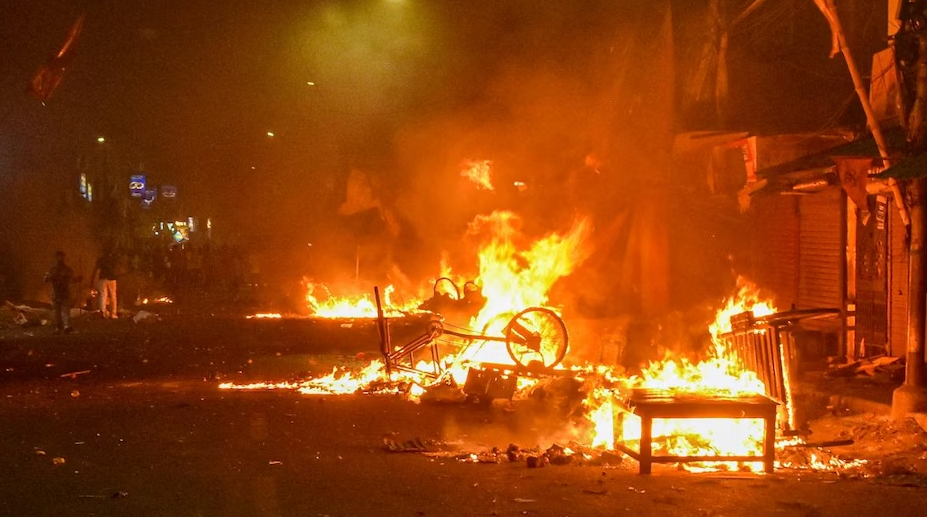 Image: PTI
Ram Navami was being celebrated across West Bengal on Thursday. Reportedly, processions were held in almost all the districts. However, there was a clash between the two groups during Ram Navami in Howrah. Allegedly, there were attacks targeting a group of people and houses. Several people were injured in this incident. Chief Minister Mamata Banerjee has announced strict action against those involved in the clashes. There have been incidents of attacks and vandalism in Maharashtra too. A police car was set on fire there.
In Howrah, eyewitnesses told us that the trouble started from a procession in Shivpur and by noon there was extreme tension in the area and frequent bombings began. Meanwhile, It started raining. Amidst this, shops were vandalised in various places along with some cars. There were reports of arson, as well. A large police force and RAF (Rapid Action Force) were deployed in the area to control the situation.
Leader of Opposition in the state, Subhendu Adhikari, participated in the Ram Navami procession at Ramrajatala in Howrah. The clash took place at Shibpur, about three and a half kilometres from Ramrajatala.
Chief Minister Mamata Banerjee, said on the issue of Howrah, "Those who rioted today, no matter how many cases they file and attack, I will not listen to any excuse. Police are constantly working and they are trying their best to maintain peace and decorum. I am making it clear, I will take strict action against those responsible for today's incident, those who allowed them (people from outside) to enter."
Secretary Surendra Varma said on behalf of the processions, "The procession was happening peacefully. Suddenly some people came from outside and attacked us. Suddenly, bombs were being hurled."
Meanwhile, processions and rallies were also held in Kolkata. All of them had police security.
Tension in Vadodara , Gujarat during Ram Navami procession
A Stone pelting incident at Ram Navami procession in Gujarat's Vadodara sparked tension. According to the police, even though there were disturbances because of this stone pelting incident in Fatepura area, the processions passed through allotted routes. In spite of this, some cars were damaged. But right now, the situation is calm. No one was injured.
A local leader of the Bajrang Dal under the Rashtriya Swayamsevak Sangh told reporters that even though the procession takes place on this route every year, still the police cannot provide protection to them. However, a police officer told reporters that when the procession passed by a mosque in Fatepura area, local people came out. He denied that this was a communal incident.
Maharashtra witnesses clashes during rallies
Clashes erupted over a Ram Navami procession passing through a minority-dominated area in Chatrapati Sambhaji Nagar, erstwhile Aurangabad. Allegedly, tension around the Ram Navami procession started from Wednesday night. Loud music was being played on the microphone next to a mosque.
Reportedly, in Kiradpura, when the procession was moving on Thursday, while playing loud music, two groups of youths started fighting. Abusive and provocative slogans were raised and then the stone pelting started. Many cars were vandalised. A police car was also set on fire. After about an hour of violence, the police fired tear gas and brought the situation under control.
Sanjay Raut, leader of Uddhav Thackeray's Shiv Sena, said, "We were rightfully afraid that there would be riots. It seems like the Department of Home Affairs doesn't exist in Maharashtra anymore."
Related:
Exaggerated or ominous, the Vishwa Hindu Parishad (VHP) claims it has plans for 1500-2000 rallies during Ram Navami in Bengal
Violence over Ram Navami procession in Bengal's Howrah, state a particular target
Ram Navami: West Bengal administration on alert as 2000 celebrations planned