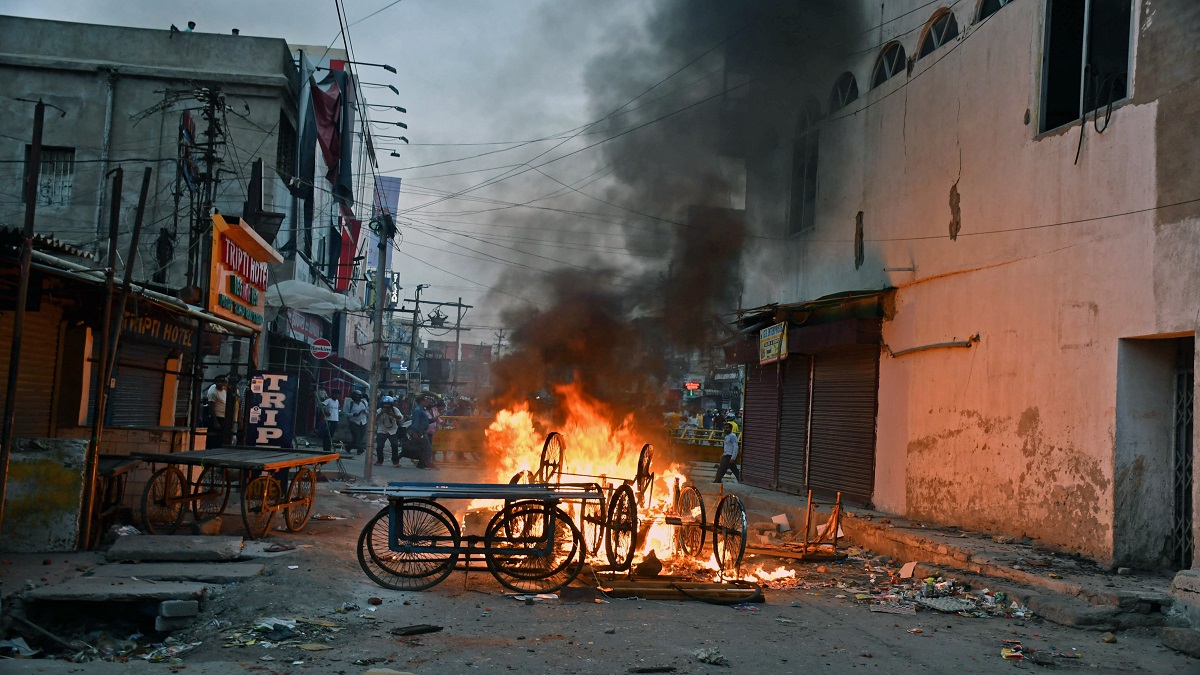 Image: ANI
At least two deaths were reported in Ranchi, Jharkhand after the June 10, 2022 protests across India. Worse still, viral videos show how innocent locals in the protest area suffered assault from the police via lathis and air gunfire.
On Friday, Muslims protested to demand the arrest and punishment of suspended BJP leader Nupur Sharma for her comment on Prophet Muhammad. Many areas such as Saharanpur, Prayagraj in Uttar Pradesh (UP) and even Ranchi – the state capital of a JMM-led Jharkhand government – reported lathi-charge and gun-firing by the police.
According to Business Standard, two people were killed in Ranchi due to gunshot wounds. These two people were later identified as Mudassir of Islamnagar and Sahil of Christia Nagar on the Mahatama Gandhi Road, by Maktoob Media.
A syndicated feed reported that over two dozen people in the city were injured in the clashes. Unconfirmed reports on twitter suggested that one Afsar Alam was hit by 6 bullets raising the crucial question of why it was necessary for the police to use firing as a mechanism to dispel the protests. Thirteen critically injured people were admitted to the Rajendra Institute of Medical Sciences (RIMS) of which two died on Friday night. Another three persons are critically injured.
Whatever has happened in Ranchi is sheer mockery of Indian constitution and right to protest.

Whomsoever using violent means to protest should be booked under charges, demonstration doesn't mean police will directly hit the 6 bullets on young Muslim Man.#RanchiUpdate

— Fahad Ahmad (@FahadZirarAhmad) June 11, 2022
Many security personnel were also injured in places where the protests became violent. Section 144 was declared in 12 police station areas, including Sukhdev Nagar, Lower Bazar, Daily Market and Hindpidi, along with many other parts of India. The paper said that the internet was also suspended in the district. It may be noted that while protesters in some areas did resort to stone-pelting, most protests were peaceful and ended within half an hour.
In light of the violence in parts of the state, Jharkhand Chief Minister Hemant Soren appealed to all citizens to stay away from agitations. Adding that the citizens of Jharkhand are "very sensitive and tolerant", ANI quoted him as saying, "No need to panic. I appeal to everyone to refrain from participating in any activities that will lead to more such crimes."
However, during this time, a video also went viral on social media wherein a young Muslim boy is assaulted and attacked by security personnel despite being clearly ignorant of the happenings around him. The hate attacks as evidence in the video is more than a serious cause for concern.
As can be seen in the video shared by independent journalist Meer Faisal, the police caught the frightened looking boy, who can be heard saying he does not know anything. The youth was pulled by security personnel towards other officers who attacked him with lathis. The terrified youth bolted after which another personnel fired a gunshot in the air.
Visual from Ranchi. A boy was stuck after clash, watch how @HemantSorenJMM's police are throwing stones and firing bullets on him. Today Muslims were protesting against impudent comments on Prophet Muhammad P.B.U.H by ex BJP spokesperson Nupur Sharma. pic.twitter.com/xfbGgccyVk

— Meer Faisal (@meerfaisal01) June 10, 2022
The video has garnered much criticism on social media where people condemned the police for targeting innocent Indian citizens.
He's just a scared kid who's lost and naive enough to go ask Indian police for help. The police instead beat him up and opened fire at him. His crime: he's a Muslim kid. We have failed as a country, we are all silent spectators to the unjust persecution of Indian Muslims. ? https://t.co/DlHXUFsjSn

— smishdesigns (@smishdesigns) June 11, 2022
Shame #Ranchi police. Are u doing your work or targeting muslims. https://t.co/NfYApdvOWg

— mahammad adil عادِل ﷴ (@adil9380) June 11, 2022
After the Friday occurrences, supremacists Hindutva outfits such as Vishwa Hindu Parishad, Hindu Jagaran Manch and others called for a Ranchi bandh on Saturday, asking traders to keep their shops shut in protest against the violence.
Meanwhile, the Indian Express reported how the Prayagraj police in Uttar Pradesh resorted to light force to disperse the youths gathered on the streets after afternoon prayers. Similarly, Ambedkarnagar police said around nine youths were subjected to light force for allegedly stone-pelting in the Tanda area.
In West Bengal, protesters at Howrah attacked a police station and set fire to some kiosks, and several two-wheelers and vehicles. Section 144 was imposed in the protesting areas after authorities estimated that at least 12 police personnel were injured, said the Indian Express.
Related:
Spontaneous pan-India protests against Nupur Sharma
Anti-CAA Muslim activist Afreen Fatima's family members illegally detained!
Pooja Shakun Pandey, HMS has a long history of hate speech