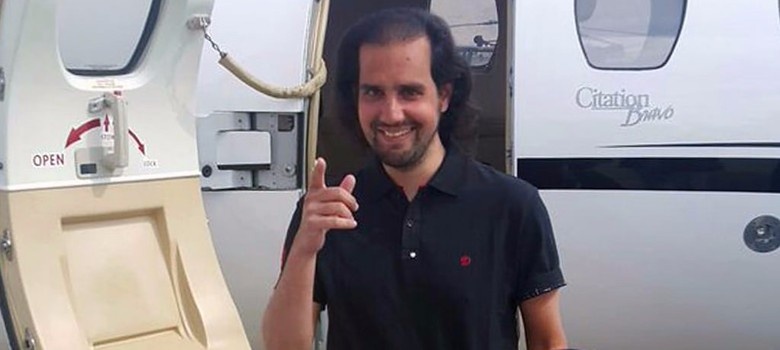 Image:AFP
Very happy to be able to write about some good news – the recovery of Salmaan's Taseer's son Shahbaz Taseer, kidnapped nearly five years ago.
The best news coming out of Pakistan this week was about the recovery on Tuesday of Shahbaz Taseer, the abducted son of slain Punjab Governor Salmaan Taseer. The businessman, in his early thirties, had been kidnapped in August 2011 as he drove to his office in Lahore.
The family had already been under tremendous strain since Salmaan Taseer's assassination in January 2011 at the hands of his official bodyguard Mumtaz Qadri for alleged blasphemy. Qadri, who threw down the murder weapon and surrendered to the other guards, had been booked for murder and convicted. He was hanged on February 29, 2016.
The news of the hanging elicited anger among religious conservatives for whom Qadri had become a poster-boy. But Pakistan's progressive groups welcomed the move, some unconditionally exuberant and others with reservations about the issue of capital punishment.
There was, however, agreement among progressives that the execution symbolised Pakistan's move away from the culture of impunity that prevails particularly whenever a crime is committed in the name of religion. This was the first time that the courts had upheld punishment for a blasphemy murderer.

Shahbaz's younger brother Shehryar Taseer tweeted: "MumtazQadri being hanged is a victory to #Pakistan. NOT the #Taseer family. The safe return of my brother is the only victory my family wants"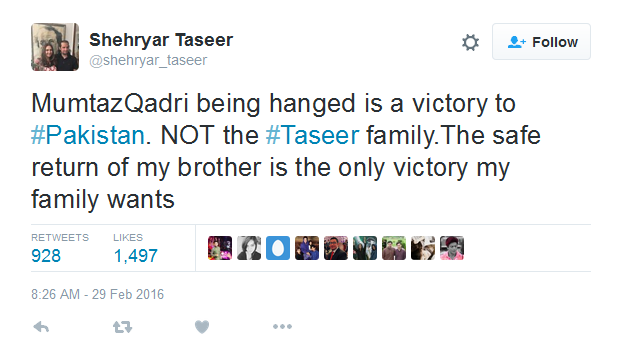 Some reservations
In an analysis published on the progressive blog Pak Tea House the day before Taseer was recovered, Imran Ahmed Khan wrote about the need for an honest dialogue in Pakistan to introspect about who committed blasphemy after all: "Taseer, who asked for an end to the misuse of the law? Or Qadri, who violated the law and took it in his own hands to protect the same law?"
The joy at Taseer's recovery is tempered by the continuing absence of another high-profile kidnap victim, Ali Haider Gilani the son of former prime minister Yousaf Raza Gilani, abducted from Multan in May, 2013, outside a Pakistan People's Party office before the general elections that year.
Gilani has congratulated the Taseer family on their good news and called for the security agencies to also take measures to recover his son about whom there is no news.
After Taseer's abduction, there was speculation that the action was due to a business rivalry or an unpaid debt. As often happens with kidnap victims in Pakistan where criminal mafias have links with militant groups, the original kidnappers were believed to have sold or passed him on to another group. At various points, there were reports that the Tehrik-e-Taliban Pakistan had demanded Rs 500 million to Rs 2 billion for his release, that a group in Waziristan negotiating the release of Qadri and other prisoners held him, and that he had been killed in a drone strike.
News about his recovery began filtering out on March 8, barely a week after Qadri's hanging. His family has undergone nearly five years of uncertainty and trauma. He had been married barely a year earlier. His wife Maheen Taseer, as well as his siblings and mother Aamna captured the imagination of many with their tweets remembering him and praying for his release.
Mysterious conclusion
At session of the Pakistan Senate that morning, People's Party Senator Sherry Rehman, a friend of Taseer's mother Aamna, asked the Interior Minister Chaudhry Nisar Ali Khan about the rumour. Briefing Senate about Pakistan's counter-terrorism National Action Plan, Khan confirmed the news, which Rehman promptly tweeted.
In the absence of any comment from his family as yet, the circumstances around Taseer's recovery remain as mysterious as his abduction.
The Pakistan military's Inter-Services Public Relations issued a press release saying that the intelligence agencies recovered Shahbaz Taseer from Kuchlak district, some 25 kilometres north of Quetta, Balochistan. The area still has a heavy population of Afghan refugees and is known for its Taliban sympathies.
Aitzaz Goraya, the head of the Counter-Terrorism Department, Balochistan, told reporters that on a tip-off, intelligence forces and police went to a compound in Kuchlak that they surrounded and raided it. "We didn't find anyone," said Goraya. "A single person was there and he told us my name is Shahbaz and my father's name is Salmaan Taseer."
However, according to other reports, the kidnappers, under pressure from the military offensive, abandoned the place where they had held Shahbaz Taseer leaving him free to go. He walked to a small roadside restaurant, Saleem Hotel at Kuchlak.
The restaurant owner told reporters that a man in grey shalwar kurta, with an overgrown beard and long hair, ordered food and tea. He then asked to use a phone, but the establishment didn't have one. The man paid his bill of Rs.350 and went out to find a phone. Shortly afterwards, security personnel arrived and took him away.
Shahbaz Taseer was taken to the Civil and Military Hospital in Quetta for a full medical checkup and found to be in good health and stable.
Major General Asim Bajwa released the first photos of Shahbaz Sharif after his recovering.

This tweet by Sherry Rehman captured the emotions of many: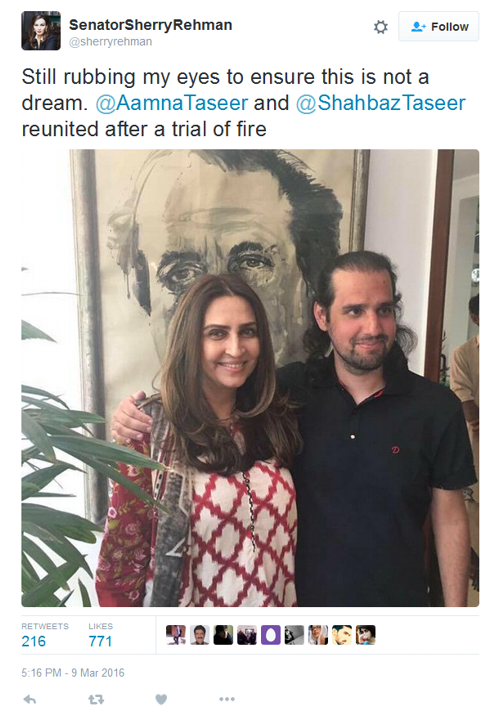 Slain former prime minister Benazir Bhutto's daughter, rap singer Bakhtawar Bhutto Zardari used emojis of a Pakistan flag and heart in her tweet.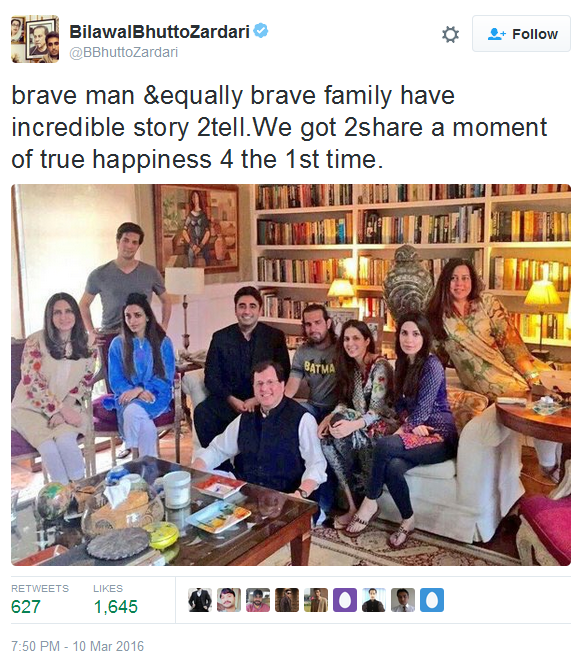 References:
http://scroll.in/article/804888/the-return-of-salmaan-taseers-abducted-son-gives-pakistan-another-ray-of-hope