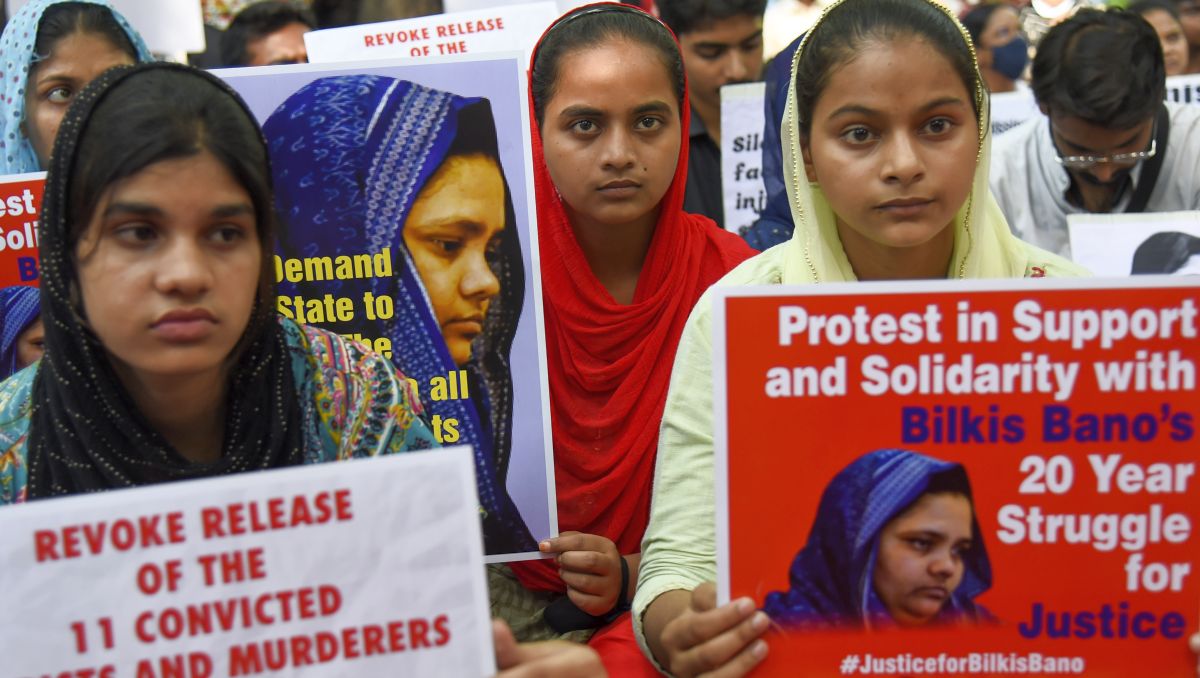 Image courtesy: Shahbaz Khan/PTI
Support for Bilkis Bano and calls for justice for her are growing every day. Now, 134 former bureaucrats have written to the Supreme Court about the recent remission of sentence granted to eleven men convicted for gangraping Bilkis Bano and murdering 14 members of ther family including her two-and-a-half-year-old daughter, asking it to "rectify this horrendously wrong decision".
"We write to you because we are deeply distressed by this decision of the government of Gujarat and because we believe that it is only the Supreme Court which has the prime jurisdiction, and hence the responsibility, to rectify this horrendously wrong decision," says the letter signed by former civil servants and activists such as Aruna Roy and Harsh Mander, former Mumbai police chief Julio Ribeiro, former Home Secretary GK Pillai, former Cabinet Secretary K M Chandrasekhar, former Lieutenant Governor of Delhi Najeeb Jung, and former foreign secretaries Shivshankar Menon and Sujatha Singh, among others. The letter has been put together under the aegis of the Constitutional Conduct Group.
The letter further says, "So influential were the persons accused of this ghastly crime and so politically fraught was the issue that not only has the case to be investigated by the Central Bureau of Investigation (CBI) instead of the Gujarat police, but it also had to be transferred from Gujarat to a special CBI court in Mumbai, to ensure a fair trial, because of the death threats received by Bilkis Bano." It adds, "It is also shocking that five out of the 10 members of the Advisory Committee, which sanctioned the early release, belong to the Bharatiya Janata Party, while the remaining are ex-officio members. This raises the important question of impartiality and independence of the decision, and vitiates both the process and the outcome."
The civil servants urge the Supreme Court, "In view of these glaring deviations from established law, departure from government policy and propriety, and the chilling impact that this release will have, not just on Bilkis Bano and her family and supporters, but also on the safety of all women in India, especially those who belong to minority and vulnerable communities, we urge you to rescind the order of remission passed by the Gujarat government and send the 11 persons convicted of gangrape and murder back to jail to serve out their life sentence."
Readers would recall that on August 25, the Supreme Court issued notice in the petition moved by CPI (M) Member of Parliament Subhashini Ali, journalist Revathi Laul and Prof. Roop Rekha Verma, challenging the grant of remission of sentences. The State was granted two weeks to respond to the petition.
Related:
Bilkis Bano case: SC issues notice in petition challenging remission of convicts' sentences
Bilkis Bano case: Remission of convicts' sentences challenged before SC
Bilkis Bano case: NHRC to discuss release of convicts?
A very bad precedent has been set: Judge who convicted 11 men in Bilkis Bano case
Over 6,000 Citizens Urge SC to Revoke Remission of Convicts in Bilkis Bano Case
Bereft of words, still numb: Bilkis Bano
Bilkis Bano case: Eleven people convicted of gang rape and murder freed