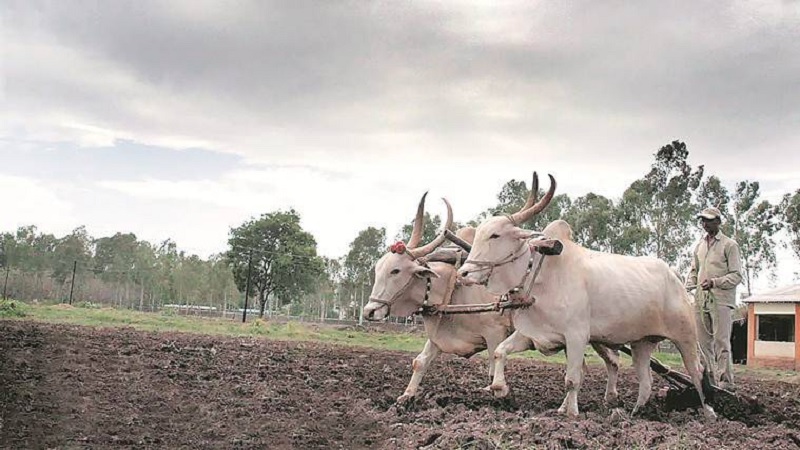 Image Courtesy:indianexpress.com
Farmer unions on February 10, 2022 condemned the Bharatiya Janata Party's (BJP) Zero Budget Natural Farming (ZBNF) plan citing financial presuures that such farmers would have to bear, especially given increased fertiliser prices.
All India Kisan Mazdoor Sabha (AIKMS) General Secretary Ashish Mittal said that the ZBNF will serve as a ploy to further increase fertiliser prices and wind up its subsidy. This in turn will ruin small and middle farmers' crop yields and returns that will go down by over 30 percent.
"As announced in the budget and in the poll campaign by the BJP, it plans to allow only natural farming upto 5 km on 2,500 km along both sides of River Ganga. This is to promote bio fertilizers which are costlier and less effective on High Yield Variety seeds," said Mittal.
He warned that peasants along the Ganga belt will suffer if this plan is enforced by the police. However, the BJP leaders like Prime Minister Narendra Modi have already voiced enthusiasm for this plan in parts of UP, Punjab and Gujarat.Meanwhile, farmer unions like the All India Kisan Sabha (AIKS) and Sanyukta Kisan Morcha (SKM) have already talked about doubling fertiliser costs. Mittal said that peasants also suffered heavily from black marketing.
"This year's budget allocation for fertiliser subsidy is ₹1.05 lakh cr as against ₹ 1.55 lakh cr spent last year. The government is promoting ZBNF to reduce its support to farmers," said Mittal.
Experts from the National Academy of Agricultural Sciences did not find a scientific validation of ZBNF, although Sikkim, India's first organic state, reported a decline in yields.
According to Down To Earth, the non-profit Centre for Science and Environment (CSE) visited 16 farms spread over the four districts of the state in November 2016 and found that farmers' experiences of organic farming was far from satisfactory. Accordingly, many farmers reverted back to conventional farming.
Fertilizer subsidy is calculated based on three bags of urea, one bag of DAP and half a bag of MOP which is expected to be used per acre. Maximum retail price of this comes to ₹ 2,437 while the subsidy is also ₹ 2,418 per acre. The AIKMS said that with the implementation of ZBNF, small and marginal farmers will have to give up their farms and livelihood, contrary to Modi's assurances.
"The BJP is fooling the farmers that their input expenditure on fertilizers will come down to zero in natural farming," said Mittal.
As such, farmer unions appealed to farmers to oppose ZBNF plans that do not provide financial compensation. Instead, it asked farmers to demand a reduction in fertiliser prices. The SKM reminded farmers that the government is yet to provide a legal guarantee to Minimum Support Price (MSP), withdraw FIRs against farmers, compensate families of martyred farmers, reduce raised electricity charges and sack Union Minister Ajay Mishra, who allegedly played an essential role in the Lakhimpur Kheri massacre.
Related:
UP Assembly Elections: Over 57 percent turnout in Phase 1
Lakhimpur Kheri case: Ashish Mishra gets bail!
SKM denounces BJP manifesto
UP's Dy CM's "Brahmin a superior way of living life" a sign of poll panic?
Punish BJP! SKM's resolve for Mission UP