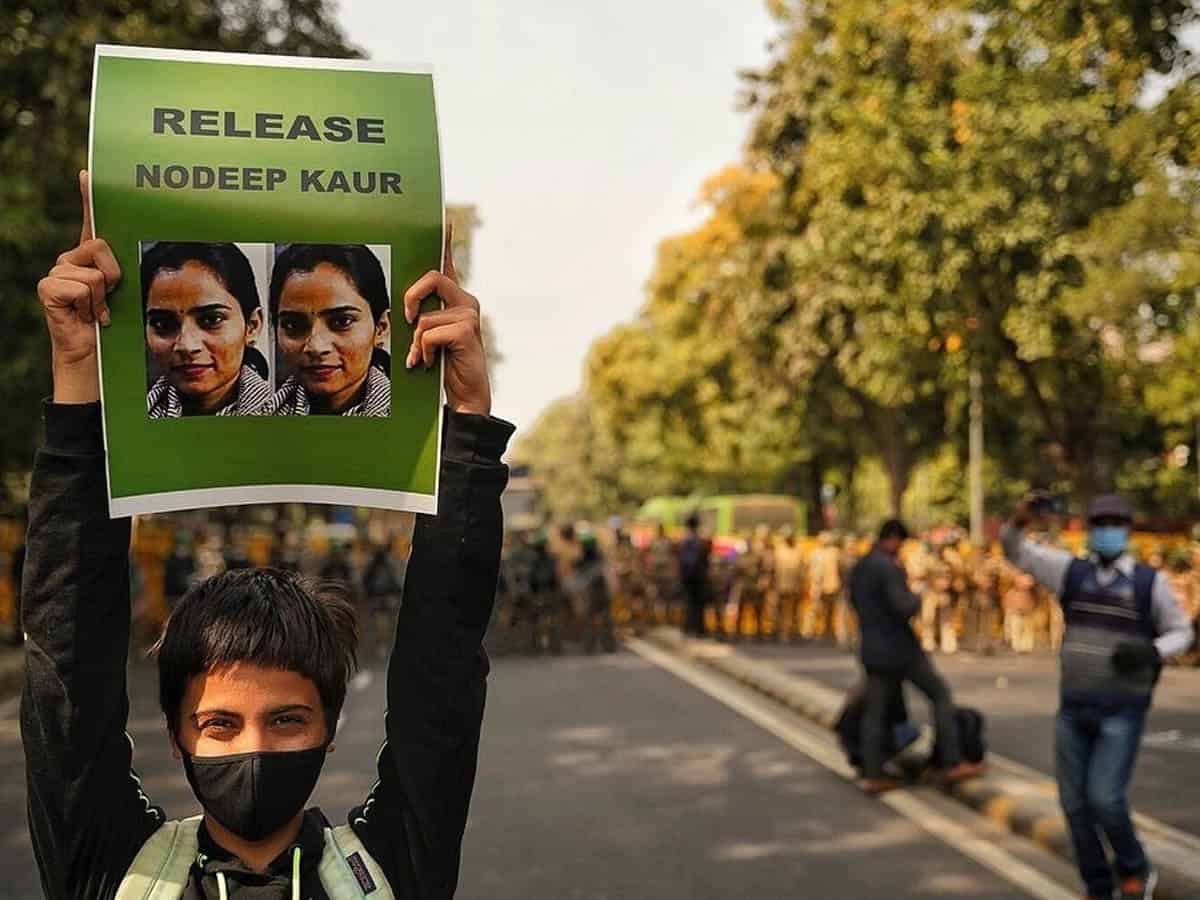 23-year-old Nodeep Kaur has been in Karnal Jail for nearly a month and her family has alleged that she was also assaulted in custody, in the same jail that she is still lodged in. CJP has now launched an online petition urging Punjab & Haryana High Court Chief Justice Ravi Shankar Jha to ensure Kaur gets justice.
Our petition highlights how Kaur has allegedly been assaulted in Karnal jail. She has been denied bail by the district court, and her sister Rajveer Kaur has said they will move the HC soon. The CJP petition not only demands her immediate release, but also that all the trumped up charges against her be dropped.
CJP has also urged those who sign the petition, to write to the Karnal jail authorities and protest the atrocities against Kaur. A Dalit, trade union activist, Nodeep Kaur hails from Punjab and is associated with the Majdoor Adhikar Sangathan (MAS). She had been participating in the farmers' agitation at Singhu border since December 2020. On January 12, 2021, the Haryana Police came to her tent and arrested Nodeep.
Nodeep Kaur had been sitting on a peaceful protest at Singhu with a group of factory workers from Kundli Industrial Area, in solidarity with the dissenting farmers. The workers are also facing similar problems like the farmers, and have alleged they have been exploited by employers, their wages withheld, and jobs taken away. This has increased since they began to support the farmers movement. They have also alleged that they have been targeted by the armed guards of the Kundli Industrial Association and the Haryana Police.
"Farmers and labourers are connected, one grows produce in the farms, the other in factories. Both are being exploited. This is not merely a farmers struggle, this is a united struggle for all of us," Nodeep Kaur had said in a video that was shared widely on social media, adding "the farmers and labourers have similar demands and want the repeal of the anti farmer, anti labourer laws."
on january 12—haryana police abducted nodeep kaur from her tent at singhu protest. since then she has been beaten & sexually assaulted while under police custody.

nodeep is 23 yold punjabi dalit woman & trade union activist who has been bravely speaking up about the protests. pic.twitter.com/XvN6TJwKj8

— rupi kaur (@rupikaur_) January 31, 2021
Her sister Rajveer Kaur, is raising her voice for Nodeep. Rajveer has alleged that Haryana Police have targeted Nodeep and assaulted her in custody, including sexual assault. She says targeting Nodeep is another example of the State's efforts to discredit and malign the farmers and workers movement, and break solidarity it has forged with the worker unions. She says, "Nodeep works for the rights of fellow workers. She started working after her class 12th. Our mother is an activist with the Punjab Khet Union, and lives in Muktsar. As a family, we always stand up whenever we feel something is going wrong." Rajveer is currently the only person who has visited Nodeep in Karnal jail.
She was told by Nodeep about the alleged assault by men police officers. Nodeep remains in custody in the same jail, and her bail plea has been rejected by a Haryana court, which stated that the allegations against Nodeep are serious in nature, "Investigation is still at initial stage and remaining accused have not been arrested as yet. In view of gravity of offence, applicant does not deserve concession of bail and bail application is dismissed," the order stated, adding, she "provoked the mob accompanying her, who launched an attack upon the police officials."
Nodeep faces two FIRs: No. 649 dated 28.12.2020, under Sections 148, 149, 323, 384, 506 IPC Police Station Kundli; and FIR No. 26 dated 12.01.2021 under Sections 148, 149, 323, 384, 452, 506 IPC Police Station Kundli, Sonipat. These allegations accuse her of extortion, rioting while armed, unlawful assembly, assaulting a public servant, extortion, intimidation and attempt to murder. Her sister has said these are "all false charges, she is being framed" because she is a part of labour unions, works for the rights of labourers, "she had been active in bringing over 1,500 labourers to march in support of the farmers movement."
The petition on Change.org may be signed here: Release Dalit Trade Union Activist Nodeep Kaur
Related:
Why was Dalit labour rights activist, Nodeep Kaur, arrested from Singhu Border?