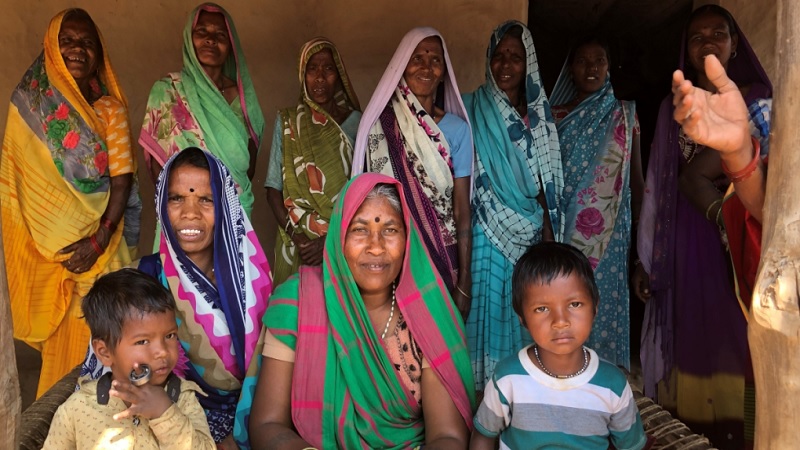 Around 500 villagers from Dudhwa and Rawas in Uttar Pradesh's Sonbhadra district came together to demand the immediate release of activist and journalist Teesta Setalvad on June 28, 2022. In a beautiful example of women supporting women, the villagers, mostly Adivasi women with their children, assembled to condemn the shocking arrest of the human rights defender. The protest was called by All India Union of Forest Working People (AIUFWP) President Sokalo Gond in solidarity with Setalvad.
Addressing Adivasi women and forest workers, at the protest meeting Gond said, "We condemn the Gujarat government for arresting Teesta Setalvad. We stand with her. We will stand with her whenever necessary."
Readers would recall that Setalvad was picked up from her Mumbai home on June 25, 2022, by a unit of the Gujarat Anti Terrorism Sqaud (ATS) and taken to Ahmedabad, where she is presently in police custody. Readers would also recall that when Sokalo Gond had been arrested on trumped-up charges, merely for leading the grassroots movement for community forest rights, it was Citizens for Justice and Peace (CJP) under Setalvad that assisted the AIUFWP to secure her release.
The Adivasi and forest rights defender recollected her own arrests in 2015 and 2018 for standing against the administration, along with activist Kismatiya Gond. In 2018, the two were illegally detained for voicing women's grievances about police brutality. Back then, Setalvad had come to their aid and CJP had filed a habeas corpus petition when they were in captivity, their whereabouts unknown for months! CJP's efforts helped secure their freedom. CJP also helped Gond and another activist Nivada Rana move the Supreme Court to prevent the ouster of Adivasis from forest land.
Gond said the AIUFWP will help the activist in every way possible just as the latter had done for her. "We will win this battle. There is no doubt that these actions are being taken by the regime due to fear. We do not need to be scared," said Gond.
Similarly, fellow activist Rajkumari also addressed the crowd and hailed Setalvad's resolve to question the authorities. "Don't think this is the arrest of only one person. This is an arrest of all of us. We demand her immediate release," said Rakumari.
Setalvad, a highly respected journalist, educationist and human rights defender is facing trumped up charges of criminal conspiracy and forgery. She was detained just a day after the Zakia Jafri case was dismissed by the Supreme Court. Apart from her, former Gujarat State DGP and 2002 riots whistle-blower RB Sreekumar was also arrested.
Around 2 PM, on June 28, the Adivasi women protesters handed a memorandum to the Sub-District Magistrate (SDM) demanding Setalvad's release. According to Gond, the SDM assured support in protecting activists from persecution.
Aside from these two regions, Adivasis in Chandauli are also holding protests on June 29 in support of Setalvad. This is in addition to the flurry of protests that started shortly after Setalvad's illegal detention from her home on June 25.
Related:
Drop charges against Teesta Setalvad: Human Rights Watch
Nation unites to demand Teesta Setalvad's release
Human Rights organisations issue statements of support for Teesta Setalvad
First Teesta Setalvad, now Mohammed Zubair!
Teesta Setalvad inspires art from behind bars
Ahmedabad court remands Teesta Setalvad to police custody till July 1
Support pours in for Teesta Setalvad
After activists, is GoI now targeting farmers?