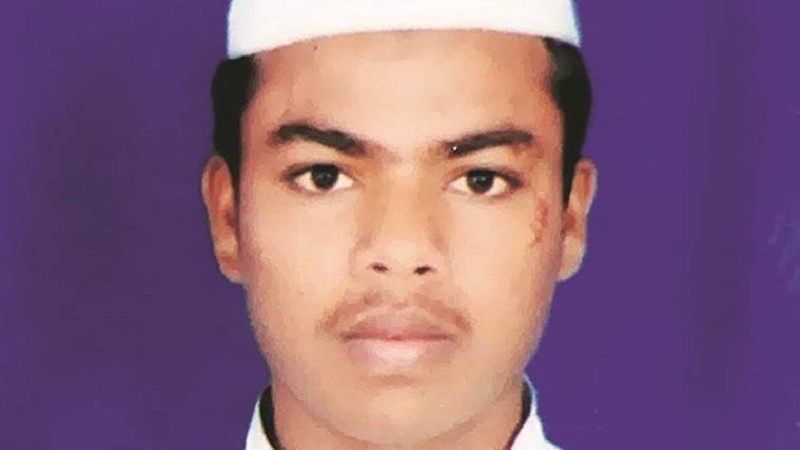 Image Courtesy:indianexpress.com
In January 2019, Saira Bano, mother of Junaid, who was just a teenager when he was lynched on June 22, 2017 on a Delhi-Mathura train, had spoken bravely about the investigations following her son's murder. "The FIR itself has not included the crucial sections of section 302 and 307 (murder and attempt to murder)," she had said, adding, "Six of the accused have been let off by the courts on bail. There is talk of the main accused standing for the coming elections. We need to speak out. There should be no question of feeling afraid. My son's death has killed the fear in me."
Saira also participated in, 'Awaaz Ke Hum Sab Ki Awaaz' a program organized in Mumbai where she recalled that none of the people present in the train came forward to save her child. Junaid's elder brother, Mohd Kasam, had also said "He was just 16. He did not even understand hatred against minorities. Those men asked him to return to Pakistan… There were 60 knife marks on his body, and nobody came to stop them". He said the family had always worked for non-Muslim employers and never imagined they would become victims of hate crime. She was among the inspiring women who had hoisted the Tricolour at Shaheen Bagh to celebrate Republic Day 2020. An act that brought some focus to victims of communal hate.
The #Dadis of #ShaheenBagh #RohitVemula and #Junaid's mothers together hoisted the #nationalflag at ShaheenBagh in the presence of thousands of people.#RepublicDay@sushant_says @MirchiSayema @Troll_Ziddi @imMAK02 @deepsealioness @IamOnir @IndianPrism @NrcProtest @iamrana pic.twitter.com/E4G7p0rpuB

— Mansoor Azad منسور آزاد (@MansoorAzad) January 26, 2020
Another year has gone by, and Junaid's family is marking the fourth anniversary of the day when their beloved child was brutally killed. Another year, they continue to wait for justice. Each year, the voices who storm social media with hashtags #notinmyname, and #justiceforJunaid seems to be getting lesser, as the numbers of right-wing hate mongers grows. Junaid, a teenager who was studying to be an Imam, was beaten, allegedly stabbed and thrown off the Delhi Mathura train. He and his two brothers were returning home after Eid shopping in the big city. Junaid was killed and his brothers were seriously injured in the assault that was clearly communal, with vile abuse being flung at the boys and their beards being pulled.
The murder and assauslt had then fuelled massive outrage and protest. Sabrangindia had reported how even after the attack, the shocked and injured victims received no response from the Emergency Police and Helpline numbers. Junaid was killed, his brothers Shakir and Hashim were also injured. The brothers who survived, had then also alleged that the GRP (railway police force) at Ballabgarh railway station stood by and refused to help. The young men had boarded the train at Delhi around 5 pm for Ballabhgarh, Haryana. Junaid and his younger brother were students in a Madrassa in Surat and were home on their annual visit during Eid. 'Some men' who got on at Tughlaqabad started abusing them using filthy communal language, the survivors had told the media then. When they protested they were brutally attacked amidst shouting of communal slogans. Junaid was beaten to death in the train itself, and then reportedly thrown off it. Media reports carried versions on the reasons for the attack, from "rumours of beef eating on Delhi-Ballabhgarh train" to a fight over seats occupied by the brothers.
Shout out #NotInMyName again
The #NotInMyName Protests after Junaid's killing had shown some resistance to the repeated violence against minorities that has been a hallmark of this regime. Four years later, there is little headway in the case itself. According to a report in Times of India the Supreme Court stayed the trial court proceedings in March 2018, and by October 2018, all six accused were out on bail. Due to Covid-19, the court hearings "have been on the back burner." Saira Bano told TOI that despite the financial difficulties, the family that still lives in Ballabhgarh's Khandawali village, plans to continue the legal battle. "We cannot give up. Junaid must get justice," she said. It is time once again to loudly say #HateHatao, and #notinmyname, as India's 'lynch calendar' as it were, keeps adding new cases as landmarks.
Three Muslims allegedly lynched in Tripura
And it isn't as if there has been a fall in instances of lynching in India. On Sunday, Zayed Hussein (28), Billal Miah (30) and Saiful Islam (18), were allegedly lynched in Tripura's Khowai district. The victims were suspected of 'smuggling' cattle, police told the media. The police told the media, "On Sunday morning, villagers of Namanjoypara found the trio fleeing with five animals in a vehicle." It was reported by the Telegraph that "two of the deceased were beaten up by a mob at North Maharanipur while the third, who had escaped, was caught and assaulted at Sovaram Para, 3km away." The injured men were rushed to a nearby primary health centre, and then to the G.B. Pant Hospital in Agartala, about 45km from Khowai, stated the report. They were declared dead. In the Bharatiya Janata Party governed Tripura, neither transport nor slaughter of cattle is banned. The police told the media that two cases of lynching against unidentified people have been registered.
Haryana's communal season continues
Since May this year, communal tension has flared up in Haryana's Nuh district following the brutal killing of 27-year-old Asif Khan, a gym instructor. He was allegedly abducted, and beaten to death. However the Haryana police had told the media that Asif was "attacked by some people from his own village and that they had a long-running tiff". It was reported that Asif Khan, a resident of Kheda Khalilpur in Nuh, was allegedly abducted while he was out with two cousins to buy medicines when they were "first waylaid by a dozen people and beaten up". It is alleged that Asif "was then taken away, leaving his battered cousins behind at the scene of abduction." According to the complaint lodged with the police the attackers "shot Hussain and also used other weapons on him". His body was found a few hours later. The other two cousins, identified as Rashid (31) and Wasif (22), survived the attack. The Tribune reported that Asif was "taken to the outskirts of Sohna and allegedly killed". His family claims that the men made Asif say 'Jai Shree Ram', and abused him with communal slurs. This has been the pattern has been observed in cases of communal mob lynching accross India.
Just another incident Uttar Pradesh
For Uttar Pradesh an impression that it is a state where vigilante groups feel no fear of the law, and are out targeting members of the minority communities, seems to be what the right wing ecosystem wants. Many of these vigilantes like to call themselves "gau rakshak" or cow protector. The latest murder was reported earlier this month from Mathura district's Tumaula village. The victim, Sher Khan alias Shera (55) was shot dead, and six of his associates were injured. According to media reports the local police alleged the men, who were from Bulandshahr, were "cattle smugglers", who were "attacked by the villagers for smuggling cows in their vehicle." The police reportedly seized the vehicle, and recovered six cows. Additional Superintendent of Police (Addl SP) Shrish Chandra told the media that a preliminary inquiry revealed that "residents of Jawa village came to know that cattle smugglers were transporting cows" and "alerted their neighbours in Tumaula village. The villagers blocked the road and "forced the men transporting the cattle to stop." Police claim that the alleged "cattle smugglers started firing and the villagers retaliated" they " caught the men in the vehicle and started assaulting them with sticks and stones". Sher Khan was declared dead on arrival, according to the news report it is suspected that he was shot in the stomach. Sher Khan's son Sharukh alias Tittu has filed a complaint against unidentified people at the Kosi Kalan police station, accusing them of murder.
Then there was Mohammed Shakir, a meat seller and transporter, who was assaulted in May, in a village in Moradabad district. Shakir's brother in his complaint to the police stated that the vigilantes attacked Shakir when he was carrying 50 kg of buffalo meat on a scooter. The FIR stated that the cow vigilantes demanded ₹ 50,000 from Shakir and then assaulted him, before warning him against going to the police. The police filed a case against the men who attacked Shakir, on the basis of a complaint by the victim's brother. However, they also filed a counter case, of their own volition, stated in the news report, against the victim, and charged him of 'mischief by killing an animal', 'committing an act likely to spread infection', and 'violation of Covid lockdown guidelines'.
Remember Rajasthan's Rakbar Khan?
The investigations in each communal case takes years, to say the least. A case in point is the communal lynching of Rakbar Khan in Alwar, Rajasthan. According to a report in the Indian Express, three years after "31-year-old Rakbar Khan was lynched by 'cow vigilantes' police have finally arrested local VHP leader Naval Kishore Sharma", who had been accused by the victim's family. According to the report, "Rakbar's family had said Sharma, the VHP Gau Raksha cell chief of Ramgarh, Alwar, had led the mob that beat him to death." The case had been damaging to the Bharatiya Janata Party in the state. Alwar SP Tejaswani Gautam told the media that Sharma was arrested on Thursday night and "as per the current Investigating Officer (IO), he has been found guilty of conspiracy, (of being) involved in cow vigilantism." Sharma had been sent to 10-day custody.
In February this year, the district court in Alwar, Rajasthan rejected the plea filed by Rakbar Khan's mother for transferring the cow-vigilante mob lynching trial to another court. Rakbar Khan was brutally beaten to death by a mob on the night of July 20-21, 2018, when he, and his friend Aslam, were walking with two cows towards his home, Aslam had managed to escape. Later, Aslam and Khan's mother, Habiban filed the application for transfer citing lack of trust in the ADJ court which is hearing the case. Habiban argued before the District court that she has no hope from the ADJ court hearing the case and even claimed that the case has been 'managed' by the accused, who have openly told them that "faisla hum humare favour mein kara ke chhorenge (We will ensure the judgment is in our favour)." Those arrested were: Dharmendra Yadav, Paramjeet Singh, Naresh Sharma and Vijay Kumar, while investigation was kept pending against Sharma under Section 173 (8) of the CrPC, reported the IE.
Policemen as accused?
In a chilling coincidence, another horrific death was reported from Haryana's Nuh, the victim is also named Junaid. A complaint from his family stated that the24-year-old, Junaid, succumbed to injuries inflicted while in police custody. A case has now been registered against "11-12 police personnel" from Nuh Police, who told the media that an FIR has been registered on the complaint submitted by Junaid's mother, Khatija, at the Bicchor police station in the district. Narendra Bijarniya, Nuh SP said the "FIR has been registered under IPC sections 302 (murder), 342 (wrongful confinement), and 34 (common intention) against seven police personnel by name and 4-5 unnamed others." Those accused are Sub Inspector Rajesh, Sub Inspector Surjeet, Head Constable Naresh, Head Constable Dalbir, Assistant Sub Inspector Narendra, Assistant Sub Inspector Javed and Station House Officer Basant, all from the cyber station in Faridabad. According to Junaid's relatives he was wrongly picked up on May 31 and tortured in custody. Faridabad Police however, have reportedly said he died due to a kidney ailment. According to Indian Express, the Faridabad Police, said they had taken Junaid, along with five others, into custody in connection with a case registered in September last year regarding an incident of financial fraud of Rs 80,000. They added that Junaid was among those taken for questioning on May 31, and was suffering from kidney disease; he and four others were "released the same night," Sube Singh, PRO of Faridabad Police, told the media that three others, including Junaid's two brothers, were arrested.
Related:
One killed, six injured in UP for allegedly smuggling cows
Gujarat communal clash: FIR against 2,000 unidentified people
Cow vigilantes assault Muslim man, cops file case against victim too!