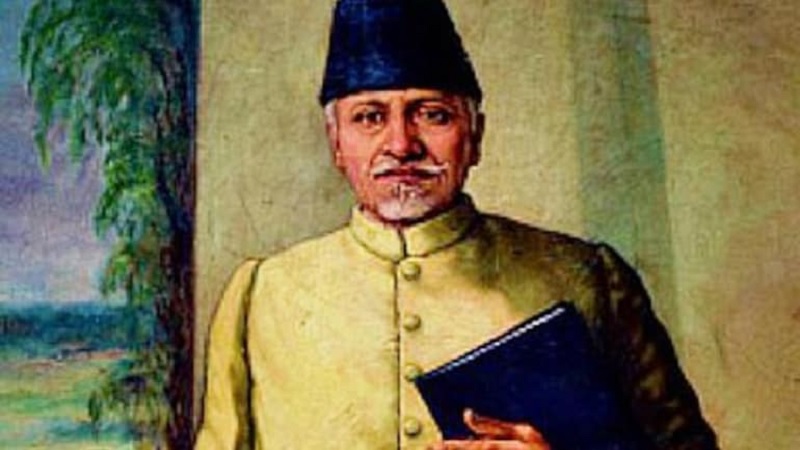 Image Courtesy:indiatoday.in
In 2008, November 11 was designated as National Education Day to commemorate the birthday of Maulana Abul Kalam Azad, independent India's First Education Minister. Maulana Azad an internationally well-known educationist was born in Mecca, Saudi Arabia (KSA) on November 11, 1888 and passed away in New Delhi, India, on February 22, 1958. This multifaceted genius can be taken for discussion in various dimensions e.g. Azad as an educationist, Azad as a commentator of the Quran, Azad as a thinker, Azad as a theologian, Azad as an orator, Azad as an editor, Azad as a journalist, Azad as a politician, Azad as a debater, Azad as an author, Azad as a husband even Azad as a spokesman for the plight of poor etc.
The personality of Maulana Azad needs no introduction. Almighty Allah bestowed upon him extraordinary knowledge and wisdom. Right from his childhood, he was quite sharp-minded. He had exhibited his erudition and scholarship by rendering the address of Allama Syed Rashid Reza of Egypt in Urdu when he had come to address a meeting in Nadwatul Ulama, Lucnkow on the invitation of Allama Shibli Nomani in 1912.
A.B. Rajput describing the influence of Maulana Azad says: Caesar was a man of the moment and Paul a man of the future for Caesar was the symbol of his age and Paul was the embodiment of those prophetic qualities which create a future age. But Abul Kalam Azad happily combines in him the qualities of both Caesar and Paul, for his actions and achievement, though symbolical of the present age, required yet another age to be fully understood and recognize.(Khilafat to Partition)
According to Mahatma Gandhi, "Maulana Azad is the most forceful, truthful, and fearless satyagrahi and fighter against oppression and injustice that I have come across." Jawaharlal Nehru once said, "Though I am grateful to all my companions, I would like to mention especially Maulana Abul Kalam Azad, whose erudition has delighted me incredibly, and has sometimes overwhelmed me. In Azad along with the good qualities of the past, the graciousness, the deep learning and tolerance, there is a strange and unique mixture of the urges of today and the modern outlook."
In fact Maulana Azad wanted to make India an ideal country where all people may live with peace and amity by carrying out the principles and tenets of their respective religions. He never like slavery, servitude and serfdom. That is why he remained an ardent preacher of his religion also. Even when he became the first Education Minister of free India he adhered to his principles and faith strictly. His monumental work Tarjumanul Quran is the best exposition of his religious thoughts and concepts.
Maulana Abul Kalam Azad was one of those remarkable personalities who could not only stir the whole world, but when necessary could direct the current of human history in more useful and profitable grooves. His life was a stormy one full of sensational and epoch making events. The life of this great scholar who could make his own way in every walk of life requires to be divided into five broad divisions.
a) His childhood upto the age of seven years (1895).
b) His traditional education upto fifteen years (1902).
c) His struggle for the discovery and realization of Truth (1902-1910).
d) The crusade for the promotion of the appreciation of the Truth and its implementation upto 1947.
e) The glorious last ten year upto 22nd February 1958. (Abul Kalam Islam and Humanity,P,13).
Maulana Azad selfless contributions and arduous services in National Struggle for Freedom can never be overlooked. He fought alongside Pandit Jawaharlal Nehru and Mahatma Gandhi to get India free from the British rule. In 1947, Jawaharlal Nehru appointed him as the first Education Minister in the newly formed Indian cabinet. He remained Union Minister of Education till his death in 1958.
It was Maulana Azad who gave the first call for Swaraj in 1912 when he launched Al-Hilal from Calcutta. In 1922 Maulana Azad claimed in his court statement that the job of creating spiritual and religious spirit in the hearts of youths which Mahatma Gandhi had started, AL-Hilal had already fulfilled this obligation in 1914. Maulana Azad had the right to this claim.
Dr. Najma Heptulla says, "His writing had such an electrifying effect in masses that British Govt. confiscated the Al-HILAL Press and sent Maulana Azad in confinement at Ranchi. This confinement and many arrests that follow did not deter him from the path he had chosen for himself. Maulana was a devout Muslim and staunch Nationalist he believed that the country cannot be free from the foreign rule until and unless Muslims and Hindus jointly fight for it. His message on the eve of his arrest on December 1921 spells this out clearly: The faithful should neither worry nor grieve. They should rest assured that if they have true faith they will be victorious over all. Our victory depends on four principles of truth Hindu-Muslim Unity peace, discipline and sustained sacrifice."
Maulana Azad said in his presidential address delivered at the Congress Session of 1923: If an Angel were to decent from the clouds today, settle on Qutub Minar Delhi and proclaim from there that India can win Swaraj within twenty four hours provided that India renounces Hindu-Muslim unity., then I would renounce Swaraj and not Unity. Because if Swaraj is delayed that is the loss of India, but if Hindu-Muslim unity is lost it is a loss to humanity.
Maulana Azad's education plan had four objectives. First, the removal of illiteracy. This was to be achieved through the universalisation of elementary education upto the secondary level. The project reached out to women as well. Second, the provision for offering equal educational opportunities to all irrespective of caste and class. Third, the three language formula. This made Hindi and the state languages the medium of instruction. English was offered as an important second language. Fourth, the expansion of primary education throughout the country.
K.N. Nizami has precisely said: The corner-store of Maulana Azad's educational policy was his conviction that democracy cannot function without eradication of illiteracy. This supplied the motive power to his efforts in the field of national education. He often approvingly quoted Disraeli who used to say that a democracy has no future unless it educates its masses. Maulana Azads educational conspectus covered all segments of Indian population and dealt alike with the villages and the towns. He gave his attention to every important problem whether it concerned the medium of instruction, syllabi, future of graduates, linguistic tension, adult illiteracy, sports, festivals, roads, houses etc.
The India of Maulana's dreams was a country proudly following its past traditions of enlightenment and culture but keeping itself abreast of all intellectual and scientific developments in the world. (Azad Academy Journal)
It goes without saying that the system of education which we have today is largely built by Maulana Azad. On account of his selfless patriotism, indomitable courage, free and forceful tendencies and inclinations he is considered one of the builders of great India. Azad has been posthumously awarded India's highest civilian honour, Bharat Ratna in 1992. In short, Maulana Azad was a complete genius. He was, no doubt, India's Jewel and Bharat Ratna. He will remain immortal in Indian history.
*The author is a Faculty Member of Nadwatul Ulama, Lucknow-226 007
Related:
India's composite culture and Muslim stalwarts
Are citizenship and secularism 'disposable' subjects for Indian students?