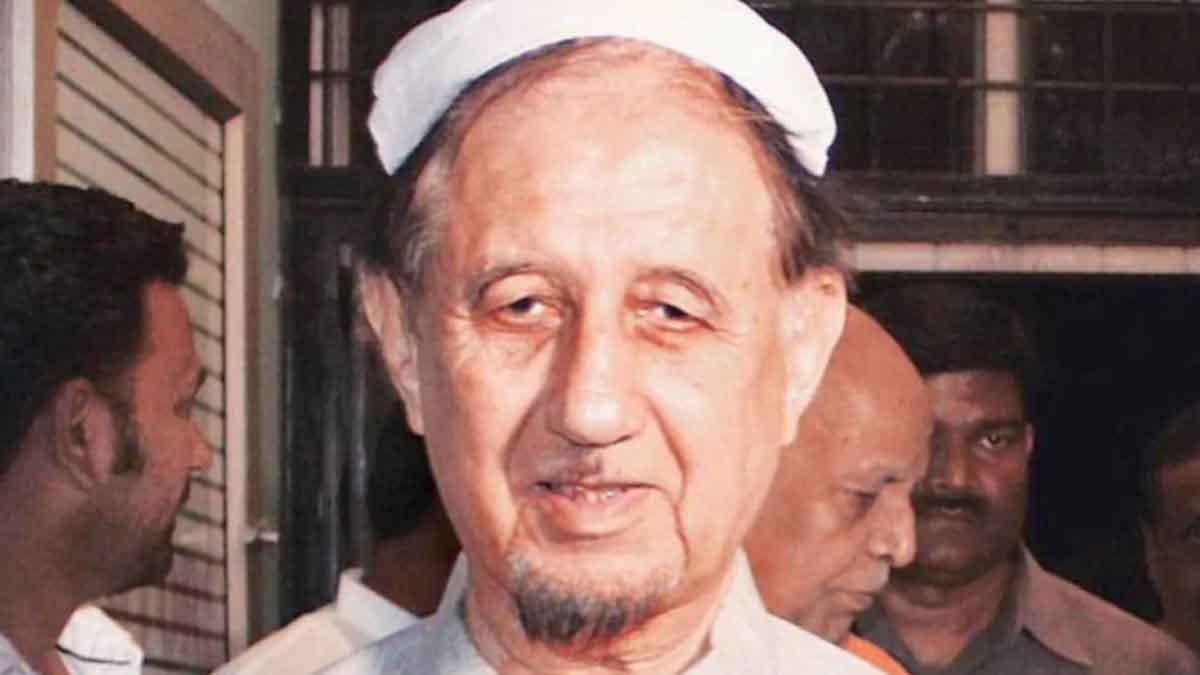 President of The Era's Medical College & Hospital Lucknow, and the general secretary of All India Shia Conference and All India Milli Council vice chairman Maulana Dr Kalbe Sadiq's death is being mourned by many across the country today. Dr. Kalbe Sadiq passed away yesterday, November 24 in Lucknow, the city of his birth.
Namaz e Janaza Amme Mohtaram Dr Kalbe Sadiq Sahab Qibla. Iltemas e Surah Fateha #KalbeSadiq pic.twitter.com/TMF67cnjrX

— Maulana Syed Saif Abbas Naqvi (@SaifAbbasNaqvii) November 25, 2020
Dr Kalbe Sadiq has always been hailed as an Islamic scholar, philosopher, reformer, educationist, and philanthropist. He has traveled across the world, delivering lectures and meeting people. He hailed from a family of scholars, his father Maulana Kalbe Hussain was a well known Islamic scholar, and his brother Kalbe Abid was a former chairman of the theology department at Aligarh Muslim University (AMU). Dr Kalbe Sadiq received his early education from the madrasa-e-Sultan ul Madaris, and later attended AMU, earning a Bachelor of Arts degree. He also earned a Master's degree in Arabic Literature from AMU, and later earned his Doctoral degree from Lucknow University.
Various obits posted to remember him and his contribution to the education of the community, recalled that he founded the Tauheedul Muslimeen Trust on 18 April 1984 to reward scholarships and educational assistance to students. Other educational, charitable and constructive projects running under his supervision include: Tauheedul Muslimeen Trust; Unity College; Unity Mission School; Unity Industrial Training Center; Unity Public School; M.U. College; Unity Computer Centre; Unity Free Education Programmes; Hiza Charitable Hospital; T.M.T Medical Centre, all based in his home state Uttar Pradesh. He also pioneered the T.M.T's Widow's Pension Scheme, and oversaw the reconstruction and expansion of the Imambargah of Ghufran Ma'ab, and the reconstruction and renovation of the tomb of prominent Urdu elegy writer and Marsia Khwan Hazrat Mir Anees.
It was in 2017, that the senior Shia cleric, Maulana Kalbe Sadiq had said that Indian Muslims will have much to gain if following a Supreme Court verdict in their favour, they voluntarily handed over the Babri Masjid site to Hindus. Maulana Sadiq's comments were made in the course of his speech at the inter-faith World Peace and Harmony conclave in Mumbai. Anticipating a hostile Muslim response to his suggestion, he had reasoned that if the Supreme Court judgment was not in favour of Muslims they should gracefully accept the decision of the highest court in the land. If however, the verdict was in their favour Muslims should voluntarily surrender their claim and hand over the disputed land to Hindus.
By giving away one thing that is precious, one often stands to gain in thousands, he reasoned, "I would rather urge the community to give away the disputed land to Hindus whose feelings are so deeply attached to the place." His personal opinion on the issue had fuelled a major discussion.
Today, many across communities recalled the celric who always spoke about unity and peace. Even his funeral is said to have been an ecumencial Shia-Sunni one.
Joint Shia-Sunni, Namaz-e Janaza of Maulana Dr. Kalbe Sadiq Saheb

Zamin ne cheen liya Ilm ke Khazane ko
Milega dusra Sadiq Na Ab Zamane ko
~Ambar Turabi✍ pic.twitter.com/rmWxdsRrMb

— Mardud e Haram (@jon_snow_T) November 25, 2020
Little tribute to one of my favorite Maulana
Dr. Kalbe Sadiq Naqvi who was an Islamic
scholar, reformer, educationist & preacher.
(1939 – 2020)

You all are requested to recite Surah al
Fateha. May ALLAH Bless him highest
ranks in Jannah. A great loss, Indeed..! pic.twitter.com/oe7zmfPzmU

— Anjuman e Masoomeen (@hydmasoomeen) November 25, 2020
Related:
By giving away the Babri Mosque Muslims will win a million Hindu hearts: Senior Shia