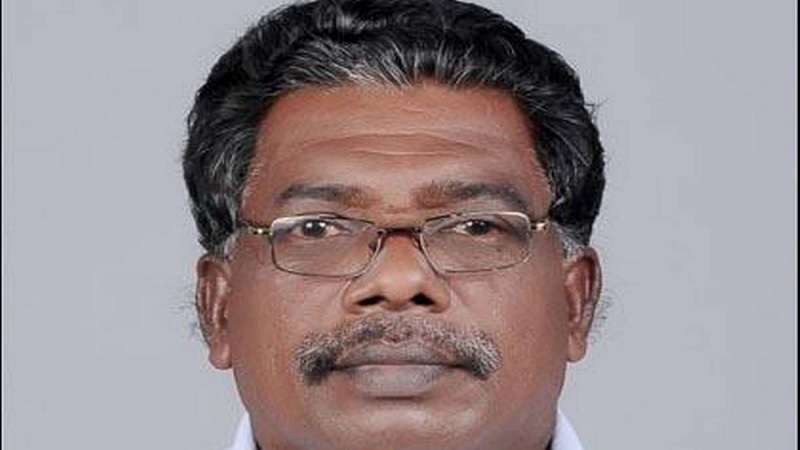 Image Courtesy:thehindu.com
T Peter, General Secretary of the National Fishworkers Forum (NFF), had used the Covid-19 lockdown to work even more than humanly possible for those he called "my people". Thanks to him, and the NFF, information about stranded fishworkers along the coast of Gujarat, Maharashtra, and the Gulf Countries reached the national media. Many returned home to their waiting family, thanks to the man who worked day and night, collecting, translating, disseminating information about the fishworkers, and preparing documents with his team to be shared with the authorities and media.
This, in addition to the scores of reports and policy papers he would read and with the eye of an editor and the soul of the trade unionist, pick out any anti-worker policy that the authorities may have hidden in jargon. Ever the gentleman, he would always return missed calls from reporters, including the SabrangIndia team, with an apology. "Sorry I did not take your call, I was in a webinar," was the reason he would start with, "but I want to thank you for your report. No one listens and shares the voice of fishworkers like SabrangIndia does," he would say and patiently proceed to decode some jargon filled policy the Union Ministry would have just passed. He would then send a detailed press note the next day, "just in case I missed anything". "We should write a book on the struggles of the Fishworkers sir," this writer once told him. "Yes yes, let the lockdown end, we at NFF must meet with team SabrangIndia".
T Peter passed away on October 8, succumbing to Covid-19 related complications in Thiruvananthapuram, Kerala. He was 62 years old. The video of his last journey sent by a friend shows the pallbearers observing full Covid protocol, of protective body suits, and physical distancing of the mourners, however one can hear the wails and cries of the men and women T Peter fought for all his life. As the ambulance bearing his mortal remains drove through the streets of the state capital, towards the designated graveyard, a eulogy of the man who the fishworkers called their 'chettan' or big brother, was broadcast on loudspeaker.
Peter fought for more than three decades, as a full time activist and union organiser, to empower India's fishing communities, stated his colleagues, and comrades in a statement. He played a critical role in advancing their struggles from the margins into the political mainstream. They shared his work live bio stating that he joined the Kerala Independent Fishworkers Federation (KSMTF) in the early 1980s as a young organiser in the "fight against trawlers which were destroying both the fragile coastal ecosystems and traditional livelihoods".
He rose through the union ranks, became a district-level leader and then the state president, he was a cultural activist long before he became well known as a socio- political activist. Even after he passed on the state leadership mantle to the next generation, Peter spent his next years playing a creative and active role at the national and international levels.
After he became the General Secretary of National Fishworkers Forum (NFF), Peter was immersed in organising fishworkers' unions across the coastal states, and working towards protecting the livelihoods of traditional and small-scale fishworkers from the destructive impacts of large development projects and market driven globalisation.
He was an executive member of the World Forum of Fisher Peoples (WFFP), and was instrumental in raising fisher concerns at global fora. As shared by his NFF colleagues, Peter was central to the organising of the 7th General Assembly of WFFP in New Delhi in November 2017 which drew participants from across the world.
Peter believed "in solidarity amongst various social, workers and environmental movements" he constantly worked to forge alliances across a number of people's platforms in India. He played an active role in the National Alliance of People's Movements (NAPM) and worked closely with groups such as the All India Union of Forest Working People (AIUFWP), Bhumi Adhikar Andolan, New Trade Union Initiative (NTUI), Coalition for Environment Justice in India (CEJI) and Forum for Trade Justice, stated his colleagues.
According to his friends Peter was politically astute, and had worked with leaders like Fr. Thomas Kochery, Harekrishna Debnath, Matanhy Saldanha and Ram Bhau Patil. His vision was to always protect the rights of fisher folk of India, and to protect India's coastal areas. He ensured that the NFF and KSMTF were active participants in many joint struggles against special economic zones, the World Trade Organisation (WTO), free trade agreements (FTAs), industrial corridors, nuclear parks and port expansion. Peter was also chief editor of ALAKAL, a fortnightly magazine published by KSMTF since 1985.
Peter even used the Covid-19 lockdown for upgrading his own technical skills, and was soon online researching, connecting with people the world over, and his latest love of international webinars was becoming well known by the fact that he would send a text or email in the wee hours, almost as if he was running on an international clock. Of course, with all attention on the job at hand he would not take calls whenever a webinar was on. Perhaps he was just too polite to use the mute button online
Few knew that when his home Kerala was hit by floods in 2018, Peter played a pivotal role in mobilising fishworkers and their boats in rescue and relief operations. A fact just shared by his colleagues. Peter would never ever talk about his own achievements. According to his colleagues, just before he fell ill he was busy mobilising the community to oppose the pro-corporate draft of the 2020 National Fisheries Policy and the West Coast Shipping Corridor being pushed unilaterally by India's Central Government.
His colleagues, today, fondly remembered the unassuming man who "would unhesitantly walk into any Ministry to push the public cause, just as he would walk into any fisher home to extend solidarity or lead a protest or a rally asserting traditional fisher rights."
"His trademark all weather light blue half-sleeve shirt and white mundu (dhoti) with a cotton cloth bag on the shoulder, is how we will always remember Peteretan- as he was known to his younger friends," stated his colleagues. Many of whom lined the streets to pay their last respects.
Peter's sudden passing is indeed an irreparable loss to people's movements in India and globally. His colleagues state that Peter's life's mission "to work with commitment and for solidarity action towards justice and equality for all" will continue in their actions now. "Peteretan will always be with us to inspire us in our struggles for a better world," the statement were signed by National Alliance of People Movements (NAPM), Delhi Forum, Delhi Solidarity Group, Chennai Solidarity Group, Coastal Action Network, SNEHA, LAW Trust, Pakistan India Peoples Forum for Peace and Democracy (PIPFPD), Third World Network, Environment Support Group, Coalition for Environmental Justice in India, Programme for Social Action (PSA), Centre for Financial Accountability (CFA), Focus on the Global South, and Forum for Trade Justice among others.
The National Fishworkers Forum [NFF] in a separate statement deeply mourned the demise of "our beloved leader and one among the tall stalwarts of the fishworkers movement – Comrade T Peter". They recalled that he, the son of Thomas and Clarie Bell hailing from a fishing village, "dedicated his life and defined his role of engaging with and for the struggling communities."
Narendra R Patil NFF Chairperson stated, "As we all are coming to terms with this untimely loss, NFF also stands with Peter's family and remembers them for their dedication in giving us Peter to take forward the aspirations of the fishing communities. It will be from Peter's energy, optimism and politics of 'a new world is possible' that will lead and help us to carry the aspirations and vision of the fishworkers forward."
Related:
EXCLUSIVE: 820 TN fishermen trapped in Iran send SOS videos
If fish dies it is GDP, if fisherman dies it is ex-gratia
Gov't risking lives of fishermen by letting them venture rough seas
Fishing for trouble, or troubling the fishworkers?
I don't have 100 dollars to reach the port: Indian fisherman in Iran