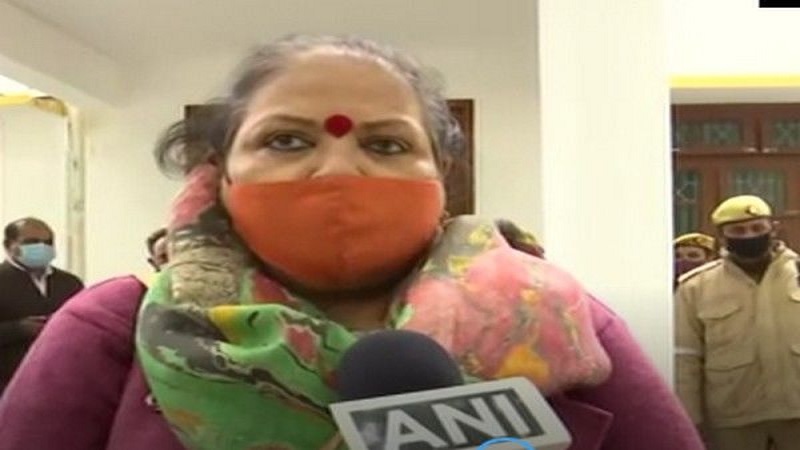 Image Courtesy:ca.movies.yahoo.com
The All India Federation of Anganwadi Workers and Helpers (AIFAWH) and the Center of Indian Trade Unions (CITU) have demanded the removal of Chandramukhi Devi, member of National Commission for Women (NCW) who has passed derogatory remarks against a woman who was raped and murdered in Budaun, Uttar Pradesh. In a disgusting and shocking statement, Chandramukhi Devi had virtually blamed the victim and said that the 50-year-old anganwadi worker who was assaulted and brutalised allegedly by a temple priest in the temple compound, shouldn't have gone out alone!
Devi was part of the two-member team sent by the Commission to meet the victim's family and get details of the matter so justice was served. However, instead of empathising with the victim who was brutalised, raped and killed, Devi decided to blame the dead woman. According to Devi, the "incident" would not have occurred if the 50-year-old victim had not "ventured out alone in the evening". Devi said, the woman should have at least "taken a child along with her."
A delegation of AIFAWH-CITU also met the family of the victim. The Federation has demanded a fast track trial, adequate compensation and a job to the victim's family. The delegation assured the family all solidarity and assistance so that justice is served.
The victim leaves behind five children including two minor girls who are studying, her son is unemployed. The AIFAWH-CITU has also condemned the attitude of the "Union Minister and department of Women and Child Development which is yet to even condemn the heinous act in spite the murdered woman was a government servant in this department."
According to a statement issued by the federation, "Given the track record of BJP led Yogi government in UP in previous cases like Unnao, Hathras, Badaun(2014) etc, and the total insensitivity by the police in handling the case, delays in postmortem, filing FIR, arresting the main accused who was found in the same village, there is all chances that the culprits will get off scot free." The delegation met the ADM and submitted a memorandum with the following demands:
. Adequate Compensation to the family and government job to her dependents
. Ensure safety of the family of the woman
. Ensure speedy trial in the case. Proper legal assistance to be provided to the family
. Exemplary Punishment to all those in Police and administration who are guilty for the delay in dealing with the case
. Gender sensitisation of the Police and administration of UP must be undertaken immediately.
The AIFAWH had also given a call for protest against the brutal murder, and in response Anganwadi workers and helpers throughout the country came out to protest. The CITU and AIFAWH have said they will intensify the campaign and struggles against violence against women.
Related
Why did Budaun police take so long to catch rape-accused
NCW member blames Badaun gangrape victim!
Ex IAS officer claims UP govt detained him for trying to meet Badaun gangrape victim's family
Woman allegedly gang raped, brutalised inside UP temple
Uttar Pradesh: 19-year-old woman allegedly gang-raped when returning from Navratri