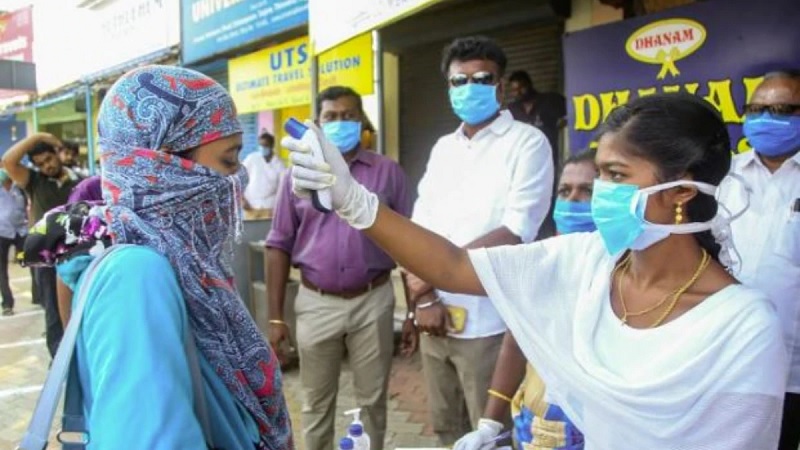 Image Courtesy:indiatoday.in
A look at the data of various state governments has revealed that there is a huge gap in the vacancies for Accredited Social Health Activist (ASHA) positions in several urban Covid-19 hotspots, The Indian Express (IE) reported.
ASHA workers have emerged as lifesavers during the pandemic as they conduct door-to-door health surveys and collecting samples from suspected patients and those at quarantine centers. IE reported that Maharashtra's hardest-hit Covid-19 districts have the most ASHA vacancies – Jalgaon has 83% vacancy (1,267 Covid-19 cases), Aurangabad 63% (1,982 Covid-19 cases), Pune 65% (7,141 active Covid-19 cases), Mumbai 64% (34,576 active cases), and Solapur 55% (960 active cases). Mumbai only has 260 urban ASHA workers, while Pune has 324.
Half of Maharashtra's approved ASHA positions (3,560 out of 7,493) in 27 municipal corporations are vacant, while 43% (1,051 out of 2,423) positions in its 33 municipal councils are vacant, according to state government data. In comparison, just 0.5% (324 out of 61,215) positions are vacant in the state's rural districts, IE said.
Vijay Kandewad, Joint Director at Maharashtra's National Health Mission told IE, "There is a need. In urban areas, we are utilising all workers in all departments for corona… (But) some of our posts are vacant."
In the same way, Madhya Pradesh's urban centers too have many vacant positions – Indore has 20% vacant positions (946 active cases), Bhopal has 25% vacancies (663 active cases), Ujjain 28% (80 active cases) and Gwalior 52% (47 active cases). These are all equal to or above the state's average vacancy rate of 20%, according to state government data, IE reported.
The need for frontline ASHA workers comes forth in the numbers cited. India on an average tested 20 contacts for each positive case as per the Indian Council of Medical Research (ICMR) while Maharashtra tests 7.6 contacts, West Bengal 7.6, Delhi 8.9, Madhya Pradesh 11.6 and Gujarat 11.7.
In Delhi, IE reported that there were lesser vacancies at 351 out of 6,345. Each of Delhi's 11 districts has an average of 500 ASHA workers. In Gujarat the reported vacancy was only 3 percent – Ahmedabad has 2,562 ASHA workers, Surat 1,852, Vadodara 1,698 and Rajkot 1,619.
In West Bengal, IE reported Ajoy Chakrborty, Director of Health Services as saying that there was a need of ASHA workers in urban areas. He told IE, "Rural contamination was largely stopped by ASHAs. But their corresponding honorary health workers (in urban areas) have a major challenge. They are not experienced like ASHAs. We were on track to fix this, but we need more time," adding there were almost nil ASHA workers in urban areas and 10 percent in rural areas.
Incentive for ASHA workers
Himachal Pradesh Chief Minister Jai Ram Thakur said that as ASHA workers had helped contain the pandemic in the state, the state government had decided to give them Rs. 2,000 as incentive for June and July, Hindustan Times reported. He mentioned that they had not only educate the masses about the use of masks and importance of social distancing, but also sensitized people in home quarantine to follow norms to ensure their safety.
Last week, the Karnataka government too was contemplating to offer permanent financial help for ASHA workers by forming a co-operative society and self-help groups or them so that they could get loans at lower interest rates from 0 to 4 percent, Deccan Herald reported.
Karnataka Co-operation Minister ST Somashekhar told Deccan Herald, "For the hard work of Asha workers during COVID-19 situation, Co-operaton Department is collecting money from profitable co-operative institutes, and distributing Rs 12.07 crore as incentive to 42,000 Asha workers in the State." He also distributed a Rs. 3,000 incentive cheque to each ASHA worker symbolically.
Unhappy with safety measures, pay
While ASHA workers go about their work diligently risking their lives, there have been reports from various parts of the country that these workers are not given PPEs, masks, sanitizers or gloves to ensure their safety.
In Andhra Pradesh's Srikakulam district, a total of 3,000 ASHA workers have been working in Covid-19 duties, reported The Hans India. The district workers told the publication that they hadn't been provided uniforms for the last three years. They hadn't any facility for transport, food or water while attending duties and most are yet to be tested for Covid-19. They also said that their monthly salary was Rs 4,775 and that recently the Central government provided Rs 5,725 as its share, making their total salary as Rs 10,500 per month; but it has not been crediting for the last two months for Asha workers even in crisis period.
The ASHA workers' district union general secretary K Naga Mani told The Hans India that Asha workers will observe 'Demands Day' across the country on June 25 demanding both the Central and state governments to recognise their services as emergency and provide protective equipment to defend themselves from Covid-19 and job security.
In Bhopal too, AT Padmanabhan, President of the Asha Usha Sahayogi Ekta Union in Madhya Pradesh told The Citizen that most ASHA workers in the state are paid a mere monthly sum of Rs.2,000 which is insufficient to address the health demands of their families. He alleged that instead of increasing their salaries, they have been given 'incentives' or a small sum per service rendered.
He also said that the regular honorariums are yet to be received by ASHA workers performing Covid-19 duties. Shouldering important responsibilities, over 600 ASHA workers in the city continue to be overburdened and underpaid. In Bhopal only 1,200 anganwadi workers and 600 ASHA workers have been hired and trained to serve 24 lakh people in this urban area, The Citizen reported.
To top the work of testing and surveys, the ASHA workers are also burdened with documentation, maintaining records and distribution of food – all this without essential safety gear. With most ASHA workers not having individual washrooms in their homes, the reliance on community washrooms also undermines their health and safety.
In May, 2020, the Nagpur Bench of the Bombay High Court had order the Nagpur Municipal Corporation (NMC) to release the salaries of ASHA workers for the months of April and May by the first week of June, The Times of India had reported. At the time, NMC workers' union member Jammu Anand highlighted how they had been working for meagre salaries. The workers were being paid Rs. 2,500 a month and had not received their salaries since January. The court had rebuked the NMC for treating workers in an "unfortunate manner" and directed the Centre to increase their remuneration.
The New Indian Express had reported in May that only seven percent (around 3,000) ASHA workers out of the 40,000 had received the incentive of Rs. 3,000 announced by the Karnataka government. The families of those ASHA workers who lost their lives during the pandemic and were promised Rs. 50 lakh as insurance had still not received the same.
In Ludhiana, ASHA workers had launched a protest against the government when it had asked them to arrange for smartphones for the door-to-door survey on their own, Hindustan Times reported. The workers not only protested this, but also said that the details of patients being asked by the State government – name, parents names, mobile number, gender, age, occupation and ailments of all persons aged above 30, seemed to be an infringement of privacy.
Tracking the news emerging from various states, it is only evident that the most important link in the chain, the ASHA workers are overworked and underpaid for all the efforts they put in.
Related:
'Killing Dissent' – How the government has been silencing opposing ideas and voices
Central government mum on the vaccination of children being impacted during lockdown
Poor Pay, Poor Training Impede India's Army of Health Workers