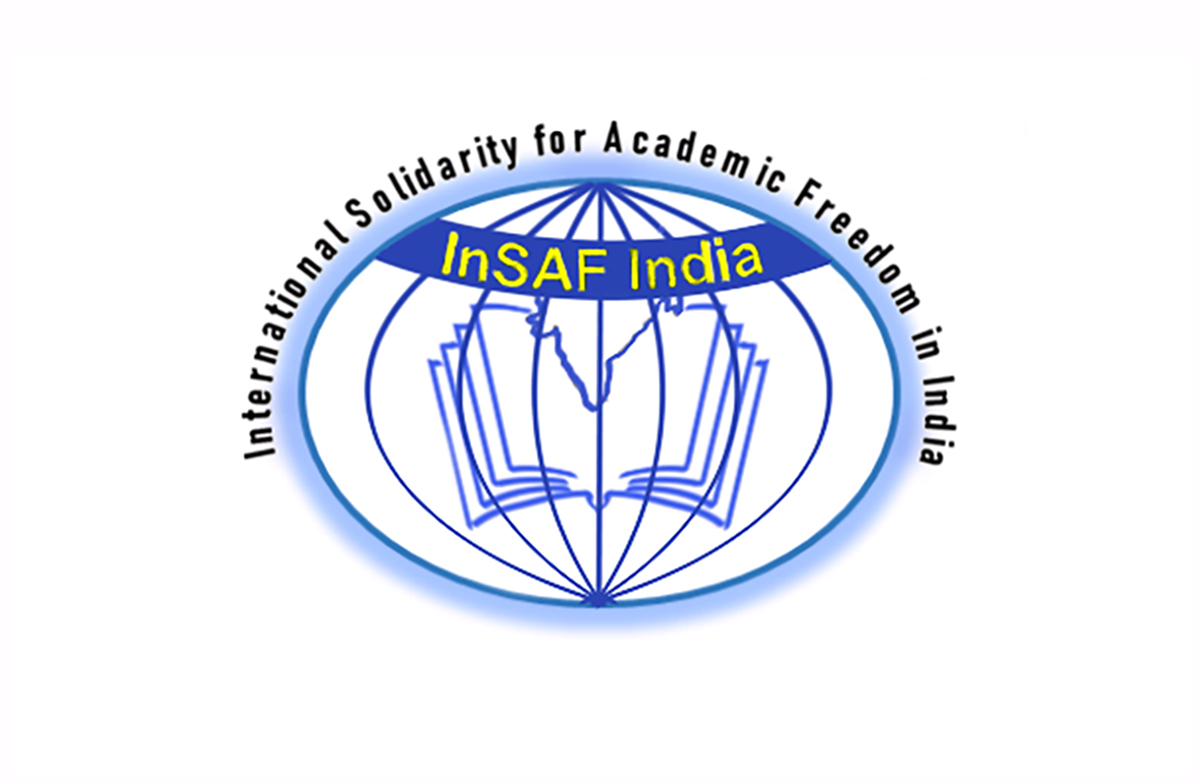 "Political democracy cannot last unless there lies at the base of it, social democracy," these words of Babasaheb Ambedkar form the foundation of the International Solidarity for Academic Freedom (InSAF India). The group, along with the Global Diaspora Alliance recently released a video statement, to express international solidarity for academic freedom in India. The message was recorded by academics living and working in universities at various locations from across the world.
The coalition of diaspora indians supporting academic freedom, has joined thousands of voices rising in unison and demanding the release of academics, artists and activists such as GN saibaba, Sudhir Dhawale, Surendra Gadling, Anant Tentumble, Shoma Sen, Hany Babu, Vernon Gonsalves, Mahesh Raut, Rona Wilson, Sudha Bharadwaj, Gautam Navlakha, Arun Ferreira, Varavara Rao, Jyoti Raghoba Jagtap, Sagar Tatyaram Gorkhe, Ramesh Muralidhar Gaichor, Stan Swamy, Umar Khalid, who have been imprisoned for speaking truth to power, "and for choosing the side of the most marginalised and most oppressed in indian society."
Taking their names out loud and listing them as the ones who stood up for the marginalised and were punished for it was an important highlight of the statement. Names that should continue to be read out loud till they are all released from prison. InSAF India (International Solidarity for Academic Freedom in India) is an international coalition supporting academic freedom in India and campaigning for the release of jailed academics.
The academics have put on record their demand that the "Indian government refrain from any political intervention into the autonomous functioning of any educational institution" They sent a reminder that it is "the Constitutional duty of the state to ensure that education and research can flourish as a public good," and have call upon the international community to "publicly address cases of violations in academic freedom in any collaborations with Indian educational institutions and government agencies."
Academic freedom, they stated, is the "right of all members of the academic community to ask questions, conduct inquiries on any subject, without fear, or restrictions of a political nature and to express opinions in public. Academic freedom is the autonomy of all academic collectives institutions and their departments and sub sections, to fulfil the mandate for which they have been established and accredited, without interference from state or private forces."
It is crucial to remember that "it is the Constitutionally anchored obligation of the government to safeguard and guarantee academic freedom to its citizens and its institutions of learning." The academics reiterated that history records the fact that attempts at repressing academic freedom is a known feature of authoritarian regimes, "from the burning of books in Nazi Germany, to China's 'cultural revolution' and to the recent persecution of thousands of academics in Turkey.
Since Independence from British colonial rule, India has been building its academic institutions and its own practises and cultures of academic life against all odds and on a stunning diversity of terrains. The group of academics said many of them "have been beneficiaries of the public education system in India and many indian scholars have established themselves with repute in educational institutions around the world."
However they added, "In the more recent past, under the aegis of the current ruling party, the Bharatiya Janata Party, which grew out of the Rashtriya Swayamsevak Sangh, a dominant-caste, militant masculinist version of religious nationalism, existing infrastructures of academic freedom are being systematically assaulted. Institutional activities are placed under surveillance, Institutional leadership is manipulated through political appointments, campuses are militarised, teachers and scholars are threatened and arrested, their writings are banned and their publications are confiscated."
Research on certain sensitive issues is not given clearance from governmental bodies, said the academics highlight that among those targetted are a significant number of Dalit Bahujan scholars and scholars from minority communities. "When academics are sent to jail for asking difficult questions, and for defending the rights of the disenfranchised, then society cannot be called free," they said.
However, what is at stake, is not just academic life in isolation said the academics, "at its roots, the growing repression against academics in india dovetail neatly with the logic of social excommunication in a patriarchal caste society, with its unconditional 'castigation' and 'trials', equivalent to what Babasaheb Ambedkar called 'punishment in the penal code' in both its 'magnitude and and its severity."
And today in India, "the very institutions that were envisioned to dismantle the caste system, the Parliament, the judiciary and the legislature, are in danger of becoming instruments for protecting and reproducing caste injustices, gender injustices, and all other forms of social, economic, and ecological injustices."
They added that it is also important to recognise that the "jailing of academics is not simply a concern for an individuals freedom of expression". The issue at stake here is a radical conception of social justice that is linked to our social self, "we don't exist as individuals in a society. In a society, there can only be social selves. It is therefore necessary to connect the freedom of expression to social justice and highlight that the imprisonment of academics, not onl cancels their social self, but also suspends the idea of the social itself through suspending knowledge production and formation."
InSAF India (International Solidarity for Academic Freedom in India) oined the call of the Global Diaspora Alliance to "end the violence and structural discrimination against minorities, including caste-based violence." They called upon the Government of India to repeal the Unlawful Activities Prevention Act (UAPA) and to release all the political incarcerated prisoners.
The video may be viewed here:
Related:
Activists, Opposition parties demand release of Bhima Koregaon accused
CJP, other groups, activists and citizens condemn Fr. Stan Swamy's arrest
Fr. Stan Swamy: The Jharkhand Priest who made People his Religion