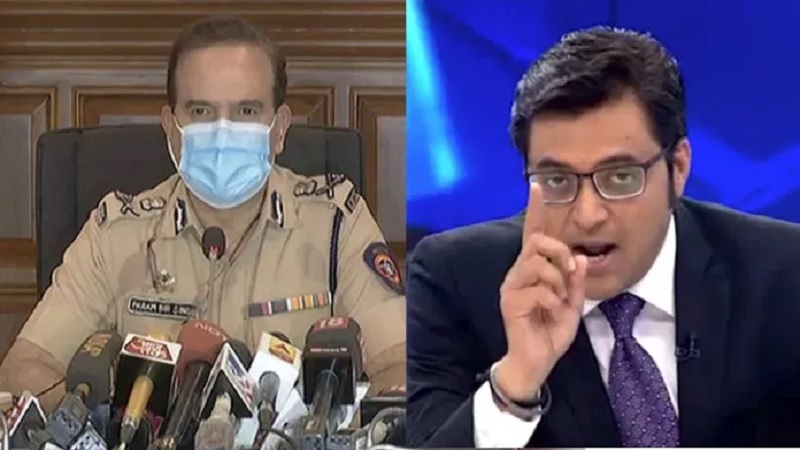 Image Courtesy:opindia.com
Just yesterday, Information and Broadcasting (I&B) Minister Prakash Javadekar had called out sections of the Indian media and said that a "re-think on TRPs" was needed, adding that "responsible journalism should not suffer due to the pressure of TRP".
We believe in self regulation and freedom of the media. But media needs to re-think on TRPs. There should be a better way to monitor popularity. Responsible journalism should not suffer due to the pressure of TRP.

— Prakash Javadekar (@PrakashJavdekar) October 7, 2020
Twenty-four hours later, right-wing inclined news channel Republic TV and its owner Arnab Goswami have been accused of TRP fraud along with two other channels. Mumbai Police told the media that they have uncovered a TRP fraud racket by Republic TV, and will soon question its owner and editor-in-chief Arnab Goswami over it. The announcement was made by Mumbai police chief Paramvir Singh himself, who added that the bank accounts of Republic TV and the other two accused channels, who he said were 'small time channels' will also be investigated.
Singh said the owner, directors will soon be called for further investigations into the TRP fraud where they are accused of spreading "fake narratives and gaining ad revenues". According to NDTV, the Mumbai police have already arrested two persons, one of them is a former employee of an agency that installed "people metres" in homes to assess Television Rating Points or TRPs.
Republic TV has been claiming high TRPs, even as it has focused most of its reportage on the aftermath of the death of actor Sushant Singh Rajput. According to the Mumbai Police chief the TRP rigging scam came to light after an analysis on manipulation of news trends and how a "false narrative" was spread. Singh told the media that the findings have "been shared with the central government," adding that the "biggest name to emerge is Republic TV. The directors and promoters of Republic TV are being investigated for ratings fraud."
While the three accused channels' bank accounts will be investigated, Singh added that the probe will also look at the funds they receive from advertisers and "whether they are from proceeds of crimes". More channels could also be examined, he said. NDTV reports that when Singh was asked if the inquiry would include Arnab Goswami, the Editor-in-Chief of Republic, he said, "Anyone involved in the channel, no matter how much in the top, how senior, will be questioned, and if involved they will be investigated. No one, no matter how senior, will escape."
Singh also said that household data being revealed to channels and being used to manipulate ratings, "based on these ratings they received illegal advertising funds. This will be considered proceeds of cheating. There was false TRP spreading. TRP ratings were being bought. The manipulation was mainly for advertising revenues." It is being reported that former employees of Hansa, the agency that placed "ratings metres" in select households, shared confidential data with the three channels.
The police added that the accused media organisations allegedly bribed the households to keep their channel switched on all the time. "If you see the data, poor uneducated households that don't speak English were watching only English TV channels," Singh is quoted by news reports as claiming that people were offered a "monthly payment of Rs 400-500 for their role in pushing up ratings."
Meanwhile, Arnab Goswami, the Editor-in-Chief of Republic, has responded that he will "sue the Mumbai Police commissioner". Goswami claimed that the top cop was making false allegations "because we have questioned him in the Sushant Singh Rajput case investigation". He issued a statement seeking a "public apology" from the police
Republic Media Network's Editor-in-Chief Arnab Goswami's statement pic.twitter.com/axhbJZ47eA

— Republic (@republic) October 8, 2020
The other two channels are identified as Fast Marathi and Box Cinema, and according to a report in India Today, they have been arrested for TRP fraud. The Criminal Intelligence Unit of the Crime Branch arrested the two TV channel owners and seized 28.5 lakh rupees from them, reported IT.
The TRP ratings of Republic Media's Republic Bharat had shot up exponentially raising suspicions of foul play, stated India Today adding that Broadcast Audience Research Council (BARC), the body that gives rating points to TV channels in India, had earlier suspected Republic TV of manipulating the system. Hansa Research, the company that installed these rating boxes called barometers on behalf of BARC, had filed a case with the Mumbai Police saying some of Hansa Research's former employees had leaked or sold the data of the households where these barometers were installed. The data about these households are closely guarded and supposed to be top secret.
Related:
Delhi High Court tells Arnab Goswami to calm down and stop his media trials
Bombay HC stays FIRs against Arnab Goswami
Arnab Goswami in hot water again: Widow of interior designer seeks justice in 2018 suicide abetment case
Maha gov't moves SC accusing Arnab Goswami of 'browbeating' police