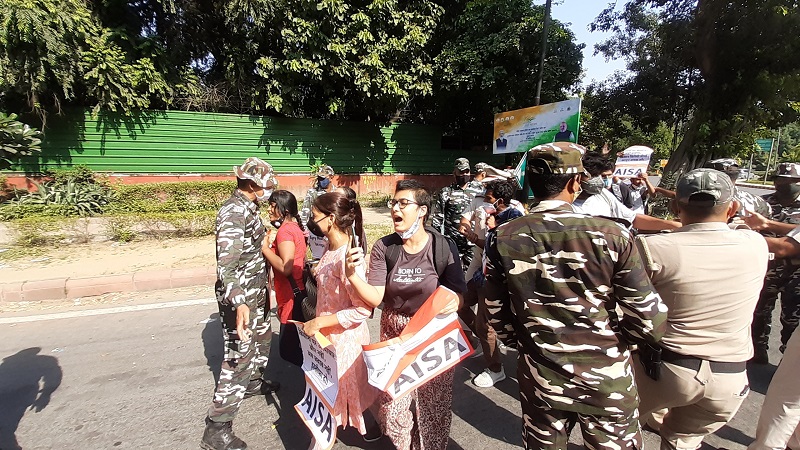 Delhi's All India Students' Association (AISA) condemned the alleged sexual assault by police personnel of two women protesting the Lakhimpur Kheri killings outside Home Minister Amit Shah's residence on October 10, 2021.
"It is a matter of shame and humiliation that students in Delhi, who are prone to protesting, are specifically targeted by the police, that too outside Shah's house," AISA Co-Vice President Kawalpreet Kaur told SabrangIndia.
On Monday, around 20 protesters gathered outside Shah's house to demand the dismissal of Minister of State for Home Affairs Ajay Mishra and ensure a fair trial against his son Ashish for allegedly mowing down and shooting at four farmers and a local journalist in Uttar Pradesh. However, before protesters could begin their demonstration, local police detained them and took them to the Mandir Marg police station.
During this time two women students alleged that women police personnel attempted to lift their clothes and kick their genitals, while being dragged on the road. Inside one of the three police buses, the police continued the assault.
"We will show you your place," one of the survivors recalled the police saying to them, as per an AISA press release. This sexual assault was compounded by the fact that it was performed in front of male Delhi Police officers.
"Disrobing and sexual assault are often meted out by police forces in India to women and men from marginalised communities to shame and humiliate them. The Justice Verma Committee too had taken note of such custodial sexual violence and recommended several safeguards against it – none of which were ever implemented," said the AISA.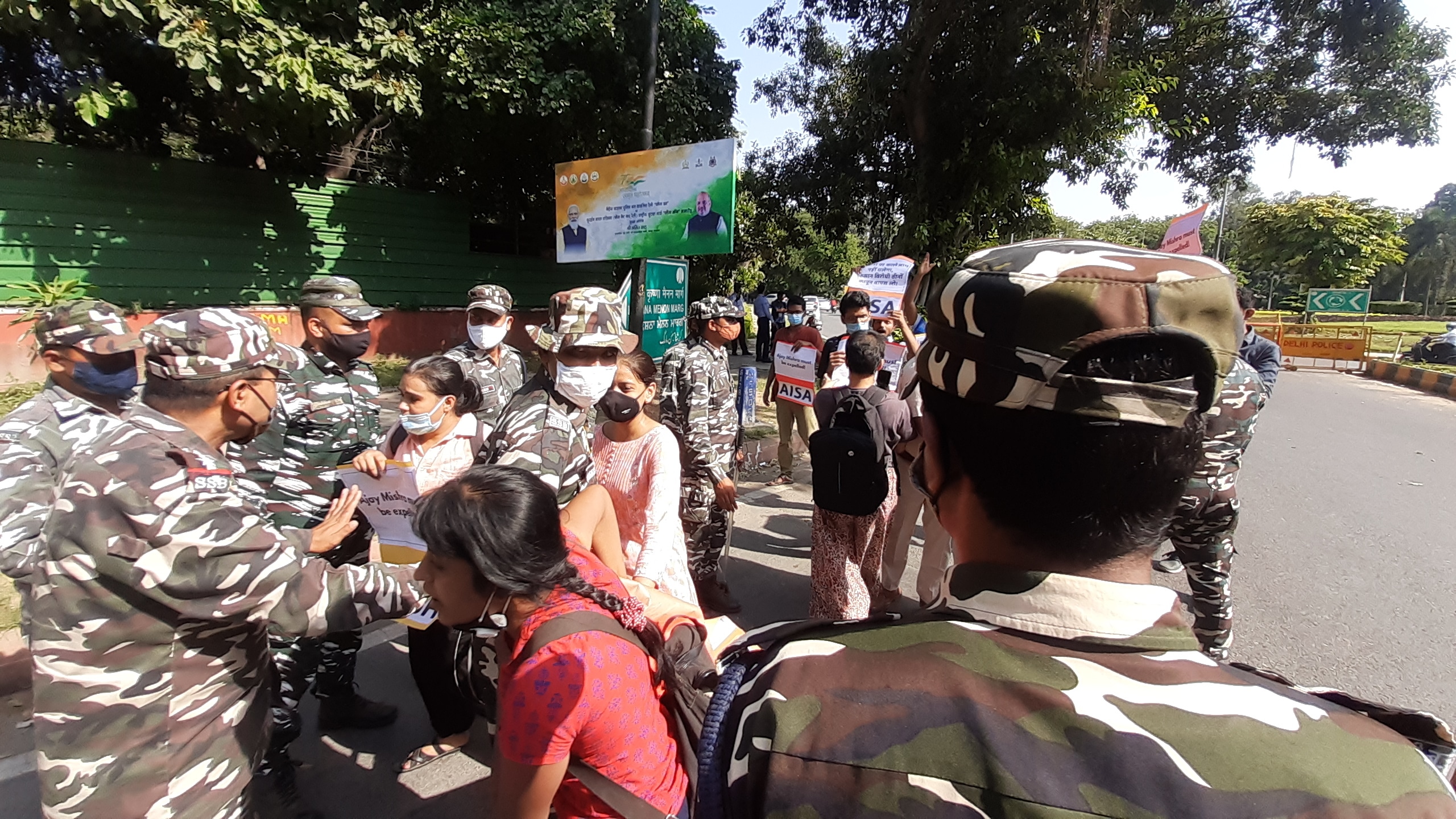 Kawalpreet Kaur demanded that the Station House Officer of the Mandir Marg police should resign immediately for this unacceptable behaviour. AISA demanded that ACP Chanakyapuri, Pragya Anand who allegedly instructed officers to assault women protestors, be sacked and all perpetrators be suspended.
Further, AISA Co-Vice President Ranvijay told SabrangIndia that police behaviour towards protesters has worsened over the years, much like "BJP goons." Even at the police station, students were not given medical attention. Similarly, they were not allowed to lodge their complaints against concerned police officers.
"We are preparing a statement and will send it to Delhi Commission for Women Chairperson Swati Maliwal," said Ranvijay.
AISA stated that the manner in which the two women suffered the ordeal proves that these were not isolated acts committed by rogue Delhi Police personnel but specific instructions to "show women protesters their place." Women all over India reject this "place" of humiliation and sexual assault by the boots of power, said AISA.
Regarding Mishra's post as an officer, Kawalpreet Kaur said, "Ashish mowed down farmers. Why is his father still in the Cabinet? The actions on Monday show that they don't want any kind of protest. It is obvious that justice cannot be meted out to farmers if Ajay Mishra remains in his post."
Related:
After farmers, now protesting students face police brutality
Maharashtra Bandh: Traffic halts as protesters pay respects to farmer martyrs
Lakhimpur Kheri: Accused Ashish Mishra arrested on Saturday
Lakhimpur Kheri farmer deaths: SKM announces a slew of protests from Oct 12
Lakhimpur Kheri: How does a journalist's death not make it to the headlines?