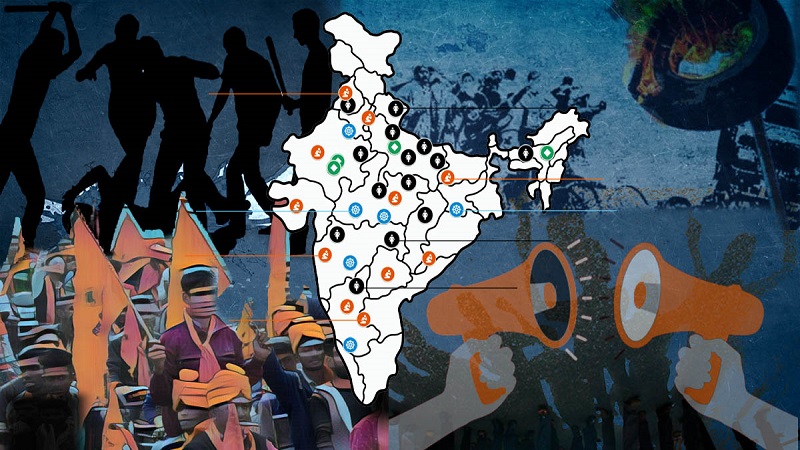 Through the year 2022, we recorded instances of hate crimes, hate speeches, discrimination, as well as assaults on the life and liberty of Indians belonging to the religious minorities. Perpetrators were either "members of an unnamed mob belonging to the majority community", or, equally and often identified with organisations affiliated to supremacist Hindutva. Such incidents were reported from various parts of the country: a visible trend in all these incidents is that religion atrocities are often state sanctioned, and perpetuated amidst a prevalent culture of impunity. A calculated silence from senior elected officials and those in government has influenced law enforcement to delay or deter the accountability and justice process: delayed filing of FIRs (criminal complaints that launch an investigation), a passivity in the face of intimidatory rape and genocide threats to actually allowing the quick release of perpetrators, and their felicitation, in the rare situations of arrest. To witness such brutal and demoralising incidents, committed against innocents, should shock the conscience of all Indians. In this piece that wraps up 2022, we review some of the most horrifying incidents of atrocities committed in 2022 against religious minorities- Muslims, Christians, and Sikhs.
MUSLIMS
Attack on life and property
Uttar Pradesh: Hindutva goons force Muslim man to shut shop named after Sai Baba
On January 5, a 15-year-old juice shop called 'New Sai Juice Centre', and its Muslim owner, Shabbu Khan, were attacked by a Hindutva group in the Majhola area of Uttar Pradesh's Moradabad district. The shop was vandalised and forcefully shut down by the mob who claimed allegiance to the Bajrang Dal. The goons had claimed that "Sai Baba is a Hindu deity" and the Muslim owner should change its name. They also allegedly threatened to shut all shops run by Muslims and named after Hindu deities in the locality. While this attack took place over a week ago, the FIR was reportedly registered much later, only after videos of the incident began circulating on social media. It was also reported that even the police "advised" Khan to change the shop's name "to avoid further trouble."
Rajasthan: Right-wing extremists attack Muslim man and non-Muslim woman for travelling together
On January 14, some Bajrang Dal men reportedly targeted a Muslim man and non-Muslim woman travelling together, in a bid to prevent what they see as a case of "Love Jihad". The man and woman were travelling in a train when Bajrang Dal men verbally and physically abused the man and forced them to deboard; their families were called to verify consent for travelling together. No case was filed against the Bajrang Dal men.
Karnataka: Muslim man killed after Hindutva hate speech
Sameer (19) and Shamseer (21) from Nargund in Karnataka's Gadag district were brutally attacked, allegedly by the members of the RSS on January 18. The attack took place in Karnataka's Gadag district, allegedly soon after a Bajrang Dal event where Sanjay Nalwad reportedly instigated anti-Muslim hate. Nalwad told the gathering that Bajrang Dal would 'protect' them, and that even the police 'were with us'. A day later, Sameer died of injuries sustained in a targeted attack.
Ghaziabad: Police beat up Muslim women protesters, claim 'scuffle'
A group of Muslim women were thrashed in a public place in Ghaziabad, Uttar Pradesh on February 13. The video of the violence went viral and the police claimed the outrage, that there was an altercation or scuffle between the two. However, the clip that has gone viral shows Uttar Pradesh police personnel brutally hitting Muslim women who were reportedly a part of a protest against the "hijab ban" in colleges that started in Karnataka.
Karnataka: 20 injured in violence during Bajrang Dal member's funeral
On the night of February 20, a Bajrang Dal member Harsha was allegedly stabbed to death at the Ravi Varma lane in Bharathi colony in Shivamogga town. Shortly after, viral videos showed how his supporters had become violent on streets, pelting stones and demanding justice for the man. The State Rural Development Minister KS Eshwarappa had also alleged the role of "Muslims goons" in the killing, even though the police had not confirmed the cause of death. Videos of burning vehicles and attacks on Muslim residential areas went viral on social media post the funeral.
Bihar: Muslim man allegedly lynched by cow vigilantes
On February 23, a video was uploaded wherein the victim, Mohammad Khaleel Alam, was heard pleading for his life as he is questioned rather than accused of eating beef by a hindutva lynch mob. Mohammad Khaleel Alam, was a Janata Dal (United) party member from Samastipur district. The assailants, heard in the video footage, are heard forcing the victim to tell them where "cows are slaughtered" and name the people involved. The Hindutva lynch mob later murdered Alam, and burnt his body in Samastipur, Bihar, a few days later.
Assam: Bajrang Dal assaults Muslim family publicly
Robijul Ali Barbhuiyan, a retired school teacher, was out with his wife, daughter and granddaughter, when goons from the Bajrang Dal surrounded their vehicle on Trunk Road, near the All India Radio station, Silchar and pelted stones at them on February 23. The attackers reportedly pulled Barbhuiyan's beard and called him a 'Baangaal' (a slur used for people of alleged Bangladeshi descent). This clearly indicated that he was targeted and attacked due to his Muslim identity.
Jharkhand: Youths attack Class 9 student for not chanting Jai Shri Ram
On March 23, around 5-6 students, enamoured by right-wing extremist ideology, allegedly assaulted a Class 9 Muslim student in Jharkhand's Jamshedpur because the latter refused to chant 'Jai Shri Ram'. According to a video shared, student Altamash Hussain was shown a video of UP CM Yogi Adityanath before the attack. The attacking group attempted to choke and beat him before Hussain's friends came to his rescue.
UP: Muslim man lynched by neighbors for chanting 'Jai Shri Ram'
On March 28, a Muslim man, identified as Babur, was allegedly killed by his neighbours who were angry that he was a supporter of the BJP. A resident of Kushinagar district of Uttar Pradesh, he was reportedly "distributing sweets" to celebrate BJP's poll win when he was attacked. According to media reports, Babur was returning from his shop, and chanted 'Jai Shri Ram' which allegedly made his neighbours angry. They then allegedly thrashed Babur. Babur's wife Fatima told the police that her husband "ran to the roof of his house to save his life" but the accused people followed him and threw him off it.
Tripura: Muslim man lynched on suspicion of cattle theft
On March 29, in Tripura's Sepahijala district, a 26-year-old Muslim man was lynched by a mob that suspected him of being "a cattle thief". The victim was identified as Litan Miah. According to the media reports, by the time the police reached the place where the villagers had detained the man, he was already reportedly critically injured after being thrashed". The attackers told the police that they suspected the man was a cattle thief.
Rajasthan: communal violence leaves people from both sides injured in Karauli city
On April 2, a bike rally was taken out by VHP, the RSS and the Bajrang Dal in Karauli city of Rajasthan on the occasion of Nav Samvatsar. When the said rally reached the minority-dominated area, some participants raised provoking slogans and stone pelting from nearby houses reportedly began. Slogans such as 'Jai Shri Ram' and 'Topi wala bhi Jai Shri Ram bolega' were raised, and songs "of Hindu organisations" were played. It was reported by the police that about 100-150 people from the colony attacked them with sticks, and eight policemen, 11 locals were injured. In the arson that ensued, properties of more than 80 people from both sides were damaged.
UP: Right-wing group vandalises vegetarian food cart run by Muslim vendor
BJP's Sangeet Som, who was among the key accused in Muzaffarnagar 2013 riots, was defeated by Samajwadi Party's Atul Pradhan in the Uttar Pradesh Assembly elections. After his loss, Hindutva mascot Som's supporters have been acting out in various ways. On April 2, a mob, including those belonging to "Sangeet Som Sena", was accused of vandalising the food cart of Mohd Sajid's, a vegetarian biryani seller. According to media reports, these goons vandalised Mohd Sajid's cart while he was selling the rice dish near a marketplace in Meerut. They reportedly asked him why he was selling biryani when it is "banned" during the nine days of Navratri. Sajid told them that it was a "veg soya biryani", and they started vandalising the cart, stated news reports.
Karnataka: Muslim college student beaten and made to get off a private bus for traveling with a Hindu girl
On April 5, in an alleged case of moral policing, a group of men assaulted a Muslim man, who was travelling with a Hindu woman. The incident occurred near Nanthoor circle in Mangaluru. The couple were travelling in a bus from Karkala, when three to four unknown men stopped the bus, dragged the Muslim youth out of the vehicle and thrashed him. It was alleged that members of the Bajrang Dal were involved.
Karnataka: Muslim man beaten up for travelling with Hindu woman in autorickshaw
On April 5, Right-wing goons of Karnataka waylaid a Muslim man and his Hindu woman companion when the two were travelling in an auto-rickshaw. According to media reports, Nazeer was travelling with his friend Pooja in an auto-rickshaw that was waylaid near Siribagilu village on the Mangaluru-Bengaluru national highway. Once the goons realised that the two belonged to different religions, they allegedly hit Nazeer on his face and head. They also abused the couple.
West Bengal: BSF personnel forcibly strip search, physically assault Muslim daily wage worker
According to Manabadhikar Suraksha Mancha, a Muslim daily wage worker was allegedly forcibly stripped naked by two women BSF officers in North 24 Parganas for unexplained reasons. On April 29, 2022, the 54-year-old woman on her way to a pond near International Border Pillar when the two officers stopped her. Dissatisfied with her statement that she was going for a bath, the worker was beaten with sticks and the constables took her to Outpost 12 for a full-body search. However, on reaching the place, the BSF constables ordered her to remove her clothes. When she refused, the two women verbally abused her, thrashed her back and forcibly removed all her clothes.
Madhya Pradesh: Disabled senior citizen 'suspected of being Muslim' thrashed, found dead
On May 21, a video was circulated on social media showing a differently-abled elderly person being brutally beaten in Madhya Pradesh's Neemuch over suspicion of being a Muslim. "Are you Mohammed? Nikaal aadhaar card nikaal (Show your aadhaar card…. Take it out it)," Dinesh Kushwaha was seen and heard while constantly slapping and assaulting the hapless man, later identified as 65-year-old Bhanwarlal Jain. The elderly Bhanwarlal Jain was later found dead. The elderly Jain was said to be mentally disabled and had memory problems.
Bengaluru: Police raid, tear down homes of Bengali Muslim migrants
Under the pretext of an 'anti-Bangladeshi' drive, Bengaluru (Rural) Police raided a settlement of Bengali Muslim migrants located in Sarjapura, Anugondanahalli and Hebbagodi police limits and destroyed their property on May 21. Since the police had no method of distinguishing a Bangladeshi from an Indian Bengali, authorities allegedly switched their focus on dwellings of Muslim migrants. Some even accused men police officers of frisking women.
Muslims fired at and lathi charged for protesting against Nupur Sharma's comments
On June 11, Muslims protested to demand the arrest and punishment of suspended BJP leader Nupur Sharma for her comment on Prophet Muhammad. The police used lathis and fired at the protestors unjustly as the crowds protested peacefully. Reports of deaths and videos of innocent Muslims being shot at were seen from both states of Uttar Pradesh (UP) and Jharkhand.
UP: Cops electrocute Muslim youth, insert stick in his rectum, violate judicial precedents on torture
In June, an FIR was filed against 5 policeman from Badaun, Uttar Pradesh for brutally torturing a Muslim youth in his early 20s under the suspicion of cattle theft for the purpose of slaughter. The victim had been subjected to electric shocks and a stick was inserted in his rectum. According to the sister-in-law of the victim, on May 2, police picked up the victim and thrashed the victim the whole night. After realizing that they had picked the wrong person, they handed him Rs 100 and sent him back after torturing him for two straight days. Since then, he had been getting seizures almost every day. When taken to the hospital, the doctors reportedly said that the patient was getting seizures regularly as his nervous system has been affected severely, possibly because of a shock.
UP: House of activist Afreen Fatima demolished
On June 12, the family home of activist Afreen Fatima was torn down in Allahabad, just a day after her family members were illegally detained by the Allahabad police. . Fatima was part of the nationwide protests against the Citizenship Amendment Act (CAA), and the official reason given for demolishing her home is that it was allegedly an illegal construction, a claim rejected by the young activist.
On June 11, police illegally detained Afreen's father Javed Mohammed, mother Parveen Fatima and younger sister Sumaiya Fatima. Afreen Fatima's father is a Welfare Party of India leader, and police accused him of planning to carry out violent protests in wake of Bharatiya Janata Party (BJP) leader Nupur Sharma's objectionable comments about Prophet Mohammed. Now her house has been illegally demolished.
Hyderabad: Teenager assaulted for refusing to chant "Jai Shri Ram"
In Hyderabad's old city area, a 17-year-old boy was thrashed when he refused to chant "Jai Shree Ram". The incident took place on July 21 in the Charminar area. The boy hailed from the minority community. While he was going home, a group of miscreants had allegedly stopped the victim and applied Tilak on his forehead and forced him to chant 'Jai Sri Ram'. When the boy refused to do so, he was allegedly beaten up as well. The boy was assaulted by as many as 40 people and at least 14 people were identified and taken into custody.
Kannauj: Muslim teen dies after being allegedly beaten by school teachers
A ninth standard student, identified as Dilshad alias Raj, a succumbed to his injuries after being beaten brutally allegedly by his school teachers in Kannauj, Uttar Pradesh. As reported by media, the incident took place on July 23 when the 15-year-old boy went to get admission to ninth standard at a school that also had a private intermediate college in the Ramlila Maidan area. At around 11 am, a teacher called him and accused him of stealing a watch. Thereafter, he was taken to the room and locked and beaten up along with fellow teachers following which he suffered injuries. The boy returned home and narrated his plight, and was subsequently admitted to the local hospital. Upon showing no improvement shifted to a private hospital in Kanpur on July 24, where he succumbed to his injuries at around 8 P.M on July 25.
Mathura: Cow vigilantes target Muslim family
On July 27, an armed mob allegedly attacked a Muslim family in the Mewati locality of Aurangabad in Mathura suspecting them of selling beef. The attackers hailed from a local cow vigilante group called Gau Raksha Dal. According to the narration provided by the neighbor of the victim, Villager Aas Mohammed, he heard screams at around 7:30 A.M and saw nearly 20-25 people carrying country made pistols were knocking on the door of his neighbour Pappu Qureshi and then thrashed him and his family members. He further said that the mob also fired into the air, allegedly to create panic.
UP: SI subjects Muslim man to 3rd-degree torture in cow-slaughter case
On August 1, a police officer was suspended in Uttar Pradesh's Muzaffarnagar for allegedly subjecting third-degree torture to a man who happened to be a distant relative of an accused. According to reports, R. Rana, the Sub-Inspector (SI) of Chhapar police station in Muzaffarnagar, went to Khampur village with a team to arrest an accused named Zishan Ansari, who was wanted in a case related to cow slaughter. He did not find the alleged accused and picked up his distant relative Farad Hakim, 40, a resident of the same village, where he subjected to third-degree torture by the SI.
Karnataka: Muslim man murder in retaliation of BJP worker's murder
On August 1, Fazil, a resident of Mangalpete near Surathkal, was hacked to death by a group of men in the same way a BJP worker Praveen Nettaru was a few days prior. Karnataka Police investigating the murder case of Mohammad Fazil Mangalpet had reportedly arrested four persons. It was suspected that Fazil was killed by Hindu activists in retaliation to the murder of BJP Yuva Morcha member Praveen Kumar Nettare.
Karnataka: Headmaster heckled for holding essay competition on Prophet Mohammed
In the month of September, an essay competition was organized in government high school in Nagavi village in Karnataka on the topic of Prophet Mohammed, and a section of parents alleged that it was a way of the headmaster to religiously convert the children. On receiving the complaint, the group of Sri Ram Sene barged into school and heckled the headmaster in front of some 100 odd students. The matter has been raised with the state education department. The education department has ordered an inquiry into the incident.
Madhya Pradesh: Muslim family brutally assaulted
Wajid Ali was travelling with his parents, when reportedly a pre-dominantly Hindu mob stopped him, assaulted them all, dragged the man after tying him to the bike, tore the clothes of his mother. The incident happened on September 15 when a mob stopped him near Auria village. Amid religious slogans, Ali was allegedly dragged tied to a bike. The clothes of mother were torn apart & father was thrashed. Reportedly, the assault continued for an hour until Police saved them, said Ali. In a video clip, Ali alleged that the family was attacked and thrashed owing to their faith. Ali and his family has allegedly led to little or no action from the local police.
Gujarat, MP: Navratri's joyous Garba dance becomes a garb for exclusion
During September 29-30, the most violent and unlawful assault was reported from Ahmedabad, wherein a series of videos showing Bajrang Dal workers brutally assaulting, stripping, humiliating and thrashing four Muslim youths at a garba venue on Sindhu Bhavan Road went viral. In Madhya Pradesh too, after Madhya Pradesh's home minister first raised 'Love Jihad' concerns on September 27, and the MP government asked Garba organisers to check ID cards at pandals to 'prevent love jihad', the Bajrang Dal got into action and apparently 'caught eight Muslim youths' at 'garba' venues in Indore on September 29.
Gujarat: Policeman seen beating up four other men in video
In the Undhela village, located in the Matar taluka of Kheda district in Gujarat, just a day after an incident of stone pelting was reported at a Garba event in the area, a video of the flogging went viral on social media on October 4, and in it a man in plainclothes with a gun holstered to his belt, can be seen using a lathi to beat at least four men, one by one. The flogged men then fold their hands appealing to a crowd that appears to be cheering the actions of the cops. The publication reports that while the people flogged and arrested for disrupting the event were not identified, police confirmed that they all hailed from the Muslim community.
MP: Three homes raised after conflict over Garba Pandal, five more Muslim families served eviction notices
On October 4, the homes of three Muslims were razed to the ground by the Madhya Pradesh's Mandsaur district administration for not having "building permission." Their homes were demolished within 24 hours of serving notice. Demolition orders were also served to five houses belonging to Muslim families. The demolitions took place over allegations of stone pelting at a Garba pandal during a tiff that broke out over rash driving by a 14-year-old boy.
MP: Houses of five alleged Muslim murder accused demolished
On October 26, the Madhya Pradesh government demolished a roadside eatery and homes of five Muslim men accused of murdering a 30-year-old man on Diwali night. The 5 were accused of murdering a Hindu and assaulting another. Angered over the death, locals blocked the Bhopal-Dewas Highway and demanded stern action against the accused. Members of the ruling BJP and the Opposition also supported the protestors. Hours later, a team from the municipal corporation demolished an illegal eatery alongside the Bhopal-Dewas Highway belonging to Sameer and the houses of all the accused.
Gujarat: VHP workers assault Muslim students for 'luring' Hindu girls in Surat
On or about November 24, 2022, a video clip surfaced showing a Muslim boy identifying himself as Raj Shaikh, resident of Bhestan confessing on camera that he was dating two to three Hindu girls simultaneously. Accusing a few minority community students of luring Hindu girls with false identities and exploiting them sexually, Bajrang Dal and VHP activists assaulted some Muslim students within the Bhagwan Mahavir University campus in Gujarat's Surat.
Karnataka: Muslim couple attacked for going to the theater to see movie "Kantara"
On December 9, a Muslim couple who went to watch Rishab Shetty's film 'Kantara' in a Karnataka theatre was reportedly assaulted by a mob at Sullia in Dakshina Kannada district. According to reports, the couple was warned from entering the theatre, and when they did not budge, the group of men started beating the man up. The reason behind the attack on the Muslim couple is not known yet.
Karnataka: Bajrang Dal activists booked for waylaying a bus in which a Hindu-Muslim couple were travelling
On December 16, the Bantwal police suo motu registered a case against a group of Bajarang Dal activists for allegedly waylaying a private bus in which a man and woman from different faiths were travelling together in Karnataka's Dakshina Kannada. According to police, the activists were tipped off about a woman from Hindu community travelling with a man from Muslim community in a bus bound to Bengaluru. The activists confronted the woman for travelling with a Muslim man. The woman retorted and questioned the activists' conduct.
Maharashtra: Bahadur Shah Zafar's portrait smashed by right-wing group
On December 21, a portrait of Bahadur Shah Zafar hung on the wall of a biryani outlet in Maharashtra's Kolhapur city was smashed up by a group of yosung men belonging to a right-wing outfit, who termed the last Mughal emperor a "descendant of Aurangzeb." No complaint was filed against anyone regarding the incident.
Karnataka: a Muslim shopkeeper murdered as an alleged hate crime driven by 'moral policing' by Hindutva outfits
On the evening of December 24, a 45-year-old man named Abdul Jaleel allegedly died from stab wounds at Katipalla, Mangaluru. He was at his shop in Katipalla when two persons allegedly attacked him around 8 pm on the day, a Saturday. He was immediately rushed to a hospital nearby, where he succumbed to injuries. Four people have been arrested by the police so far. Hindutva Supremacist groups indulging unchecked in moral policing of individuals are allegedly behind the attack: the speculation in the media is that Jaleel was killed as he was in relationship with a Hindu woman.
Attack on religious places, places of worship and Madrasas
Karnataka: Hindutva leader performed a "purification" ceremony at Ladle Mashak Dargah
In Karnataka's Kalaburagi district, Union Minister Bhagawanth Khuba, led his colleagues, and a large a right-wing mob for a 'purification' ceremony at a reported Shivling (symbol of Hindu god Shiva), named the Raghava Chaitanya Shivalinga in the Ladle Mashak Dargah. The Ladle Mashak Dargah authorities had planned a procession and Shab-e-Barat, on March 1 and right-wing organisations also announced they will conduct a 'purification puja' there as it was also the occasion of Mahashivaratri. A clash between the two communities ensued, stated news reports. Arrests followed, but mostly of Muslims.
Madhya Pradesh: 50-year-old Muslim dargah vandalised, painted saffron
Narmadapuram, in Hoshangabad district of Madhya Pradesh, a 50-year-old dargah was vandalised,and painted saffron. The incident, according to the police, came to light around 6 AM on March 13, when a few local youths saw that the shrine had been coated with saffron paint and that it's door had been broken open. Not only the minaret, but also the tomb and the entrance were coated in saffron paint. According to the media reports, the local police acted on the case only after the villagers blocked the state highway-22, after their previous complaint had gone unheard.
Gujarat: idols of Hindu gods installed in Pirana dargah
Residents of Pirana village in Gujarat, a village that lies around the 600-year-old dargah of Imam Shah Baba, a figure revered by Muslims, Hindus and others, alleged "acts of aggression" took place inside the dargah compound while it had been closed for massive conclave of Hindutva groups, a programme by the RSS from March 1-17, and on March 19-20, another program by the VHP and Bajrang Dal. The residents alleged that when they visited the shrine marked Shab-e-Barat, they saw that there were statues of Hindu gods installed in the dargah compound.in addition to this, a statue of Imam Shah was also installed with a tilak on its head.
Himachal Pradesh: Hindu Jagran Manch goes on rampage, breaks graves and shrines
On March 18, vandals and goons claiming to be members of Hindu Jagran Manch Himachal shared a video vandalism at a dargah in Himachal Pradesh. The vandals were seen breaking the grave and the shrine with massive hammers and the video was posted by one by Kamal Gautam, a member of HJMH as well as RSS.
Uttar Pradesh: Dargah desecrated on the eve of Holi, Shab-e-Barat in Fatehpur
In Uttar Pradesh's Rewari Buzurg area of Fatehpur, on March 18, the eve of Holi and Shab-e-Barat which was being celebrated/ observed on the same day this year, a Muslim tomb dedicated as a dargah or shrine of a Pir or holy man named Syed Baba revered was vandalised and desecrated. Vandals broke the shrine and scratched 'Jai Shri Ram' on it.
UP: Muslim driver brutally thrashed by Hindutva mob in Mathura
On March 22, a driver was beaten by a mob because the accused suspected him of "carrying beef" or "smuggling cattle" in his vehicle. The self-appointed mob of "cow vigilantes" attacked the hapless driver in Raal village of Mathura, Uttar Pradesh. The victim was identified as Mohammad Aamir, a driver of a pick-up van. The police had booked 16 identified people, including members of the VHP. A video was uploaded which showed that Aamir was cornered and thrashed in what looks like a shed or room even though he begs to be spared with folded hands. According to the police, the victim was merely transporting carcasses during a cleanliness drive of Nagar Panchayat Govardhan area of the district.
Uttar Pradesh: Crowd climbed on top of a mosque, raised religious slogans
An FIR was filed in Ghazipur, Uttar Pradesh, after a crowd climbed on top of a mosque, and raised religious slogans. According to police, residents of Hindu dominated Gahmar village take out the 'Ram Kalash Yatra' to mark the start of the Hindu New year, in which both men and women participate. On April 2, residents of the village took out the Ram Kalash Yatra. When the procession reached near a mosque in the village, a few youths climbed on it (mosque) and raised slogans of 'Jai Shree Ram'. One person was later arrested.
Gujarat: Hanuman Jayanti procession participants hoist flag on Gujarat dargah
On April 17, around 100 persons were part of the Hanuman Jayanti procession, when suddenly while passing by the dargah, three men from the procession entered the dargah premises and hoisted a bhagva (saffron) flag on the roof of the toilet block there. The police investigation this incident had informed that the procession itself was taken out without due permission in Veraval town of Gir Somnath district.
Assam: Discrepancy in reason for Madrasa demolished
On August 31, a madrasa in Kabaitary in Assam's Bongaigaon district became the third to be demolished in connection with alleged links to terrorist organisations. However, the All Assam Minorities Students Union (AAMSU) claimed that the demolition had nothing to do with terror links, but was instead demolished to allegedly intimidate the local Bengali-speaking Muslim minority community. The AAMSU provided that before demolition, a notice was sent that said that the building was "structurally vulnerable and unsafe for human habitation" and was therefore being demolished. Thus, there was some inconsistency with the demolition.
Karnataka: Mob shouting 'Jai Shri Ram, forcibly enters heritage madrasa on Dussehra, performs puja
On October 6, a mob, unruly and potentially threatening, participating in a procession for Dussehra reportedly broke into a heritage madrasa in Bidar district of Karnataka. Slogans like "Jai Shri Ram" and "Hindu Dharam Jai" slogans were shouted by members of the mob, standing on the stairs of the madrassa, before moving to a corner to perform a puja. Local police had also told the media that the mob broke the lock of the madrasa.
Gurugram: Mob vandalises mosque in Gurugram, faithful threatened
On October 12, a mob of more than 200 people were reported to have ransacked a mosque at Bhura Kala village in Gurugram assaulting people who were praying inside, and threatened to expel them from the village. The accused also threatened to kill the Namazis and locked them inside the prayer hall. According to the complaint filed by Subedar Najar Mohammad, Bhura Kalan village has only four houses of Muslim families.
Centre Stops Scholarships for Seminary Students of Class 1- 8
As was reported on November 30, the Centre instructed the state governments to stop providing scholarships to seminary students enrolled in classes one to eight. According to a government notification, students of classes one to eight are provided education, Mid-Day meals and other facilities free of cost, and, therefore, there is no point in continuing the scholarships. Earlier, students from classes one to five got an annual scholarship of Rs 1,000 while students from classes five to eight used to get it on the basis of the courses they opted for.
Attack on Religious Practices and Namaaz
BJP Gen Secy CT Ravi publicly tweets "Shoot the traitors"
On January 5, CT Ravi, National General Secretary of BJP and four-time legislator from Chikmagalur Constituency of Karnataka, gave a call for violence on Twitter saying, "Desh ke gaddaro ko goli maro!" (shoot the traitors). This slogan became a virtual war cry against people protesting the Citizenship Amendment Act (CAA). Since then, the hateful slogan has taken a life of its own, often chanted by right-wing mobs, especially against Muslims.
Chhattisgarh: Hindutva groups urge people to boycott Muslims
On January 6, video clips on social media show how some Hindutva group gathered a large group of locals and an oath of communal discrimination was administered in the Surguja in Chhattisgarh. "We Hindus will not buy goods from any Muslim shopkeeper. We Hindus will not sell or rent our land to any Muslim. We will take back spaces already rented. We Hindu will not work with Muslims," the oath in Hindi is repeated by the people, adding that Muslims will not be allowed in their villages.
Jharkhand: Muslim man attacked by BJP supporters
On January 7, the videos of a terrified Muslim man being beaten and forced to chant "Jai Shri Ram" by a Hindutva mob near city centre in Dhanbad went viral on social media. The mob can be heard saying "Spit and lick it. Say jai shree ram… we are Hindus." The attack was allegedly by a group of Bharatiya Janata Party (BJP) workers who were 'protesting' the alleged breach in the Prime Minister's security in Punjab. The victim could be heard pleading and repeatedly saying he was a Muslim.
Clubhouse jumps into Hate Conspiracy, spawns vulgar, offensive remarks on Muslim women
In January, discussion of a group of right wing affiliated men, and some women, were having on the Clubhouse app reveal vulgar conversations and sexual innuendoes being used to describe Muslim women. Sexually assaulting a Muslim woman is a way to gain heavenly blessings," was suggested by one man, "it is even better/ like demolishing seven Babri masjids", chimed in another. DCW sent a notice to the Delhi Police seeking an FIR against those who allegedly made the remarks. This came less than a month after the "S**li Deals" app case.
MP: Home Minister Narottam Mishra brings up communal history from UP to incite people
On January 20, MP's Home Minister Narottam Mishra decided to address a crisis brewing in Surana area of Ratlam district by invoking communal history from UP. Mishra said that there was a "conspiracy to make Surana of Ratlam as 'Kairana' of MP and that it will not be allowed to succeed." The issue of Kairana, where there was an alleged exodus of Hindus due to fear, was a bogus issue used by the BJP whenever there are elections nearby.
Right-wing twitter gives routine demolition a communal colour
On January 21, Twitter handle "Hinduism and Science" attempted to talk about the threat to Hindu temples in southern states. However, it was found that the photo shared by the handle to be a part of the demolition order called by the High Court on Adheenam land. Locating itself in "Ancient Bharat" the Twitter user shared the image of the demolished Muniandi temple in the Madurai region of Tamil Nadu with the caption, "Hindu Temples are not safe in Hindustan… Wake up south Hindus." The handle failed to mention that the temple was not destroyed during a communal conflict but by Tamil Nadu's government authorities as per court orders.
Suresh Chavhanke targeted a Muslim by accusing him of not saluting the national Flag on Republic Day
On January 28, Suresh Chavhanke and his channel Sudarshan News' targeted Jamtara District Collector Faiz AK Ahmed Mumtaz and accused him of not saluting the National Flag on Republic Day. Chavhanke called it "#UPSC_जिहाद", a term he has invested to 'accuse' Muslims of joining the civil services after clearing competitive exams. Chavhanke had alleged that DC Mumtaz had "insulted" Republic Day. The DC himself simply put out the official rule on saluting the National Flag to bust his hate filled false claims.
Suresh Chavhanke spreads fake news about SRK at Lata Mangeshkar's funeral
On February 6, Shah Rukh Khan offered prayers and respects at Lata Mangeshkar's funeral ceremony at Shivaji Park. He prayed near the body alongside his manager Pooja Dadlani who joined her hands in prayer. Suresh Chavhanke shared a video of Khan concluding his dua by softly blowing air on the mortal remains as a sign of "protection from evil", and some say "blessings in heaven", and instead claimed that the actor "was spitting". He tried to promote the communal claim by appearing to discuss 'ask questions and unearth facts' about the prayer done by Khan.
Right-wing uses fake photo of student who stood up against a saffron-clad mob heckling her for wearing a burqa
On February 10, a photo of a young woman who is not wearing a hijab is going viral on social media, with claims that this was a photo of Muskan, the PES Mandya student who stood up against a saffron-clad mob heckling her for wearing a burqa. In truth, it was a photo of Najma Nazeer Chikkanarale, a member of Janata Dal Secular (JDS), Karnataka, who does not wear a hijab. The right-wing had been claiming that the hijab wearing student Muskaan removes her head cover in other settings and thus has double standards.
BJP MLA Raghvendra Pratap Singh targeted Muslims in UP election meeting
On February 14, just ahead of the second phase of polling in the Uttar Pradesh Assembly elections, BJP MLA Raghvendra Pratap Singh told his voters that if they elect him again, Muslims will stop wearing their skullcaps and start putting Hindu tilaks on their foreheads and say SitaRam as a greeting. He also attempted to rouse the crowds with anti-Muslim chanta asking the women in particular to answer his questions "Will there be Jai Shri Ram or Walekum Salam?" It is the "mothers and daughters" he said who will guard their [Hindu] sons "Durga ji is here with us, promise once in front of her."
MP: Goons harass hijabi students, demand saffron dress code
On February 14, members of VHP, Bajrang Dal and Durga Vahini assembled outside an autonomous post graduate government college in Madhya Pradesh and recorded videos of two hijab-wearing students entering the college premises while taunting them for their "discipline". The goons then proceeded to shout "Jai Shri Ram" and "Vande Mataram" and threatened aggressive protests if all students did not start wearing saffron outfits from the next day. They demanded that an autonomous college ban hijabs but "allow Naga Babas to come as they are."
UP CM Adityanath targeted minorities in his speech again
On February 14, the day large parts of Uttar Pradesh went to polls on Phase 2 of Assembly elections, CM Adityanath once again spoke of Muslims as the 'other', using terms like 'Ghazwa-e-Hind', 'religious fanatics' of 'Talibani thinking', liberally. He said, "India will run according to the Constitution, not according to Shariat." In an interview aired on the day of polling, he said that he stood by his statement and that this was an "India run by Prime Minister Narendra Modi. This India will run according to the constitution not the Shariat."
Gujarat: Don't stop at Muslim-owned dhabas, VHP, Bajrang Dal warn bus owners
In February, the Vishwa Hindu Parishad and Bajrang Dal issued warnings to buses travelling on the Saurashtra-Surat route in Gujarat, to forbid them from stopping at Muslim-owned dhabas to eat. The organisations have asked Hindus to inform them if they witness buses stopping at Muslim-owned eateries. They also added that Muslim eatery-owners are "deliberately spitting in the food" and mixing vegetarian and non-vegetarian ingredients and utensils with an intention to "pollute" the Hindus.
BJP MLA from UP Mayankeshwar Singh makes communal hate speech
On February 18, BJP MLA Mayankeshwar Singh organised an outrightly criminal and partisan campaign, wherein he could be seen addressing a crowd of voters during one of his and could be heard saying, "If the Hindus are awakened, we will pull out the beards and make a chotia (a ponytail sported by Brahmin Hindus). If you want to stay in Hindustan you will have to say "Radhe Radhe" (a Hindu chant) else, just like at the time of partition people had gone to Pakistan, you should also go."
BJP MP Brij Bhushan Singh gives anti-Muslim hate speech at election meetings
On February 19, Brij Bhushan Singh, BJP's MP in Lok Sabha from Kaiserganj, had been indulging in hate speech, and said 'Inshallah' be damned in Uttar Pradesh's 'shooter baba's government.' Singh further equated hijab wearing Muslim women with terrorists and had reportedly said that the "hijab was the ideology of the Taliban. This is the ideology of terrorists" and that Congress leader Priyanka Gandhi has "also come out in support of Talibanis."
Kali Swami, calls for 10 Muslim heads to avenge 'one Hindu death'
In a press conference held on February 21 in Shivamogga, Kali Swami made a declaration that roughly translated as a genocidal call. He said, "Every Hindu's death/murder will be avenged by beheading 10 Muslims." This conference was held by hate offenders Kali Swami, Pramod Muthalik and their supporters to talk about the murder of the Bajrang Dal activist Harsha Jingade's murder and detail how they wanted to hold a 'yatra' ceremonial journey from Shivamogga to Mysore. Kali had alleged that the BJP government denied them permission and accused the party of "protecting Muslims only, and not Hindu interests." He had added, "Harsha's martyrdom will not go to waste."
Narsinghanand booked by Maharashtra police for hate speech against former President Kalam
On March 2, Yati Narsinghanand was booked by the Maharashtra Police for hate speech against former President A.P.J. Abdul Kalam. Narsinghanand had attacked President Kalam for his Muslim identity, and levied ridiculous and dangerous charges against the eminent scientist. He addressed former Indian President A.P.J. Abdul Kalam as a Jehadi number 1. He further said that "During his tenure, he gave the nuclear bomb formulas to Pakistan. While he was the director of DRDO and President, many Hindu scientists were assassinated. He was connected to terrorist Afzal Guru and for that he had commissioned a special cell in the Rashtrapati Bhavan. Aligarh Muslim University, Jamia Millai Islamia and Darul Uloom Deoband were transforming India into Afghanistan. In 2029, there will be a Muslim Prime Minister of India who will lead the country into darkness."
If Muslims don't vote for me, they will get branded: BJP MLA Fateh Bahadur Singh
On March 2, a video clip of Fateh Bahadur Singh, addressing a meeting in what appears to be in a compact Muslim locality, went viral. Singh is heard and seen 'reminding' the gathering, "You are Khans, Pathans," telling them that a "true Muslim can never be a traitor." He said to the crowd that even if he "does not get their 200 votes it will not make a difference" to him, but the Muslims will get 'branded'. However, he said he seeks their 'cooperation' saying, "I have done so much for you, and now when I am in need, will you go looking for a brother of the same caste [religion]?" he asks. A few men are heard replying "no, no".
Maintaining harmony is responsibility of Muslims: Assam CM
On March 15, Assam Chief Minister Himanta Biswa Sarma placed the responsibility for maintaining peace squarely on Muslims, claiming that they were no longer minorities in Assam. He emphasised the need to protect "indigenous" people of Assam by constantly referring to indigenous people as "our people", and then went a step further and specifically targeted minorities calling them "you people."
Udupi girls dubbed terrorists by BJP leader for fighting for their right to wear Hijab
Karnataka girl-students wearing and fighting for their right to a hijab inside classrooms faced horror as senior BJP leader Yashpal Survarna accused the six students of belonging to terrorist organisations. The grievances of the girls were met with singular accusation from Survarna on March 16 when he claimed that the girls were "anti-nationals" and "members of a terrorist organisations". He went on to say that the six youths have brought disrepute to the judiciary by their statements and have no right to live in India.
The Kashmir Files: Calls for Muslim genocide ring out in cinema halls
On March 17, genocide calls rang out in cinema halls, after the screening of The Kashmir Files. "They are growing their population while you are watching a movie. If all [Hindu] young men must marry their [Muslim] girls and give birth to [Hindu] children, marry their girls, in three generations their [Muslim] population will be halved," a video went viral on social media with a man declaring this at the top of his voice, while the crowd claps and cheers.
The Kashmir Files: Calls for genocide and hate marches by right-wing extremists
On March 20, after the release of the movie, Hindutva propagandist on social media openly called for Islamic genocide. Citing a particularly gory scene in The Kashmir Files wherein a woman was made to eat grains soaked with her husband's blood called upon "Hindus" to avenge the suffering of Kashmiri Pandits. The propagandist told his followed to abuse Muslims, sexually assault Muslim women of all ages, harass and torture them until they are forced to leave India.
Hate Offender Swami Jitendranand calls for lynching of pregnant women
On March 23, in another hate speech given by Swami Jitendranand to hurt the religious sentiments and target Muslims, he calls for the lynching of pregnant women. He was heard as saying "Roar like a lion, so that if there is a 'cow killer' or an anti-national, being nurtured in the womb of an anti-national woman, your slogans should result in the unborn baby falling out of the ripped open womb." In the video he invokes his fantasy of an 'Akhand Bharat' or undivided India to rile up people.
'Swami' Sanjay Prabhakaranand twists patriotic song into hate noise
On March 25, 'Swami' Sanjay Prabhakaranand, a katha vachak or story teller, plagiarised and mangled a popular patriotic song film song Aao Bachcho Tumhen Dikhayen from the 1954 movie Jagriti, to create his own 'hate song'. He then sang this anti-Muslim song that calls for violence and hate against Muslims, with a focus on West Bengal using the vile lyrics. Through the lyrics, he abused the West Bengal CM Mamata Banerjee as a 'churdail' or witch and called her anti-Hindu and a lover of Muslims.
Karnataka: Saffron flag waved, music played outside mosque by participants of "Azadi Ka Amrit Mahotsav"
On March 27, Karnataka based BJP leader Tejasvi Surya had organised a cycle rally from Bangalore to Kolar to celebrate "Azadi Ka Amrit Mahotsav" call by Prime Minister Narendra Modi. However, the saffron essence of Hindus made its presence felt when a saffron flag was waved outside the the Hussaini Makan Masjid of Kolar by the crowd that had gathered. The crowds chanted "Jai Sri Ram… Chatrapati Shivaji Maharaj ki jai" and played music that's often played by the specialised religious "DJ" groups of North India.
Assam CM makes open anti-Muslim statement
On April 2, after BJP won the seat in Assam, Himanta Biswa Sarma countered the allegations of AIUDF support during Assembly vote with pointed remarks against opposition leader Badruddin Ajmal, and said "Proof of my actions against Ajmal are evident in Gorukhuti, Lumding and Lahorijan. Let me make one thing clear. I'm not against Ajmal the individual, but his culture."
Raj Thackeray makes anti-Muslim hate speech at a rally
On April 2, MNS Chief Raj Thackeray spewed venom against madrasas at a rally in Mumbai, demanding that loudspeakers be taken down by mosques, or they would install larger ones outside to play Hanuman Chalisa. The Party Chief lashed out against Muslims and said that Muslim "not bother us", all the while claiming that he has nothing against faith.
Meat sale banned in Ghaziabad, demands brew for a repeat in MP
On April 2, a group of Bajrang Dal in Gadwara, Madhya Pradesh demanded that meat shops be closed on the nine days of Chaitra Navratri festival. The Bajrang Dal has reportedly threatened that "if the government doesn't prohibit the sale of meat," they themselves will "evict the shopkeepers." In Ghaziabad, this was done officially, as the Ghaziabad Nagar Nigam banned the sale of raw meat from April 2 to April 10.
Bajrang Muni Das openly threatens Muslim women with sexual assault
On April 2, Bajrang Muni Das issued a criminal threat to rape Muslim women as he was addressing supporters who took out a procession on the occasion of Navratri, and Hindu New Year. He spoke into a microphone connected to loudspeaker from a vehicle, parked outside a mosque in Sitapur, and said, "If you tease a single [Hindu] girl, I will abduct your daughters and daughters-in-law from your house, and rape them in public."
Hate Offender Yati Narsinghanand calls for communal violence at the Hindu Mahapanchayat in Delhi
On April 3, Yati Narsinghanand raised hate speeches and fake claims, stating that, "50% of Hindus will convert in 20 years if a Muslim becomes the prime minister of the country", and called for Hindus to "take up arms", at a Hindu Mahapanchayat which was attended by "around 700-800 people." A FIR was then filed against him.
Delhi: Delhi Jal Board withdraws the 'two hours' leave to Muslim employees during Ramzan
The Delhi Jal Board had granted "short leave" of two hours a day to its Muslim employees during the month of Ramzan, till they were forced to publicly withdraw the same on April 5. The said leave was granted on the condition that the employees must complete their designated work on time. While the AAP government had not given any reason for the withdrawal, the said two-hour leave had come under severe criticism from the BJP, and the right wing ecosystem. Some right-wing aligned Twitter users asked if the DJB gave "leave to Hindus fasting for Navratri", while the BJP had accused the water supply body "of appeasement politics".
Karnataka: Claim of "spitting jihad" spread to dissuade Hindus from buying from Muslims
On April 6, State Hindu Janajagruti Samiti Coordinator Chandru Moger took to Twitter to demand that Hindus prevent the "monopoly" of Muslim in the fruit-selling business. Moger was quoted as saying, "There is a monopoly on the fruit businesses by Muslims. We are also seeing that they are spitting on fruits and bread before selling it." He called this bizarre allegation "spitting jihad" and exhorted Hindus to only purchase from Hindu vendors.
Gujarat: AHP event stage for anti-Muslim abuse and vile comments for Muslim women
On April 7, a video went viral on social media showing Pravin Togadia and his AHP team screaming obscenities, bordering on threats of "marriage by force" with Muslim women. At an event in Gujarat organized by AHP for distribution of 5,000 swords and tridents or trishuls, Praveen Togadia's close aide Manoj Kumar said "tell these Katuw@s (slur used by the right wing for Muslim Men), Salma (as he called Muslim women) is waiting for her Bajrangis (Hindu men). Muslim men are not enough for her, she wants to remove her burqa and give birth to Luv-Kush."
Gujarat: AHP distributed thousands of swords and tridents to people at an event
On April 8, a weapon distribution event was organised by the Bajrang Dal North Gujarat unit in the Swaminarayan Temple at Himmatnagar, and attended by BJP MP Dipsinh Rathore, MLA Raju Chavda and members of VHP and Bajrang Dal. The weapon distribution event had a religious title of "Trishul Diksha" (or trident initiation ceremony). It was reported that 5,100 people were administered an "oath" where they promised to "protect Hindu religion" and were then armed with tridents and swords.
Ragini Tiwari raised Islamophobic slogans outside Pawan Hans premises
On April 15, Self-proclaimed Hindutva leader, Ragini Tiwari alias Janki Behen, was seen in a viral video on twitter, protesting outside Pawan Hans Office premises in connection with the controversy that surfaced online over 'only Muslim' recruitment at Mini-Ratna Pawan Hans helicopter service. In the viral video, Ragini Tiwari could be seen raising slogans such as "Naukri jihad band karo (stop jihad in jobs)…..This will not work in Hindustan!" along with her supporters.
Hate Offender Nischalananda Saraswati demands "Hindu Rashtra"
On May 3, another controversy was started by the Sudarshan News after it announced that Shankarachrya of Puri Nischalananda Saraswati will publicly resolve to turn India into a "Hindu Rashtra". The news channel reported that an event is scheduled to take place at Talkatora stadium in central Delhi, some distance away from the Supreme Court on Tilak Marg on the evening of May 5, where, Saraswati along with three other gurus will allegedly proclaim and affirm a resolution that India be turned into a Hindu state.
BJP MLA Haribhushan Thakur compares Muslims to Ravan, demands such 'demons' should be set ablaze
On May 8, BJP MLA Haribhushan Thakur Bauchal was caught openly calling for violence against Muslim minorities, comparing them to demons like Ravan- the chief antagonist of the Hindu epic Ramayan. "We need Hanuman ji so that our youth could be strong, the people of our country could be strong. Just like Ravana's Lanka was burnt by Hanuman ji, the demon-like Ravanas, who are hovering over Bihar and the country, should also be burnt," says MLA Bauchal in the video. When asked where arethese Ravanas in Bihar, Bauchal named Muslim dominated regions of Bihar.
Pandit Ravi Sonkar issued death threat to Muslim worshippers at Varanasi's Gyanvapi mosque
On May 17, Ravi Sonkar, who is reportedly a Bajrang Dal member from Kanpur, openly threatened to kill Muslims who have performed Wazu (traditional ablutions) before offering prayers at Gyanvapi Mosque. In a video that had gone viral, Sonkar had accused them of deliberately insulting the "Shivling" that was found in the ablution tank, by washing hands, mouths and feet in it. "We will behead them," Sonkar is seen and heard saying in the video clip.
Assam: Fisherman whose alleged custodial death led to the violence dubbed "Jihadi" and "criminal"
Shafikul Islam was arrested for alleged public drinking on the night of May 20 and taken to a hospital. While the police claim he died in hospital due to excessive drinking, Islam's family alleged that he was killed in custody after he refused to pay a bribe. The wife of the deceased had claimed that the police had beaten Shafikul in front of her. When there were protest against the institutional murder, the leaders of Hindu outfit and the CM of Assam gave hate speeches, calling the deceased fisherman's family and friends "Jihadi", that they should be "encountered" instead, and said that charges of cow smugglers, dacoit and drugs mafia should be levied against the protesters.
Kerala politician PC George arrested for anti-Muslim hate speech
In May, Kerala politician PC George, an ex-MLA and Kerala Janapaksham party leader, had claimed that Muslim-run restaurants were lacing tea with 'drops' that caused impotency. He was granted anticipatory bail by the HC for the hate speech and had been restrained from making public statements. But, he was later arrested for violating his bail terms.
Ubriddled hate and Islamophobia on display at RSS event
On May 22, CM of UP, Assam and Uttarakhand made a series of communal, Islamophobic and unsubstantiated claims about their states at a RSS event organised by the Panchajanya magazine. Yogi Adityanath (Ajay Bisht) said that Eid namaz on-road has stopped since the BJP came to power in the state. Himanta Biswa Sharma spoke about how admitting children to madrasas is a human rights violation Pushkar Singh Dhami said that the state government will set up a special committee to implement the Uniform Civil Code. He further spoke of a special drive to identify "infiltrators" and strengthen the anti-conversion law.
BJP's Shiladitya Dev, a former MLA, utters anti-Muslim comments on air
On May 30, Shiladitya Dev, BJP leader who was previously the Member of Legislative Assembly (MLA) from Hojai, was part of a panel discussion on NKTV centered on the recent incidents of violence in Batadraba. However, he was allowed to make a series of statements against Muslims and even alleged that India was not their country, they were merely "allowed" to live here. Furthermore, Dev tried to suggest that Indian Muslims were somehow not at par with other Indian citizens.
Hindu Mahasabha's Pooja Pandey accused those gathering for jumma prayers of "harassing" people
Aligarh's Gandhi Park police station on June 7, 2022 registered a case against Hindu Mahasabha Secretary and Haridwar hate speech accused Dr Pooja Shakun Pandey for trying to create religious enmity. According to the media report, the Additional Municipal Magistrate issued a notice against her for likening Friday prayers or jumma prayers to terrorism. In a video that went viral on social media, Pandey accused those gathering for jumma actually "harassing" people from other religions.
Demons to Jihadis, BJP's Haribhushan Bachaul targets Muslims
On June 20, Hari Bhushan Thakur Bachaul, a BJP MLA, used the term "Jihadi" to describe youth protesting the Agnipath scheme for army recruitment. According to media reports, he had said, said, "Who are indulging in violence? Those involved are the 'jihadi' people and also the 'samikaranvadi log' (people who believe in forging political equations to form a government)."
Maharashtra: Muslim girl students complain of being forced to remove burqa and hijab before NEET exam
On July 17, two Muslim girls came forward saying they were forced to remove their burqa and hijabs before giving their NEET exams. The incident took place at the Matoshree Shantabai Gote College which was serving as an examination centre in Washim, Maharashtra. One of the aggrieved students said, "We asked them to check us and then allow us in, but the concerned staff spoke to us disrespectfully and their behaviour was not good."
An investigation was underway after parents of the girls filed a police complaint. The girls had also alleged that objectionable remarks, like threatening to cut the burqa – hijab if they didn't remove it voluntarily, were also made.
Tapasvi Acharya threatens to take law in his own hands if accused of Udaipur be-heading are not sentenced to death
On July 29, Ayodhya's Tapasvi Acharya spoke to media persons condemning the Udaipur murder of Kanhaiya Lal, a Hindu tailor by two hardline Islamists on June 28. Eager to fan the flames of communalism, Acharya said, "If these two are not hanged until death, then I will take the law in my own hands, as will 100 crore other Hindus and make India jihad-free." He then went on to defend Sharma's hate speech against Islam and Prophet Mohammad, stating that what she said was already in the Quran. Further inciting hate, the Acharya said that Muslims should go to Pakistan and Bangladesh because they did not condemn the Udaipur murder.
Islamophobic movie titled 'Hum Do Humare Barah' blames Muslims for India's population growth
In August, the poster of a Hindi movie titled 'Hum Do Humare Barah' went viral on social media. The poster showed a man surrounded by his burkha-clad pregnant wife and children, and the tagline said "Jald hee cheen ko peechhe chhod denge (Translation: Will soon leave China behind)", insinuating India's Muslim population will soon exceed that of China. This clearly reflected the Islamophobic fiction peddled by right-wing groups and individuals on Whatsapp and Twitter.
Gurugram: University students protest African group offering namaaz on football field
A group of students of the GD Goenka University held a protest after a few international students hailing from African nations offered namaaz on the football field. The incident reportedly took place on August 30. It was reported that the students chanted slogans such as "Jai Shri Ram" and filed a complaint with the registrar. The complaint also demanded separate plates for veg and non-veg.
Haryana: Suresh Chavhanke's asks Muslim women to Marry Hindu men to avoid triple talaq
While speaking at a rally held on September 4 in Badarpur, Haryana, the Sudarshan TV editor-in-chief gives a derogatory and islamophobic speech, urging Muslim women to marry Hindu men instead of Muslim men. He had durther said, "The children you will give birth to, those children will stay as they are, there won't be any cuts (circumcision). The way Ishwar (God) has sent them, they will stay that way."
Delhi: Hardline Hindutva leaders give call to bear weapons, chop off hands, and heads of minorities
Mahant Nawal Kishore Das and Yogeshwar Acharya made open calls for violence against the minorities, especially Muslims, while addressing a gathering at an event called Virat Hindu Sabha organised by the VHP on October 1. While Verma did not specifically name the Muslim community in his comments, he calls for the total boycott of the Muslim community. Acharya took a dig at the Muslim population, and he said, "They have not one, but many children. They want to marry 14 times and have 40 children." He then gave an open call for genocide saying, "We should target and kill them."
Manesar: Pack up your belongings: VHP leader to Maulvis
In October, at an event organized by the VHP, the speaker, VHP joint general secretary Surendra Jain asked Maulvis (Muslim clerics) to "pack up their belongings", hinting at an attempt to oust them from the region. The incident occurred at a Trishul Diksha (trident distribution) ceremony organised by the VHP in Manesar. He also tried to rile up listeners against namaaz, saying, "It isn't namaaz, it's terrorism. They don't want to offer namaaz, they want to spread terror."
Karnataka: Hate speech and brandishing of swords at Udupi Durga Daud event
The Karnataka police have booked a ' group of people', for allegedly brandishing swords during a Durga Daud procession at the Kadiyali Mahishamardini temple in Shivalli village in Karnataka's Udupi district on October 2. During the procession, the Hindu Jagarana Vedike leader also targeted Muslims girls at the centre of the hijab controversy in Udupi, and said that the girls had maligned the name of the coastal region and that the HJV had exposed their "true colours". "
Karnataka: Hindu activists begin door-to-door campaign against halal products
On October 18, the Hindu activists started a door-to-door campaign in the Jayanagar and Basavanagudi Assembly constituencies of Bengaluru, in connection with boycotting halal certified products during the Diwali festivities. The activists said that they were also planning to distribute 'halal jihad' handbook to the people to create awareness among them. The campaign has been taken up by the Hindu Jana Jagruthi Samithi, Sri Rama Sena, Raastra Rakshana Pade and Vishva Hindu Sanatana Parishat.
Assam: Shiladitya Dev again makes derogatory remarks against 'Miya Muslims'
Shiladitya Dev, a BJP leader from the Hojai constituency of Assam, gave a speech unleashing words that were inciteful, provoking the wider community in the name of 'Miya Museum'. After the inauguration of the museum on October 23, Shiladitya Dev, on October 24, started his diatribe with, "Assam is filled with Miyas, so why there is need for a Miya Museum, it should be set on fire and set ablaze." This was a brazen incitement to targeted violence. He also demanded that the authorities demolish the Miya Museum forthwith.
Suresh Chavhanke spewed venom against Maulana Abul Kalam Azad on social media
On the occasion of National Education Day, November 11, Chavhanke made Islamophobic comments against Maulana Azad, India's first education minister, saying that "how can someone become the Bharat Ratna or the Education Minister of India when they are not from India? How can a country, which has been hunted by the joint conspiracy of the British and jihadis, accept the National Education Day in the name of hunters?"
False video uploaded claiming that 80% of women in inter faith relationships have been murdered or raped
Post the Aaftab Poonawalla- Shraddha murder case, a false video claiming 99.9% of the Muslim men were involved in wooing innocent Hindu women and making then fall in love was uploaded on social media on November 17. A hate buster was then posted by CJP, wherein it was clarified that there are no such official statistics that are released by any authority or body or even any organization to support the baseless claims being made by the speaker Gautam Khattar. These number have just been stated to push the communal agenda, instill fear in the minds of the public and create disharmony in our country.
Delhi & Gurugram: Obstruction of namaz, assault on Muslims
Inquilab, a national newspaper published in Urdu reported on November 20, that, for past two weeks, Muslims coming to offer namaz at Iqra Mosque, Delhi were being stopped from offering namaz and were beaten up by a group of people. It was further alleged that the accused, who lives near the mosque, gathered a few other men and even molested women and assaulted them.
On December 23, Bajrang Dal members disrupted Friday namaz in sector 69, Gurugram. As per the police, around 15 Bajrang Dal members led by its district security chief Amit Hindu disrupted namaz being offered on a designated open ground namaz site as allotted by the district administration.
UP: FIR against Principal, Teacher after VHP cites recitation of iconic Iqbal poem
On December 22, the Uttar Pradesh police registered a FIR against the principal and a part-time teacher after the local unit of a supremacist organisation claimed that "madrassa-type prayers" were being recited in a government school at Bareilly. Reports in the media stated that students had only recited Mohammad Iqbal's iconic Urdu poem 'Lab pe aati hai dua'. Iqbal is the writer of the famous song 'Saare jahan se achha'. The principal of a local government higher primary school, Nahid Siddiqui, located in Faridpur, has been suspended. A police investigation has been ordered against the part-time teacher Waziruddin.
Hate Speech-Intimidation, Action or No Action
'Not so serious', says Karnataka education minister on teacher referring a student 'Kasab'
On November 29, Karnataka's minister of school education and literacy B C Nagesh dismissed prejudicial remarks by a teacher at an institute at Manipal while reacting to the recent controversy following an assistant professor allegedly referring to a student as "Kasab", felt that it is "not so serious". He asked why names from a particular community became a national issue, but names like "Ravana" or "Shakuni" which are so commonly used for referring, does not become an issue at all.
Calls for targeted crimes exposed in the alleged leaked ABVP WhatsApp chats
As reported on December 8, one of the participants in the leaked chats of WhatsApp group named "ABVP DTU FRESHERS" suggested that bomb blasts should be done to "exterminate" Muslims while the other said that since Muslim women are not allowed to come out of their homes, one should kidnap them and make them "victims of bhagwa (saffron) love jihad". The conversation also veered towards "conversion" of Muslims.
Assam: Pravin Togadia spews venom against Muslims
On December 11, Pravin Topgadia, of the Antar Rashtriya Hindu Parishad, brazenly targeted the minority community in his speech, and demanded that they be barred from equality of existence and constitutional rights. Addressing a mob in the Karimganj district of Assam, he said, "I'll bring in a law whereby there can be no SP, PM, DM from any other community." He also claimed, "We will bring the Uniform Civil Code just like Ram Mandir and will control the Muslim population."
Maharashtra: Kalicharan spews hate against Muslims in protest for "Love-Jihad" law
On December 14, at a protest, Hindu Jan Aakrosh Morcha, organised by a Hindu right-wing extremist outifit, Sakal Hindu Samaj, in Ahmednagar, Maharashtra, inflammatory and Islamophobic speech was delivered by Kalicharan Maharaj. In his speech, strange remarks, such as "Soak pig teeth in water and feed it to daughter, brain will come to a standstill, baba claims on love jihad", as well as offensive remarks, such as "Muslims have an 800-year-old plan – the Ghazwa-e-Hind – to convert India into a country of Muslims" were made. This was one of many that have dotted the state over past weeks. This protest was organised with the aim of demanding that a "love-jihad" law is enacted by the Maharashtra state government. While this conspiracy theory of the impending "threat to Hindus in India" has never really gone away, it has recently re-surfaced, intensified with more hate after the tragic, Shraddha Walker murder in Delhi.
Rajasthan: Hate speech made at VHP, religious minorities are termed as "top enemies"
In a weapon worship event, held on December 17, hate speeches were given and open calls were made for Hindu people to buy and keep weapons at home. In a speech by a Hindu supremist leader, minority communities of Christians and Muslims are openly targeted and called them the enemies of the Hindu community. The speaker also spreads misinformation regarding forced conversions, and the cultures followed by minorities.
Madhya Pradesh: VHP Leaders allegedly threaten to burn down Muslims in presence of Police!
In a video, Suresh Sharma, reportedly a leader of the Vishwa Hindu Parishad, can be seen making threats instigating "burning and killing Muslims". This incident was reported from the Aaron district of Madhya Pradesh on December 23.Uniformed policemen can also be seen in the video. In this blatant instance of impunity, Suresh Sharma then says that "Let there be an FIR against me, I will go to jail. I will set ablaze all the Miyas."
Karnataka: "Keep your knives sharp" says terror accused BJP Member of Parliament (MP), Pragya Thakur
On December 26, Sadhvi Pragya made some inciteful remarks while speaking at Hindu Jagarana Vedike's South Region annual convention held in Shivamogga, Karnataka. In the video available of the event, Thakur can be heard saying, ""Keep weapons in your homes, if nothing else, at least knives used to cut vegetables, sharp." She also said that Hindus should "answer those involved in love jihad the same way". She added that girls should be protected and taught the "right values".
Karnataka: Professor who made "terrorist" jibe at student, gets suspended later
In a video widely shared on December 28, the professor of Manipal University had asked the student his name, and on hearing the name, he remarked: "Oh you are like Kasab". The student then defended himself and told the professor that he cannot speak about Muslim in such a derogatory manner. The student said, "it's not funny, 26/11 was not funny, Islamic terrorism is not funny. Being a Muslim in this country and facing this every day is not funny." A probe by the University was then ordered and the professor was suspended.
Karnataka: The director of a play on Tipu Sultan received death threats
In December, the director of a play based on Tipu Sultan in Karnataka, C Cariappa, received death threat letter in Mysuru, which demanded that he stop the play immediately or he would be killed. The campaign against Tipu Sultan, singled out by the saffron brigade because he was a Muslim ruler and also progressive, has racheted up since the majoritarian BJP-led NDA government came to power at the Centre in 2014.
Discrimination
Uttar Pradesh: Hindutva groups put up communal posters at river banks, "warn" non-Hindus to stay away
On January 6, Scores of communal posters were pasted on many ghats of Varanasi carrying the names of VHP and Bajrang Dal Kashi. The posters, in effect, 'warned' non-Hindus to stay away from the public ghats of Varanasi including Asi Ghat, and announced that entry of non-Hindus to the ghats was prohibited.
Uttar Pradesh: Professor throws Muslim girl out of class for wearing hijab
On February 8, a young Muslim woman was targeted and scolded by a political science professor, identified as Prashant Trivedi, who asked her to get out of class as a final humiliation for wearing hijab. This incident was reported from Tilakdhari College, Jaunpur district of UP. It was alleged that the professor had told the student that she should take her hijab off and throw it away. The teacher referred to her hijab and asked her what she "gets by doing this" to which she replied that she liked it. The teacher allegedly replied that this was done [worn] by "crazy people" and that if he could he would "enforce a law in UP that no one should come wearing hijab". Trivedi allegedly added that Muslim "girls should take off the burqa and throw it away."
Gujarat BJP posts anti-Muslim 'caricature' after the verdict in the Ahmedabad blast case
On February 19, @BJP4Gujarat, the official verified handle of Gujarat's BJP unit, posted a dangerous and offensive 'carricature' showing skullcap wearing bearded Muslim men being hung to death. The text read "Satyamev Jayate" and "No Forgiveness to those spreading terror". This caricature was tweeted by the Gujarat unit of the BJP after 38 people convicted in the 2008 Ahmedabad serial blasts case were sentenced to death by the special court. Twitter later removed the post saying it has "violated" their rules.
Karnataka: Marigudi Temple Annual festival 'bans' Muslim traders
On March 21, the Marigudi Temple in Kaup, Udupi decided not to allow Muslim traders to set up shops at its annual fair. The temple administration committee president Ramesh Hegde, had said a resolution was passed allowing "only Hindus to participate in the auction of shops." This discrimination fuelled economic boycott against Muslims it seems was the temples way of 'punishing' the community as some Muslim traders shut down their shops on March 17 in the city, to protest the Karnataka High Court's decision on the hijab issue.
Khargone's Muslim outfits accuse police of only arresting Muslims
On April 13, Members of the minority community alleged that the police are only targeting Muslims in connection with the Ram Navami violence and its aftermath. A memorandum was submitted to the DGP wherein members of the Muslim community had accused the administration of demolishing Muslim houses and putting community members in jail "in a clear violation of the law of the land".
Assam: Committee proposes selective census, IDs for Assamese Muslims
On April 28, a Committee formed by the Assam government made a proposal that a census be conducted to identify Assamese Muslims and ID cards be issued to them. The proposal is controversial as it seeks to distinguish between Assamese speaking Muslims and Bengali speaking Muslims. This also appeared to be a strategy aimed at pitting Muslims against each other along linguistic lines.
Gujarat: Harassed, discriminated, Muslim fishermen plea for mass euthanasia
On May 5, a petition was filed in Gujarat high court by Allarakha Islamilbhai Thimmar, who represents 100 Muslim fishermen families in Gosabara wetlands in Porbandar, to seek permission for himself and his 600 community members for active euthanasia. It had also been alleged that "the government does not provide facilities to people belonging to a particular community." The community of fishermen had also stated that they are facing "political persecution." Thimmar had also alleged that the authorities have been "harassing" their families on the basis of religion.
Gujarat: Teachers allege RTE Rules Being Flouted in Muslim Areas
As reported on August 22, as many as 62 primary schools in the last 25 years have been shut down in Ahmedabad, Gujurat. At least 23 have been either shut down or merged with another, in the last two years alone The teaching staff of different schools alleged that schools with over 200-300 students were also shut down, which was a violation since, as per the rules, schools can be merged only if the number of students in each school is less than one hundred. Most of these schools were in minority dominated areas.
Karnataka HC: 'Scapegoat', Bail granted to Muslim woman accused of being Pakistani
Khatija Mehrin, 33, was in judicial custody for 16 months, lodged in prison with her two-and-half-year old child. On November 10, the Karnataka bench bitingly observed that unfortunately the petitioner has become a scapegoat in the hand of police and should not have been detained merely on suspicion or doubt. Taking up her petition, the court stated that what was clearly mentioned is that there is no prima facie case made out against the petitioner.
Assam: CM Himanta Biswa Sarma excludes "encroachers" from Mission Bashundhara 2.0
On November 14, 2022, Assam CM Himanta Biswa Sarma ceremonially launched Mission Basundhara 2.0, a flagship scheme of government to redress all kinds of land issues. The CM announced that under this scheme, the "encroachers" will not be entertained and only original inhabitants were be considered. He later give the definition of the original inhabited village as "Assamese, Manipuri, a Bengali from Varak Valley could be original inhabitants and, as per the definition in the Forest Land, that individual has to be here for three generations." Thus, this has rather become an attempt to discriminate against the Bengali Muslims of Assam.
MP: Six Government Law college teachers taken off duty after ABVP complaint
On December 1, a government-run law college in Indore took six teachers, including four Muslims, off duty temporarily on complaints by the Akhil Bharatiya Vidyarthi Parishad (ABVP) who accused them of promoting fundamentalism and 'negative thoughts' about the government and Army. 'Love jihad' and 'non-vegetarianism' was being promoted on campus, the complaint had further added.
Uttar Pradesh: Voters say they were denied voting rights, allege police brutality
On December 5, the elections to Rampur, in a by-election, a populous constituency in Uttar Pradesh that has a significant population of Muslims alleged a denial of voting rights through the (ab)use of force by the police. Some media outlets showed visuals of a woman in a video can also be seen showing another woman's wounded hand allegedly as a result of police brutality.
CHRISTIANS
Attack on religious places, schools and property
Chhattisgarh: School removes 'Cross' from its 30-year-old uniform logo "under duress"
In February, a decades old private school removed 'crucifix' from its uniform logo, reportedly "under duress". According to media reports, parents of some students had "strongly opposed the depiction of a 'cross' in the logo of the school" alleging that the school got the new uniform prepared only this year. These parents claim that "the modified logo was not there earlier." The objections and protests escalated so much that the management of the New Life English Higher Secondary School, at Janakpur in Koriya district of north Chhattisgarh decided to withdraw the symbolic logo from the uniform under duress
Karnataka: 18-year-old Jesus statue demolished even though the case is pending in Court
On February 16, in Karnataka, the Mulbagal taluk administration has demolished an 18-year-old Jesus statue in the Gokunte village of Kolar district. According to news reports, the Tehsildar ordered the demolition claiming that the statue was built on government land which was reserved as an animal pasture. Mulbagal Tehsildar Shobhita R had stated that the High Court ordered the demolition, while Christian leaders from the region alleged that the statue was illegally demolished while the case was still pending in court.
Delhi: Christian pastor assaulted, forced to chant 'Jai Shri Ram'
On February 25, a pastor named Kelom Kalyan Tete, who hailed from a Scheduled Tribe community from Jharkhand, was attacked by a communal mob in south Delhi's Fatehpur Beri, and beaten mercilessly on false charges of conducting conversions. The unidentified accused came, snatched his Bible, and started hitting Pastor Tete. The pastor was accused of conducting "conversions", tied on road divider, thrashed and even called "Bangladeshi", while being forced to chant Jai Shri Ram.
Meghalaya: Catholic Church vandalised, statues desecrated
A Catholic church located in Daram village of the North Garo Hills area of Meghalaya was allegedly vandalised by miscreants on August 22. The vandals severed heads of the statues of Mother Mary, Baby Jesus and St Joseph. As per reports, the said church was one of the oldest churches in a remote part of the district. It was further reported that the vandals allegedly tried to damage the holy crucifix placed on the upper portion of the Church wall, above the altar, where the holy Eucharistic is celebrated. However, they ended up destroying the leg of the idol.
Punjab: Christian Pastor's car set on fire
On August 31, a group of miscreants vandalised a church in Punjab's Taran Tarn district, desecrating statues of Jesus and Mary. They also set the local pastor's car on fire. This incident came just two days after a FIR was filed against some Nihangs (a sect of Sikhs), for allegedly disrupting an event organised by Christian missionaries at Daduana village in Amritsar district. Meanwhile, a video message was also released on Facebook released the same day as the attack, where the Akal Takht Jathedar Giani Harpreet Singh accused Christian clergymen of conducting forced and fraudulent conversions.
Karnataka: Church vandalised, statue of Baby Jesus damaged
A church was purportedly vandalised on December 27, 2022 by several unidentified miscreants. Two days after the Christmas holiday, this incident was reported at St. Mary's Church on Gonikoppa Road in Periyapatna. According to the media reports, numerous objects, including a statue of Baby Jesus, were also damaged in the incident. The Mysuru Police has reportedly formed several teams to identify and arrest those responsible for the attack.
Attack on Religious Practices and Mass
Karnataka: False allegations of conversion in prayer center lead to police raid at Puttur
On June 6, the Uppinangady police raided the Moriya prayer center on the accusation that 27 people of Shivamogga origin are called in order to convert them. When police questioned these people, they said that they were from Shivamogga and some of them are alcohol addicts while others are having psychological disorders. They clarified that they saw on YouTube that health will improve through prayers which is what brought them to the prayer hall. They also said that they came at their own cost and there was no coercion involved in making them attend the prayers. In addition, they also clarified that they have not come for religious conversion but only to get cured from their disorders.
Chhattisgarh: Christians attacked during Sunday mass; 9 hospitalised
On November 19, at least nine Christians were attacked by Hindu nationalists in Chhattisgarh's after a mob burst into a newly built church hall in Koshalnar village during Sunday service. A saffron clad mob gathered around the church making calls to the pastor and his brother to come out of the church. Reportedly, the pastor converted to Christianity in 2013 and has been practicing since. He was the one who even founded this church. When the pastor and his brother came to speak to the mob, they were attacked with clubs and were cursed for "abandoning the Hindu faith". The mob then went on to attack the worshippers present in the church. The injured had to be taken to the hospital.
Karnataka: Christian Group Approach the DGP to seek protection against targeted violence
On November 30, members of the Akhila Bharath Cristha Mahasabha approached the Director General and Inspector General of Police to request police protection for participating in peaceful Christmas celebrations. As per the head of the Mahasabha, since the anti-conversion law was established, the Christian community have become a target of violence. The head further added that Christians are hesitant of participating in carol singing and paying late-night visits to church members' houses given the current situation for fear of being attacked.
Gujarat: Hindu mob violently beat up a man who was in a costume of Santa Claus
On December 22, 2022, in a residential neighborhood in Vadodara, Gujarat, a Hindu mob violently beat up a man who was in a costume of Santa Claus. It was further reported that when this incident took place, the man who had dressed up as Santa Claus was handing out chocolates in the neighborhood of Makarpura. fter the incident, members of the local Christian community went to the police to ask for security for a procession they wanted to organise nearby.
Hindu supremacist groups chant "Death to Santa Claus!"
On December 26, a stark video of a Hindu supremacist organisation burning an effigy of Santa Claus to chants of "Santa Claus Murdabad" (Death to the Santa Claus) did the rounds on Christmas eve. In the video, a group of 20-30 men and women, most of whom are wearing a bright orange stole, are seen carrying an effigy of a Santa Claus. After a while of sloganeering, the crowd then pours oil on the effigy and proceeds to burn it in the middle of the road, all the while chanting "Santa Claus Murdabad".
Hate Speech-Intimidation, Action or No Action
Rajasthan: Hate speech made at VHP, religious minorities are termed as "top enemies"
On December 17, in a weapon worship event, hate speeches were given and open calls were made for Hindu people to buy and keep weapons at home. In a speech by a Hindu supremist leader, minority communities of Christians and Muslims are openly targeted and called them the enemies of the Hindu community. The speaker also spreads misinformation regarding forced conversions, and the cultures followed by minorities.
Discrimination and False Allegation of Conversions
Defence Ministry evicts Missionaries of Charity from Kanpur Shishu Bhawan
On January 3, Missionaries of Charity (MoC) nuns were evicted from the Shishu Bhawan orphanage in Kanpur Cantonment, UP shortly after the rejection of their renewal application. Founded by Bharat Ratna and Nobel Laureate Mother Teresa, this home sheltered orphaned, destitute and abandoned children since its establishment in June 1968. The sisters owned the property for 53 years. Despite this, the Defence Estates Office declared that it owns all the land in the 62 cantonments of India and claimed that Shishu Bhawan was built on leased land and that the 90-year lease expired in 2019, following which the nuns were dubbed as "trespassers". They were slapped with a penalty fee of ₹ 1 crore per annum.
Thanjavur minor's suicide: Madras HC ordered case transfer to CBI; made comments rife with prejudices, hints at 'religious conversion' angle
On January 31, the Madras HC directed for transfer of investigation in the Thanjavur minor's suicide case from the State police to the CBI in response to a petition filed by the father of the deceased girl who stated that he had lost confidence in the state police's investigation after the school was exonerated by the state's Education Department of allegations of attempted forcible conversion and the SP ruled out angle of conversion in the initial phase of the investigation. The court's observations while transferring the case ranged from making comments about the name of the village being "Michealpatti" to make it seems that conversion angle is probable, to quoting from popular culture references to show how characters in movies defied attempts at religious conversion, to casting aspersions on the SP that she wanted to divert attention from the conversion angle in the case.
Uttar Pradesh: 54 booked in biggest case of 'anti-conversion'
The UP police have now booked 54 persons in an April case filed after a complaint was filed by the VHP against the church run by Evangelical Church of India (ECI), in Hariharganj area of Fatehpur, about people being reportedly being lured with false promises to convert. So far, the police have booked 54 persons in this case out of which 22 are employees of the Broadwell Christian Hospital, located near the church.
Christians allege there has been an attempt to target the community with false allegations. Recalling the April incident, the members of the Bajrang Dal and the VHP broke into the church's property and locked it from the outside, and then started chanting the slogan of 'Jai Shree Ram'. After the police came, the Aadhaar and identity cards of the residents were verified and the worshippers were told that we will be protected and taken safely to our homes.
Chhattisgarh: a spate of recent attacks on the Christian community
In December, over the ten days leading to Christmas, or even longer, there were scattered news reports about attacks on the tribal Christians in the Bastar region of Chattisgarh. According to media reports, the Christian community has been so singled out for attack that even Christmas prayers have been disrupted and the statue of Jesus Christ, vandalized, by certain exclusivist Hindu outfits. This has compelled Christians to flee from the Narayanpur district in Chhattisgarh.
SIKHS
Sikh cricket player dubbed "Khalistani" for dropping catch
On the intervening night between September 4 and 5, Pakistan defeated India in a cricket match. While any match between the two countries is known to stir passions of viewers on both sides of the border, this time, one dropped catch led to Arshdeep Singh, a Sikh player, being dubbed "Khalistani". Dubbing Singh a "Khalistani" was clearly an attempt to target his Sikh identity and vilify him by accusing him of harbouring anti-India sentiments.
MINORITIES UNDER ATTACK
Karnataka: Minority PhD Scholars Stare at Bleak Future as Govt Slashes Fellowship Amount
In October, a notice from the Karnataka government had informed of the reduction of fellowship amount granted to the minority scholars from Rs 25,000 a month to Rs 10,000 a month. The Bharatiya Janata Party-led Karnataka government abruptly cut the maintenance and fellowship amount granted to the minority scholars (Sikh, Muslims, Jains, Buddhists, Christians) by a high percentage, citing the pandemic and the economic crisis that followed as reason. Not just this, the state government also said that the scholars coming from SC and ST backgrounds also receive the same Rs 10,000/month.
Union scraps Maulana Azad Scholarships for Research Scholars from Minority Communities
On December 9, during the winter session of the Parliament, 2022, the Union government announced the union government's decision to discontinue the Maulana Azad National Fellowship (MANF), a scholarship for students from minority communities, from this academic year. Union Minority Affairs Minister Smriti Irani stated the reason for the same that the scheme overlaps with various other fellowship schemes for higher education.
Maharashtra: Only Inter-faith marriages under govt scanner; earlier GR was incorrect says Deputy CM
On December 16, within two days of issuing a Government Resolution for forming a committee to get "detailed information about couples in interfaith and inter-caste marriages", the Maharashtra government has conveniently removed inter-caste marriages from its scope, proving the critics right. What seemed to many as a harmless exercise to protect women and to reunite estranged women with their maternal families, is clearly a step towards monitoring inter-faith marriages in the State. The new GR stated that the panel had been renamed 'Interfaith Marriage-Family Coordination Committee (state level)' and "it was under the government's consideration to amend the committee that was set up". Many social organizations in the state opposed this decision of the government calling it 'moral policing' and infringement of people's right to privacy.
(The research for this had been carried out by several team members including Tanya Arora and Irfan Khan)
Related:
2022: Looking back at the best judgments from Indian courts
RightsWatch 2022: CJP's pursuit to protect human rights & dignity
Stories of resilience: Human Rights Champions of 2022
A year of exacerbated attacks on Dalits and Adivasis, arguably two of the most marginalised sections of the Indian population