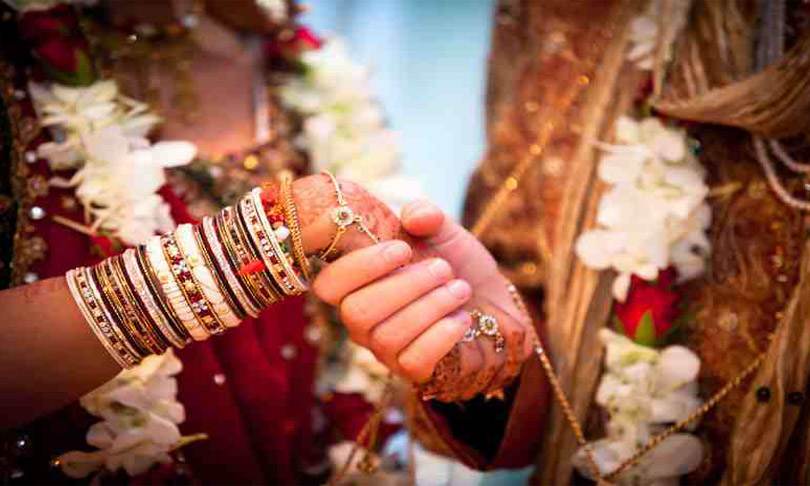 In a very important judgment (Salamat Ansari and Ors vs State of Uttar Pradesh and Ors Cri. Misc. W.P No. 11367 of 2020), the Allahabad High Court has held that its previous rulings stating that religious conversion per se for contracting a marriage was prohibited and said marriage has no sanctity in law are incorrect and did not lay down "good law."
Instead, the Bench of Justices Pankaj Naqvi and Vivek Agarwal have observed, "Right to live with a person of his/her choice irrespective of religion professed by them, is intrinsic to right to life and personal liberty. Interference in a personal relationship, would constitute a serious encroachment into the right to freedom of choice of the two individuals."
"We fail to understand that if the law permits two persons even of the same sex to live together peacefully then neither any individual nor a family nor even State can have objection to relationship of two major individuals who out of their own free will are living together," the Bench added.
Previous orders struck down
Two judgments from December 2014 and September 2020 delivered by the Allahabad High Court is in question here. In Smt Noor Jahan Begum @ Anjali Mishra and Anr vs. State of U.P. and ors. (W.P [C] No. 57068 of 2014), Noor Jahan along with her alleged husband approached this High Court for claiming protection as it was alleged that she had embraced Islam after renouncing her Hindu identity to contract a Nikah with her Muslim husband.
Under these circumstances, the court had held their union to be illegal as it was performed after a conversion which could not be justified in law. The Bench had observed, "If a conversion is not inspired by religion feeling and under gone for its own sake, but is resorted merely with object of creating a ground for some claim of right or as a device adopted for the purpose to avoid marriage or to achieve an object without faith and belief in the unity of God (Allah) and Mohamed to be his prophet, the conversion shall not be bonafide. In case of a religion conversion there should be a change of heart and honest conviction in the tenets of new religion in lieu of tenets of the original religion."
In the second case of Priyanshi @ Km. Shamren and ors v. State of U.P and Anr (Writ C No. 14288 of 2020), the court followed the precedent laid down in Noor Jahan Begum and noted that the girl was a Muslim by birth and she had converted to Hinduism, just a month before the marriage was solemnized. The court declined to interfere in the matter of providing police protection to the couple.
Taking the two judgments into consideration, the Division Bench of the Allahabad High Court noted on November 11, "None of these judgments dealt with the issue of life and liberty of two matured individuals in choosing a partner or their right to freedom of choice as to with whom they would like to live. We hold the judgments in Noor Jahan and Priyanshi as not laying good law."
Further the Bench added, "Once the alleged conversion was under clout, the Constitutional Court was obliged to ascertain the wish and desire of the girls as they were above the age of 18 years. To disregard the choice of a person who is of the age of majority would not only be antithetic to the freedom of choice of a grown up individual but would also be a threat to the concept of unity in diversity. An individual on attaining majority is statutorily conferred a right to choose a partner, which if denied would not only affect his/her human right but also his/her right to life and personal liberty, guaranteed under Article 21 of the Constitution of India."
Background of the present case
The petitioner Salamat Ansari was accused of criminal intimidation, use of criminal force, kidnapping under the Indian Penal Code and sexual assault under Protection of Children from Sexual Offences Act in the case registered against him at Police Station- Vishunpura, District Kushi Nagar. The couple then moved the High Court praying for a direction to quash the FIR against the petitioner, lodged by his father in law (Priyanka Kharwar @Alia's father).
They argued that both of them have attained the age of majority and are competent to marry. They performed Nikah on August 19, 2019, as per Muslim rites and rituals, after Priyanka Kharwar renounced her Hindu identity and embraced Islam.
It was further submitted that the couple has been living together as husband and wife since the last one year peacefully and happily and that the FIR is prompted by malice and mischief with an intention to disrupt the marital ties.
The State relied on the court's decision in the cases of Noor Jahan and Priyanshi and also argued that conversion per se for contracting a marriage is prohibited and the said marriage has no sanctity in law. Thus, this Court should not exercise its "extra-ordinary jurisdiction in favour of such a couple."
Court's final order
Significantly, the court noted, "We do not see Priyanka Kharwar and Salamat as Hindu and Muslim, rather as two grown up individuals who out of their own free will and choice are living together peacefully and happily over a year."
"The Courts and the Constitutional Courts in particular are enjoined to uphold the life and liberty of an individual guaranteed under Article 21 of the Constitution of India. Right to live with a person of his/her choice irrespective of religion professed by them, is intrinsic to right to life and personal liberty", the Division Bench added.
The Bench reiterated, "Decision of an individual who is of the age of majority, to live with an individual of his/her choice is strictly a right of an individual and when this right is infringed it would constitute breach of his/her fundamental right to life and personal liberty as it includes right to freedom of choice, to choose a partner and right to live with dignity as enshrined in Article 21 of the Constitution of India."
With respect to the FIR registered against the petitioner, the court said, "Before parting we wish to reiterate that we are quashing the FIR primarily on the ground that no offences are made out, as discussed above, as also the fact that two grown-up individuals are before us, living together for over a year of their own free will and choice."
The court also suggested that, "We, however, expect the daughter to extend all due courtesy and respect to her family." Accordingly, the writ petition was allowed.
The order may be read here:
Related:
Religious conversion for marriage, disconcerting: Allahabad HC
Will they call it 'love jihad' when a Muslim girl is killed?
UP BJP Spokesperson calls consensual marriage 'love jihad'
Ram naam satya hai: Adityanath's open threat to those who attempt 'love jihad'