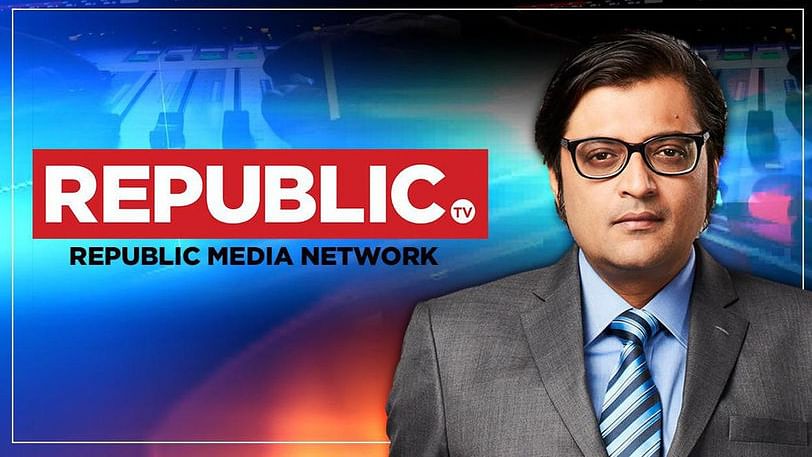 The Editors Guild of India has issued a strong statement on the spate of first information reports being filed against journalists of Republic TV. The guild has stated that it is "pained to see the unedifying spectacle of hundreds of FIRs being filed against journalists of Republic TV, which is under probe for allegedly manipulating TRPs and spreading discontent against the Mumbai police."
Adding that it did not wish to influence the probe by the authorities, "even if we recognise it has the potential to bring in much needed transparency on the manipulation of popularity, and creation of " proceeds of crime"- as claimed by the police", the guild has asked that "the victimization of the journalists should immediately stop". It stated that "the use of arbitrary state power is not and has never been in the interests of working journalists," while commenting that this 'standoff' between the Mumbai Police and the TV channel was "unprecedented and threatens the tenuous but important to maintain balance between media freedom and the imperative for it to reside within the rule of law."
The EGI statement signed by Seema Mustafa (president), Sanjay Kapoor (general secretary) and Anant Nath (treasurer) added that the "right to free speech does not mean a licence to promote hate speech". The guild has put on record that "besides the unsavoury details pertaining to the manipulation of TRPs, the Republic TV's high-strung conduct during the unfortunate demise of film actor, Sushant Singh Rajput also raises issues about media credibility and the limits to reporting.
The Bombay High Court has pertinently asked the channel's lawyer about harangue directed at actress Rhea Chakraborty. The High Court asked a question that must be addressed by all: "Is this part of investigative journalism? Asking the public about their opinion on who should be arrested?" Also, the bench wondered whether the channel in the name of investigative journalism was encroaching into the domain of police. Similar reservations about its conduct have been expressed even by News Broadcaster's association (NBA) that disagrees with its reporting.
According to the Editors Guild of India, these important issues should have been resolved long ago, however, they "were allowed to fester". It added that it was "high time" that the Republic TV channel behaves responsibly and does not compromise the safety of its journalists, or "hurt the collective credibility of media."
The guild has also asked that the police ensure "that its investigation does not hurt the channel's journalists or makes any arrests. And that the investigation does not become a tool to suppress media rights."
The Editors Guild of India has issued a statement on FIRs that have been filed against journalists of Republic TV pic.twitter.com/tA4RFKDaBX

— Editors Guild of India (@IndEditorsGuild) October 26, 2020
It was just a month ago that even the Delhi High Court had told Republic TV
It was just a month ago that even the Delhi High Court had told Republic TV owner-editor-anchor Arnab Goswami to "bring down the rhetoric" and "respect the sanctity of criminal investigation". This was in the case of a plea by Congress leader Shashi Tharoor seeking an interim injunction against Goswami to restrain him from broadcasting allegedly defamatory news reports on Sunanda Pushkar's death. Tharoor's wife had been found dead in 2014. Since then, whenever a chance arose, Arnab Goswami's Channel Republic TV had run shows on the investigation, much like they are now doing in following the death of actor Sushant Singh Rajput.
Justice Mukta Gupta had then noted that the media "can't be allowed to run a parallel trial or make unsubstantiated claims", adding that "You are not in the field of collecting evidence, you have no access to the evidence, do you even know how evidence is collected and appreciated in a criminal trial? Can the media act as an appellate authority?"
According to news reports, advocate Kapil Sibal who appeared for Tharoor told the court that Goswami "is claiming in his shows that he has no doubts that Sunanda Pushkar was murdered". These claims are being even made even though the chargesheet filed in the case made out no case for murder. "When a case under abetment for suicide is made out in the chargesheet, why are you still saying that murder has been committed? Were you there at the spot, are you an eyewitness? You must understand and respect the sanctity of criminal investigation and the various contours of it. Just because there's a bite mark, it doesn't amount to murder. Do you even know what constituted murder? You need to first understand what murder is before claiming that a murder took place," the court told Republic TV warning it of "strict consequences" if its directives are not followed. In December 2017, an undertaking was given by counsel for Goswami that restraint would be shown and rhetoric would be brought down while covering the Sunanda Pushkar case.
Earlier this month, Supreme Court of India, has refused to entertain Arnab Goswami's plea in the case of summons it got from Mumbai Police in connection with the TRP scam investigation.
According to a report by India Today, the Mumbai Police opposed Republic TV's petition in Supreme Court and stated that it was a "criminal investigation" and exemption cannot be sought in the name of freedom of expression. The Police have argued that an "accused person cannot decide or dictate the modalities of the investigation". Mumbai Police had stated that the other channels accused have been "cooperating in the police investigation, but Republic TV has been creating hurdles in the process".
Related:
Republic TV making TRP scam a "media spectacle": Mumbai Police to SC
Delhi High Court tells Arnab Goswami to calm down and stop his media trials
Bombay HC stays FIRs against Arnab Goswami
Arnab Goswami in hot water again: Widow of interior designer seeks justice in 2018 suicide abetment case
Maha gov't moves SC accusing Arnab Goswami of 'browbeating' police
Delhi court orders FIR against Arnab Goswami for accessing confidential data