While most Indians are still reeling from the shocking video of the Ranchi police attacking a young Muslim boy brutally, right wing supporters backed by their well-heeled IT cells, have dismissed it as another instance of "playing the victim card". This is reflective of the deep divide that the present regime, now in its second term, having gotten elected in 2014, has brought India to.
According to a video shared by independent journalist Meer Faisal, a young Muslim boy was assaulted and attacked by security personnel deployed to deal with the Friday protests. This happened in Ranchi the capital city of Jharkand.Deployed to dispel crowds gathered in city streets to condemn the hateful comments spoken by suspended BJP leader Nupur Sharma, the police is now under the scanner for a brute lathi charge and firing. While the extent of force used by the police against protesters is being debated, given the two deaths and serious injuries to others, stark is the reality of the young boy (a Muslim) visible in the video as he simply approached the police.
Utterly ignorant of what was going on at the time, he tried to speak to the security officer on duty. As can be seen in the video, the police pulled the boy, who can be heard saying he does not know anything of ongoing protests or events. After pulling him towards other officers, the officers then proceeded to attack him with lathis. Terrified, the boy ran away as another officer fired a gunshot in the air.
Visual from Ranchi. A boy was stuck after clash, watch how @HemantSorenJMM's police are throwing stones and firing bullets on him. Today Muslims were protesting against impudent comments on Prophet Muhammad P.B.U.H by ex BJP spokesperson Nupur Sharma. pic.twitter.com/xfbGgccyVk

— Meer Faisal (@meerfaisal01) June 10, 2022
As mentioned before, this video has garnered heavy criticism on social media against the targeting of innocent Indian citizens, especially those who bear a minority (Muslim) name or identity.
He's just a scared kid who's lost and naive enough to go ask Indian police for help. The police instead beat him up and opened fire at him. His crime: he's a Muslim kid. We have failed as a country, we are all silent spectators to the unjust persecution of Indian Muslims. ? https://t.co/DlHXUFsjSn

— smishdesigns (@smishdesigns) June 11, 2022
Shame #Ranchi police. Are u doing your work or targeting muslims. https://t.co/NfYApdvOWg

— mahammad adil عادِل ﷴ (@adil9380) June 11, 2022
However, hours later the video was re-shared by right-wing supporters who claimed that the video was a ruse for the "mob" to play the victim. Trolls questioned why the boy ended up in the protest area at all while others said the video was an attempt to justify the violence that broke out. One netizen even called the protesters terrorists and liars.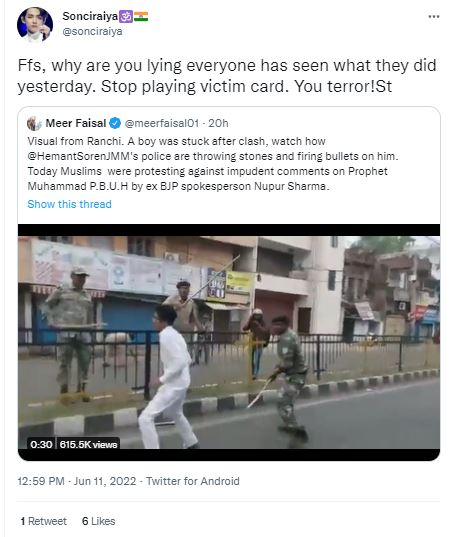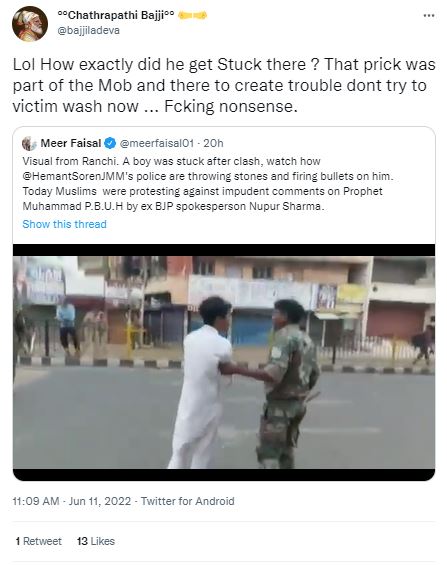 What is playing the victim?
Playing the victim or victim playing is the act of making up or exaggerating victimhood for reasons varying from manipulation to justification of abuse or to diffuse responsibility in a situation. However, considering the identity of the youth is still anonymous, it is hard to establish such a claim. Even in terms of community victimhood, many reports have quoted the police personnel as saying that they chose to use "light force" to dispel crowds that had suddenly gathered after afternoon prayers.
Moreover, other than outrage over social media and coverage by a few news organisations like Sabrang India, the incident has been largely ignored.
It is for this very reason of apathy that conscientious netizens have demanded an investigation against the state police for attacking and scaring a minor with weapons like lathis and gunfire. Towards the end of the video, a police personnel can even be seen throwing a stone.
This teenager running away should haunt you. Haunt you to the extent that you can't sleep peacefully thinking that this country is a safe place anymore. https://t.co/9Tltx2cDHQ

— Neha Yadav (@YadavvNeha) June 11, 2022
Shame on you @JharkhandPolice @ranchipolice , @JharkhandCMO should investigate about this and take action against police.#NupurSharma #ranchipolice @AlJazeera @dohanews @ndtv https://t.co/iB6UB85Nz8

— Asif (@AsifShaik26) June 11, 2022
While people have demanded action against the police, Jharkhand Chief Minister Hemant Soren has appealed to all citizens on Friday to stay away from agitations. Saying that Jharkhand citizens are "very sensitive and tolerant", ANI quoted him as saying, "No need to panic. I appeal to everyone to refrain from participating in any activities that will lead to more such crimes."
Related:
Ranchi: 2 dead and Muslim boy terrorised for Friday protests
Spontaneous pan-India protests against Nupur Sharma
Anti-CAA Muslim activist Afreen Fatima's family members illegally detained!
Pooja Shakun Pandey, HMS has a long history of hate speech
UP: Media adds communal tone to Kanpur Qazi's words