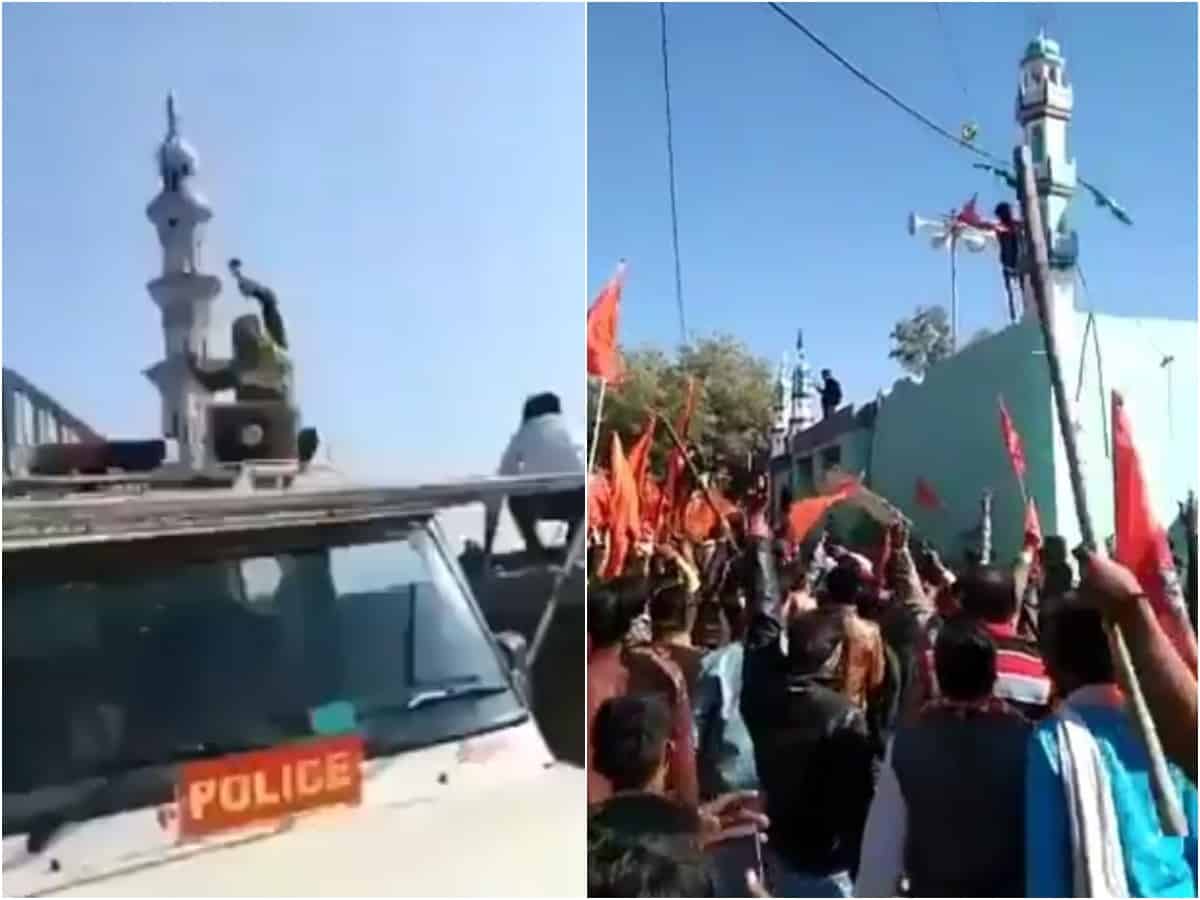 Representation Image
For those who believe in "God", April is a month of manifesting the teachings and blessings of the heavens. It is this month that Navratri – the nine days of fasting and prayers observed by many Hindus, the month of Ramzan observed by Muslims, and fasting days of Lent, that culminates in Easter celebrated by Christians take pride of place on the calendar.
Also in this month, are multiple incidents of communal violence, communal instigation reported from various parts of the country. Social media is rife with video clips that show right wing mobs, wearing saffron scarves and caps etc, breaking into loud song and dance, chanting Hindutva slogans outside or near mosques.
Recently an FIR was filed in Ghazipur, Uttar Pradesh, after a crowd climbed on top of a mosque, and raised religious slogans on April 2. No arrests have been made in the case so far, stated a report in the Indian Express, but the accused have been charged with promoting enmity between two groups. The FIR has been filed "against unidentified people for allegedly raising slogans after climbing atop a mosque in Gahmar village of the district."
Update: One person has been arrested after an FIR was filed in Ghazipur, Uttar Pradesh, in connection with the April 2 incident when a crowd climbed on top of a mosque, and raised religious slogans ). According to a report in Amar Ujala, "A young man has been identified and arrested" on the basis of a viral video of the incident. The accused under arrest has not been publicly named, According to the news report area SP Rambadan Singh told the mediapersons, "All the people involved in this case are being identified and strict action will be taken against them." Meanwhile politics is hotting up in the issue and Samajwadi Party MLAs Omprakash Singh and Suhaib Ansari have reportedly warned of an "agitation" in this matter. The FIR was filed "against unidentified people for allegedly raising slogans after climbing atop a mosque in Gahmar village of the district."
According to police, residents of Hindu dominated Gahmar village take out the 'Ram Kalash Yatra' to mark the start of the Hindu New year, in which both men and women participate. Station House Officer, Gahmar police station, TL Sen is quoted in the report saying, "On April 2, residents of the village took out the Ram Kalash Yatra. When the procession reached near a mosque in the village, a few youths climbed on it (mosque) and raised slogans of 'Jai Shree Ram'. When those present at the spot scolded them, the youths immediately came down."
According to the report the SP, Ghazipur, Ram Badan Singh said the police were trying to identify the accused who were seen in a purported video of the incident on social media. The men were allegedly seen waving a flag after climbing on a mosque and shouting 'Jai Shree Ram' slogans. The police told the media that the area has remained peaceful
However this is not an isolated incident, another video on social media has shown another Hindutva group, wielding swords and axes, taking a procession out on April 3, this was near the Saifiyan Masjid in Raju Park, area of Khanpur, Delhi. The group played loud music, sang and danced, chanting slogans of Jai shree ram, waving their weapons in the air.
This is just the latest in a growing list of incidents from across the country where right wing groups have allegedly vandalised, desecrated, shrines revered by Muslims. Here are a few since January 2022:
Karnataka
In March Karnataka based Bharatiya Janata Party (BJP) leader Tejasvi Surya had organised a cycle rally from Bangalore to Kolar. However, it too was greeted by a saffron flag waving crowd that gathered outside the Hussaini Makan Masjid of Kolar. The crowds chanted "Jai Sri Ram… Chatrapati Shivaji Maharaj ki jai" and played music that's often played by the specialised religious "DJ" groups of North India. This in Karnataka where open targeting of Muslims, and Christians is a matter of record.
Earlier in March, in Karnataka's Aland in Kalaburagi district Union Minister Bhagawanth Khuba, led his colleagues, and a large a right-wing mob for a 'purification' ceremony at a reported Shivling (symbol of Hindu god Shiva), named the Raghava Chaitanya Shivalinga in the Ladle Mashak Dargah.
The Ladle Mashak Dargah authorities had planned a procession and Shab-e-Barat, on March 1 and right-wing organisations also announced they will conduct a 'purification puja' there as it was also the occasion of Mahashivaratri. Even though Kalaburagi Deputy Commissioner Yeshwanth Gurukar imposed Section 144 in Aland from February 27 to March 3, barring entry of Sri Ram Sena chief Pramod Mutalik and right-wing activist Chaitra Kundapur, and Siddalinga Swamy, head of Andola Karuneshwara matth in Jewargi taluk, the right wings mobs entered. And a clash between the two communities ensued, stated news reports. Arrests followed, but mostly of Muslims.
Uttar Pradesh
Also in March, in Uttar Pradesh's Rewari Buzurg area of Fatehpur, on the eve of Holi and Shab-e-Barat which was being celebrated/ observed on the same day this year, a Muslim tomb dedicated as a dargah or shrine of a Pir or holy man named Syed Baba revered was was vandalised and desecrated. Vandals broke the shrine and scratched 'Jai Shri Ram' on it.
Madhya Pradesh
A similar case was reported from Narmadapuram, in Hoshangabad district, of Madhya Pradesh where a 50-year-old dargah vandalised,and painted saffron. According to news reports, the local police acted on the case only after the villagers blocked the state highway-22, after their previous complaint had gone unheard.
Himachal Pradesh
In January, vandals and goons claiming to be members of Hindu Jagran Manch Himachal shared a video vandalism at a dargah in Himachal Pradesh. The vandals were seen breaking the grave and the shrine with massive hammers and the video was posted by one by Kamal Gautam (a member of HJMH as well as RSS as it proudy features on his email address ) on his Facebook page.
Gujarat
The issues around Gujarat's Pirana dargah continue to escalate. As residents of Pirana village, that lies around the 600-year-old dargah (shrine) of Imam Shah Baba, a figure revered by Muslims, Hindus and others, have alleged "acts of aggression" saying that a major transformation had taken place inside the dargah compound which had been closed until recently, for massive conclave of Hindutva groups, in March. They have alleged that when they visited the shrine mark Shab-e-Barat they saw that there were statues of Hindu gods installed in the dargah compound!
Related:
This is what we feared: Sanjay Tickoo on the rising attacks in Kashmir since March
Delhi Jal Board withdraws 'two hours' leave to Muslim employees during Ramzan
857 communal riots in 2020 alone!
Is Gujarat's Pirana dargah emerging as the newest communal hotspot?
UP: Dadri Muslims disconnected from the city for three months!
West Bengal: Muslim mason allegedly lynched by Hindutva mob
Why is iD dosa batter giving communal trolls indigestion?
Four arrested for issuing 'notice' to bakery to remove halal info, had called it 'discriminatory'
Hate-monger Sangeet Som's Sena bristles at hate video
Tripura: Muslim man lynched on suspicion of cattle theft
Karnataka: Two BJP members condemn ban on Muslim traders during festivals
Shivamogga: 20 injured in violence during Bajrang Dal member's funeral