Right Wing turns blind to it's own 'standards of morality'.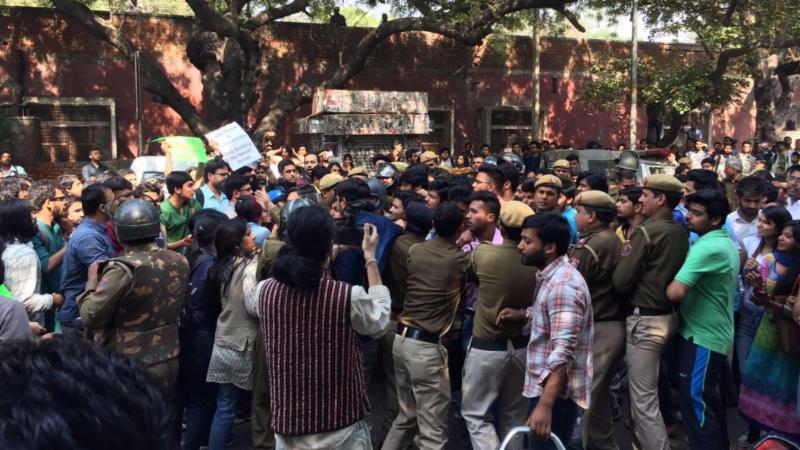 Ramjas Protest, 22nd February, 2017

We recently witnessed how ABVP unleashed violence in Delhi University. This does not come as a surprise as the ideology they uphold is inherently violent and discriminatory. The parent body of ABVP being RSS sets the example by action for them. Newsclick invites you to take a walk in RSS's Hall of (ill) Fame.
Mohan Bhagwat, RSS Chief, batted for 'Gender Equality ' in November 2016. He went on to emphasize on more involvement of women for change in society. As surprising as it may seem, this bearer of the gender equality flag, was seen getting his feet washed by tribal women in March 2012.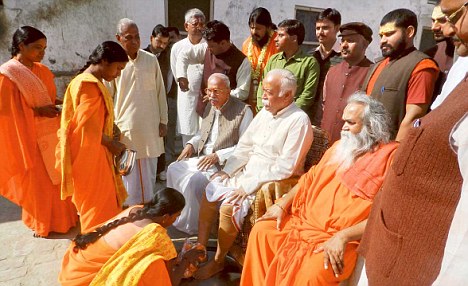 A Tribal woman washing Mohan Bhagwat's feet.
RSS's sahprachar pramukh Kundan Chandrawat announced a bounty of Rs. 1 crore on the head of Kerala CM Pinarayi Vijayan. Let's have a look at the background of the boastful man who takes pride in giving such threats.
Kundan Chandrawat's father , Lakshman Chandrawat lives in destitution. He struggles for his daily bread. He has been living alone for the past 5 years in a small one room house that belongs to the Bohra community, situated in Nayi Sadak. At 70 years of age, he makes his own roti and when not able to, he begs for it from the neighbors. He has only one set of ragged clothes and lives off of Rs 500 a month, given to him by his son. Lakshman Chandrawat asks where his son will get the money that he has awarded for Pinarayi Vijayan's head. Adding to the anger for his son, he said that Kundan Chandrawat will reap what he sows and will get punished for his wrong doings.
When asked about his wife, Kundan Chandrawat's mother, he said that even she has been abandoned by the son. The mother, Kasturibai stays in Nanakheda district in Ekta Nagar district. Reporters had tried to find her, but were unsuccessful. This son is willing to give away Rs. 1 crore for a man's head but cannot spare more than Rs. 500 for his own father. All this is happening when there is a law in our country against the mistreatment of senior citizens known as the Maintenance and Welfare of Parents and Senior Citizens Act, 2007.
Delhi University Student Union's ex president Satender Awana made the headlines in March, 2016 for a dowry harassment case . The complainant, who was married to Mohit Awana (brother of Satender Awana), in 2015 reached out to the police. Nine members of the Awana family, including Satender and his father, had been named under six counts in the dowry harrassment case.
A month before this ill famed news, he was in the spotlight for roughing up women journalists of The Quint . The story they were pursuing was for a campaign The Quint has spearheaded, called #MakeOutInIndia – an open celebration of sex and sexuality, without any euphemisms attached. The then DUSU president disrupted their interviews and accused them of being morally loose. Maurice Nagar police station's SHO Aarti Sharma came to their rescue and shut up the rowdy bunch immediately, reminding them that we live in the 21st century where we have the right to talk about sex.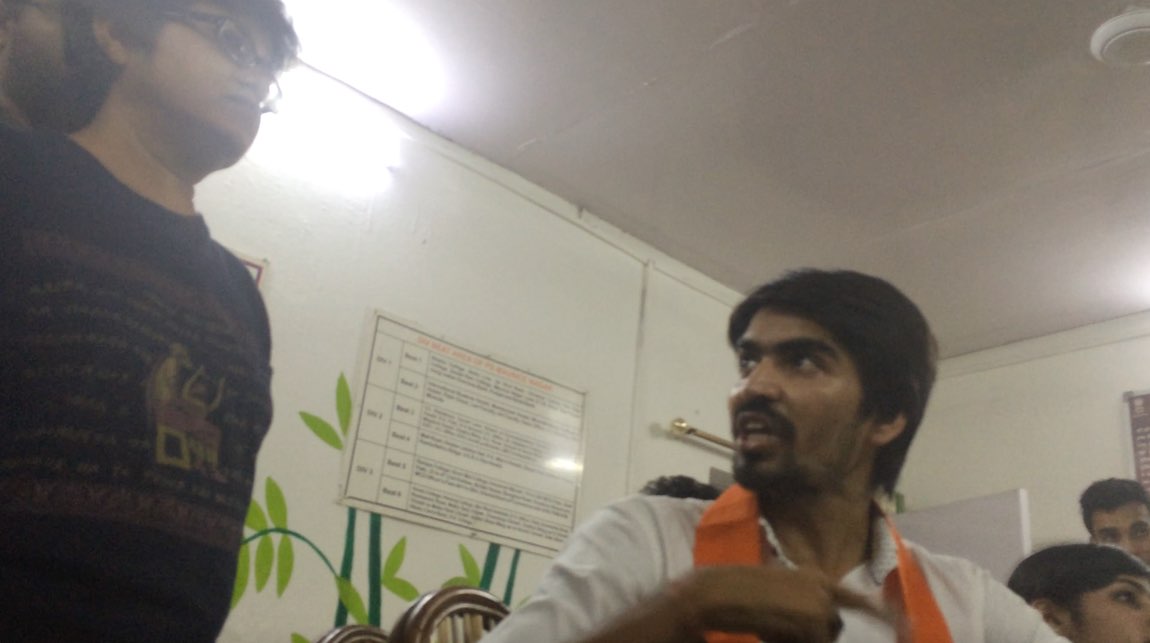 Satender Awana with the SHO and Quint journalists
Satender Awana's abominable tales are unending. A video went viral on YouTube in December, 2016, in which the former DUSU president and Satender Awana were seen threatening Prof. Ved Kumari , the Dean of Delhi University Law Faculty, even as the police officers stood on silently.
The most recent scuffle in Delhi University also involved the ex DUSU President and his student organisation ABVP. English department of the college, along with Wordcraft – the Ramjas Literary Society – had organised a two-day seminar exploring representations of dissent. Umar Khalid was one of the speakers on 21st February, 2017. ABVP students vandalised the event, objecting to Umar Khalid's invitation. They surrounded the seminar room and locked up the faculty and students forcing a cancellation of the event. To protest the disruption and violence by the ABVP, the students and teachers of DU organised a protest march on February 22. The march was disrupted by the ABVP, and they attacked students, teachers and journalists alike. More than 20 people were injured badly. Few got hospitalized.
In links to the above case, Gurmehar Kaur, daughter of a Kargil martyr was threatened for speaking up against ABVP Violence. The Delhi University student from Lady Shri Ram college, started a social media campaign on Facebook against the violence caused by the ABVP in the university's North Campus on 22 February. She was then constantly given death and rape threats by the right wing trolls for supporting 'Anti-nationals'.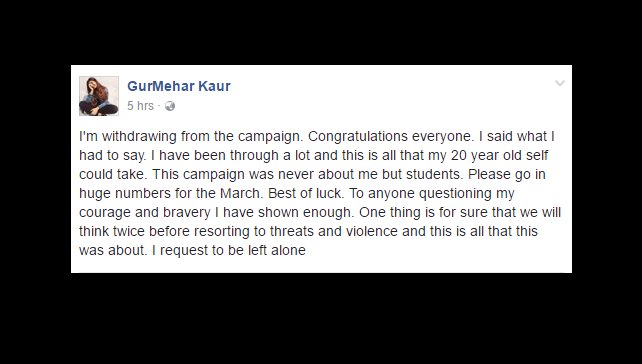 Gurmehar Kaur's brave response to trolls
In RSS's most recent scandal, former Delhi BJP MLA Vijay Jolly has been booked in a case of rape after a woman alleged that he drugged and assaulted her in February, 2017.
In other allegation that is bound to mar the reputation of Bharatiya Janata party (BJP) and RSS, the Party's Mahila Morcha leader Juhi Chowdhury has been booked in child trafficking case, in March 2017. A key accused in the case in Jalpaiguri, Chandana Chakraborty, had been arrested earlier who, in her testimony, alleged that BJP leader Kailash Vijayvargiya and MP Roopa Ganguly were also involved in the racket.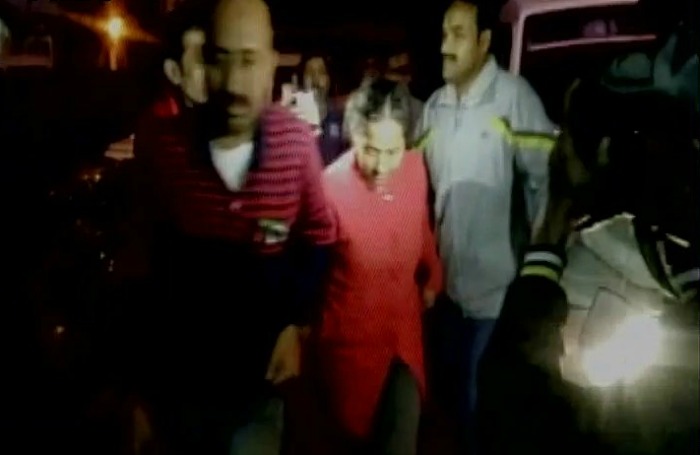 Juhi Chowdhury arrested by police
While the RSS has been pointing fingers at other on the question of Nationalism and Morality, what they don't see is their own three fingers pointing back at them.
Courtesy: Newsclick.in