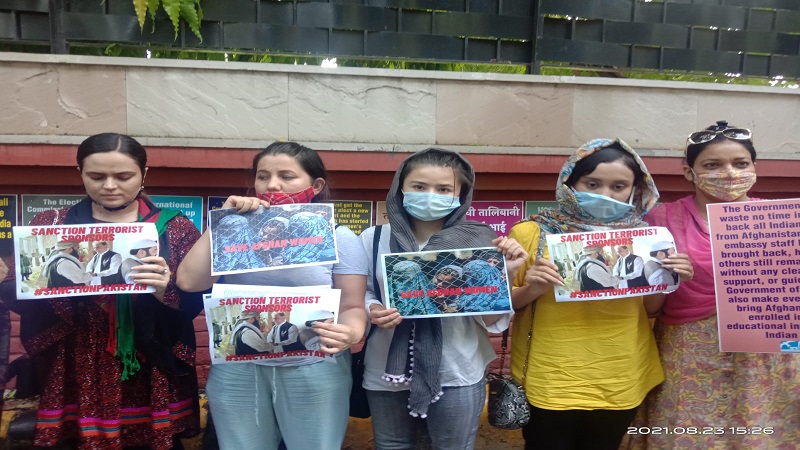 On August 23, 2021 conscientious Indian citizens across India came together to express solidarity with the people of Afghanistan in response to a nationwide call for demonstrations and meetings given by rights groups demanding freedom, democracy and justice for Afghanistan. Responding to this call, SabrangIndia too co-organised a solidarity meet at the Mumbai Press Club, in association with the Forum Against Oppression of Women, Bebaak Collective, Awaz-E-Niswaan and Communalism Combat (a sister publication that preceded SabrangIndia).
The meeting saw activists, including several noted intersectional feminists, come together to focus the attention of the impending fate of women and children in Afghanistan, and possible repercussions for the Muslim community in India, given the vast proliferation of Islamaphobia.
Not letting US off the hook
SabrangIndia Co-Founder and Editor Teesta Setalvad, who had covered the human rights violations in the aftermath of the first Taliban regime's coming to power in the 90s in Communalism Combat, reminded people of the role of superpowers like Russia and the United States in ravaging the nation and leaving its people hapless. "Suddenly, after 20 years, the US has left. The country has played a major role in supporting the Mujahideen and Taliban. These groups never represented Afghani culture. Now, years later, after appeasing your people for 9/11, you have left without any transfer of people," said Setalvad.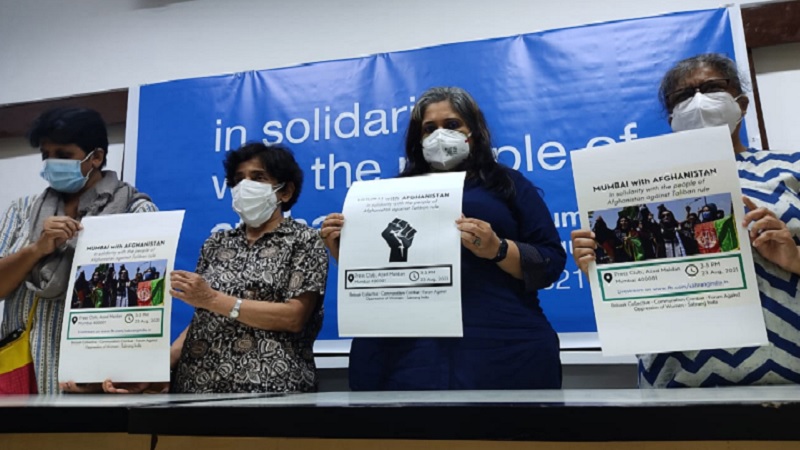 Forum Against Oppression of Women representative Sandhya Gokhale concurred, and asked, "What did the US do in the 20 years it was there?" Gokhale added, "During this time, the military received huge investment. It is in the military-industrial complex's benefit to continue war. Capitalism won, humanity lost."
She also read out two solidarity statements by activists Ulka Mahajan and Pragya Daya Thakur.
Don't conflate Indian Muslims with Taliban
Gokhale also stressed the need for the Indian government to accept Afghani citizens without the criteria of religion. Building further upon this, feminist and queer rights activist Chayanika Shah said it is a humanitarian duty to speak about the suffering in Afghanistan. "All these countries in the world should question, what responsibility do we have? After World War 2, people discussed how to solve issues without war. That effort is nil today as countries are even siding with the Taliban. Everyone in this world should consider what Afghani people want. Taliban is not the voice of the people," said Shah. Further, she warned against the hate narrative weaving the Taliban and Islamophobia in India. She condemned rumours stating 'Muslims are safe under Taliban rule' and stressed that minority folk and Muslims have the right to be in India. "Taliban is doing things in the name of religion not for following religion. This will now fuel the targeting of Islamic groups in India. People need to speak against this because the government won't," she said.
Meanwhile, Setalvad voiced concerns about the videos circulated on social media including the death of the 17-year-old Afghani sportsperson. Moreover, she talked about the danger faced by Afghani women journalists, leaders and teachers and expressed solidarity to sanction their space of protest. "Wherever Afghani students are present in India, we need to support them. As for refugees, we condemn the narrative that only non-Muslim individuals. This mindset is a violation of the Indian Constitution," she said. Setalvad also urged media houses to desist from manipulating this crisis into an opportunity for Islam bashing. She asked news agencies not to conflate the Taliban with Indian Muslims. She cited other countries like Indonesia and Sudan that have Muslims as a majority of their population. However, none of them supported terrorist groups like the Taliban.
Don't let regimes use women as political pawns
Awaz-E-Niswaan leader Saira Wazim – whose organisation voiced the concerns of many economically disadvantaged Muslim communities in India – expressed her solidarity with the people of Afghanistan. "We support the women there. We condemn the violence against women in Afghanistan. They too have the right to continue jobs, attain education. They have the right to assert their right," said Wazim.
Bebaak Collective representative Hasina Khan condemned the oppression on women and children by the Taliban, a well armed extremist group that aims to enforce hardline ideals that trample upon civil rights. But, she also pointed out that right-wing regimes used the excuse of 'defending women's bodies and honour' to impose a hardline agenda, while countries like the US saw this as an opportunity to militarise the region. "The US never really helped Afghanis gain freedom. RAWA's [Revolutionary Association of the Women of Afghanistan] Founder Meena Keshwa was the first among many women's rights activists in Afghanistan in '80s and '90s. But they were killed. We need to realise that Afghani people have also tried to dissent against the Taliban," said Khan.
Khan appealed to all to look at similar regimes and identify parallels across the world. In India, Khan said, "Right wing groups used the 'beti padhao beti bachao' (educate girl child) initiative, but alienated the Muslim community." She encouraged people to look for similar examples of right-wing groups. "We need to understand the similarities between Afghan's Taliban and India's Taliban. Both ideologies engaged in dirty politics using women's bodies. Our government says they are talking to officials. To whom? There is no official government there," she said. Khan emphasised that Muslims world-over are speaking against Taliban. "They are saying we don't want Taliban nations in Afghanistan or anywhere in the world," she said.
Creative and peaceful protests in Delhi
Meanwhile, over two dozen groups in Delhi led a street protest at Jantar Mantar in the capital expressing their solidarity with the people of Afghanistan. They held placards saying, "We do not acknowledge Taliban as leader of Afghanistan." This is significant because many world leaders, including global superpowers are yet to issue statements rejecting the Taliban.
Women's groups and human rights organisations also staged silent street protests at Delhi and Bengaluru today in response to the National call. In Delhi.ver 279 individuals have signed the National Solidarity Statement from all parts of the country. The signatories include academics, activists, film makers, writers apart from others. While in Delhi, women protesters, young and older stood in silent protest with placards and banners, the protest at Bengaluru (Bangalore) was held at Mysore Bank Circle in Bangalore demanding freedom and protection for Afghani women and demanding that the Indian Government provide refuge to all persons and not discriminate on the basis of religion.Phoograhs from Delhi and Bangalore can be seen here.
Some images of the demonstrations in Delhi and Bangalore may be viewed here: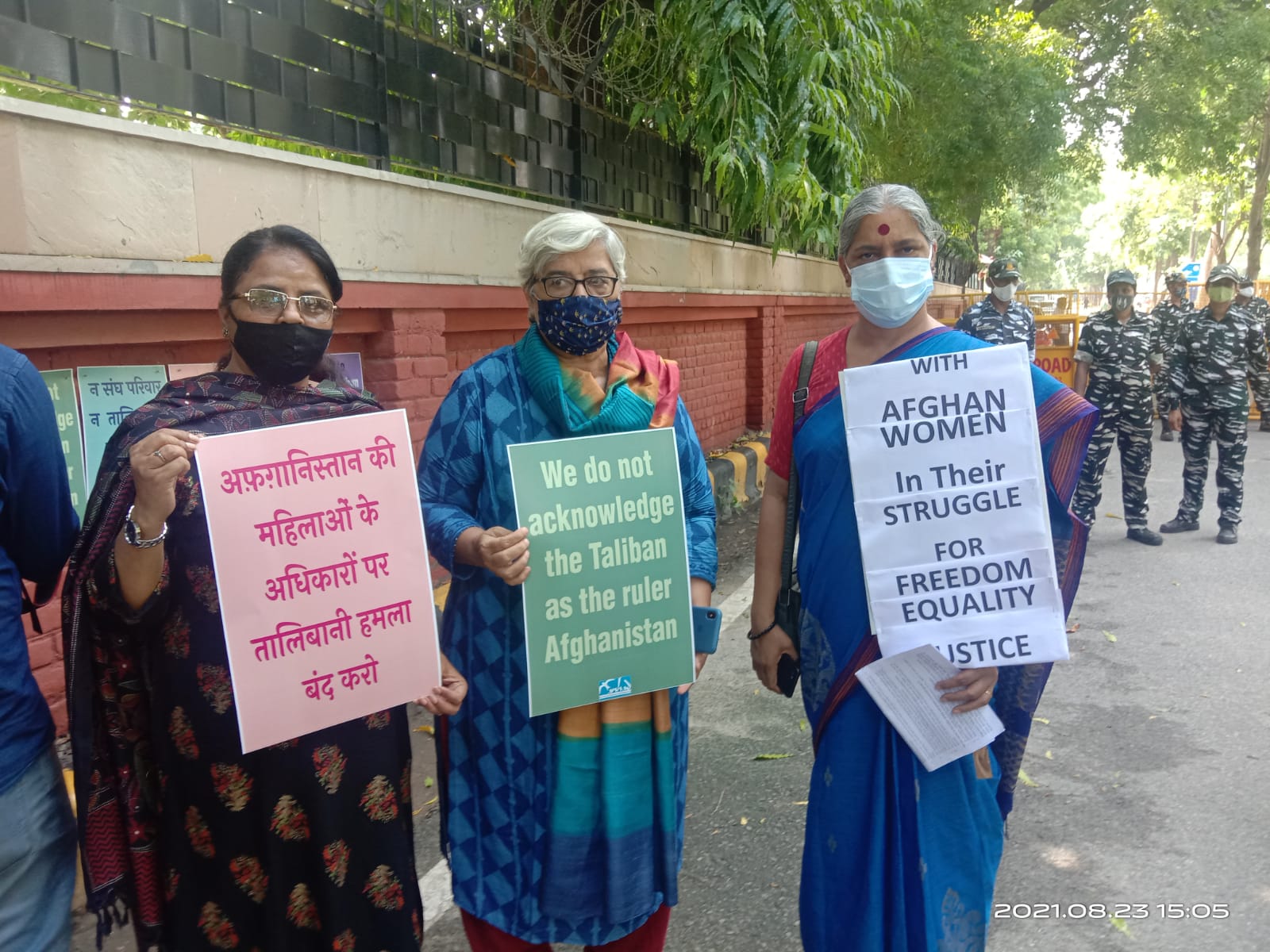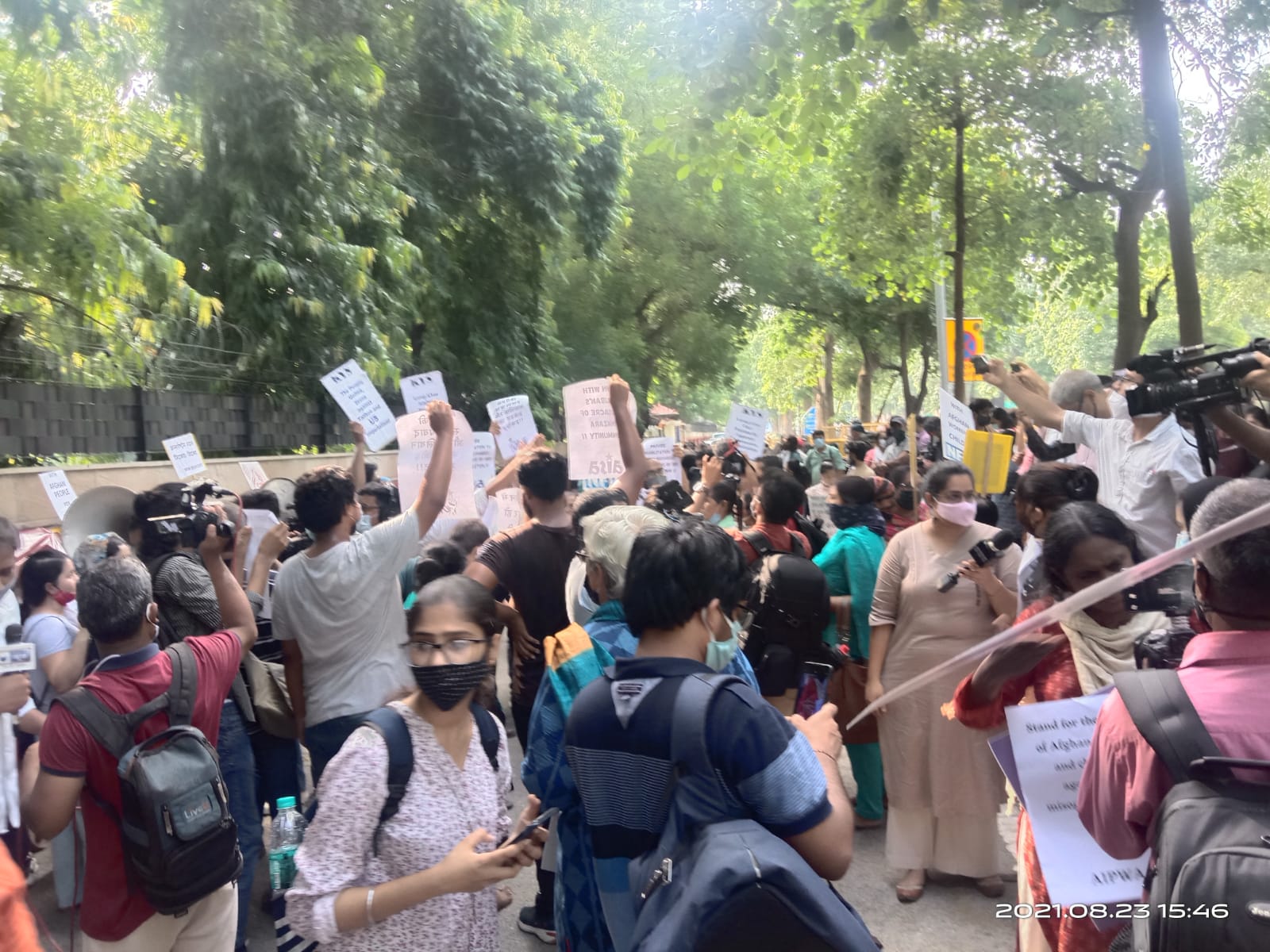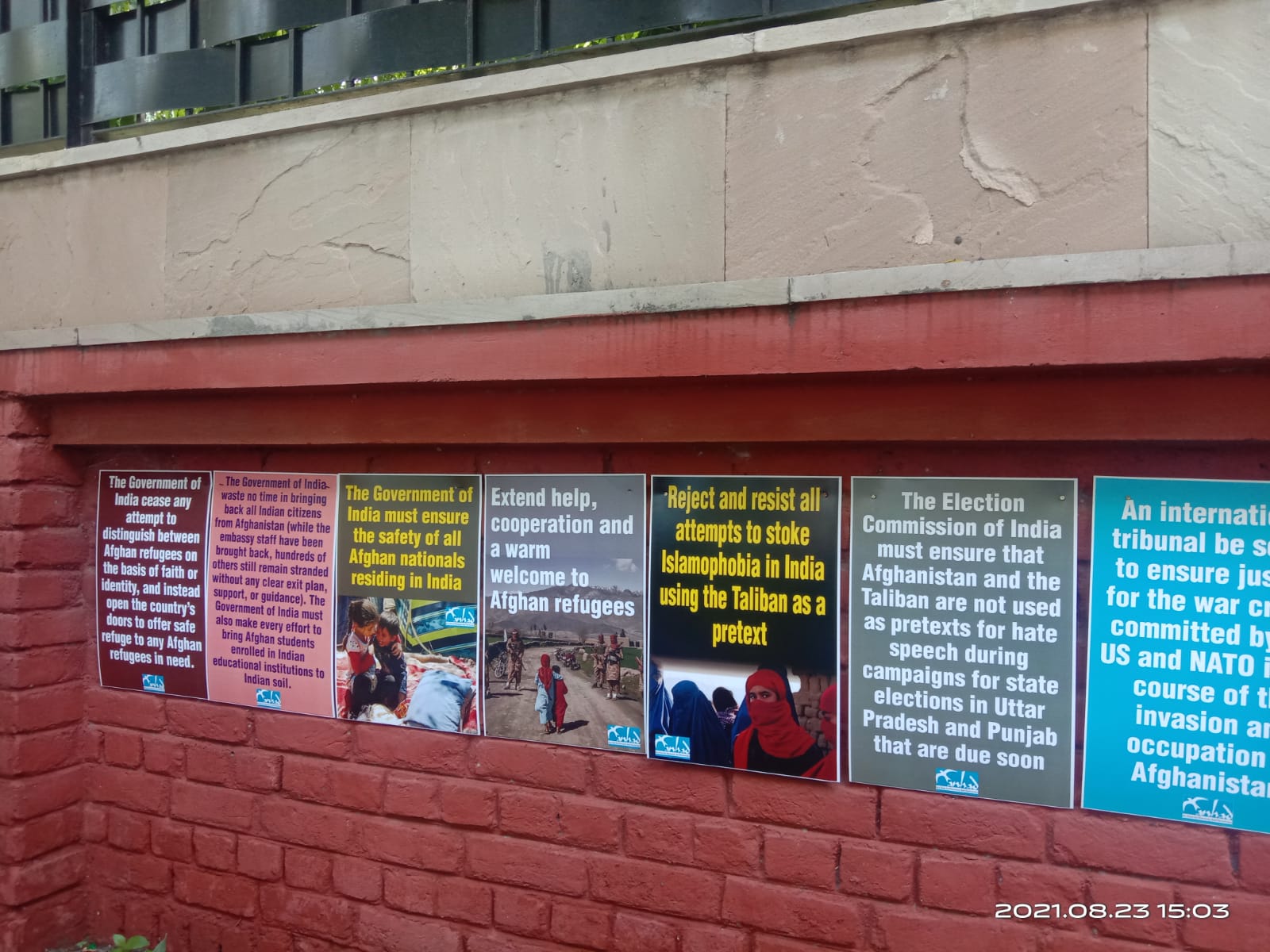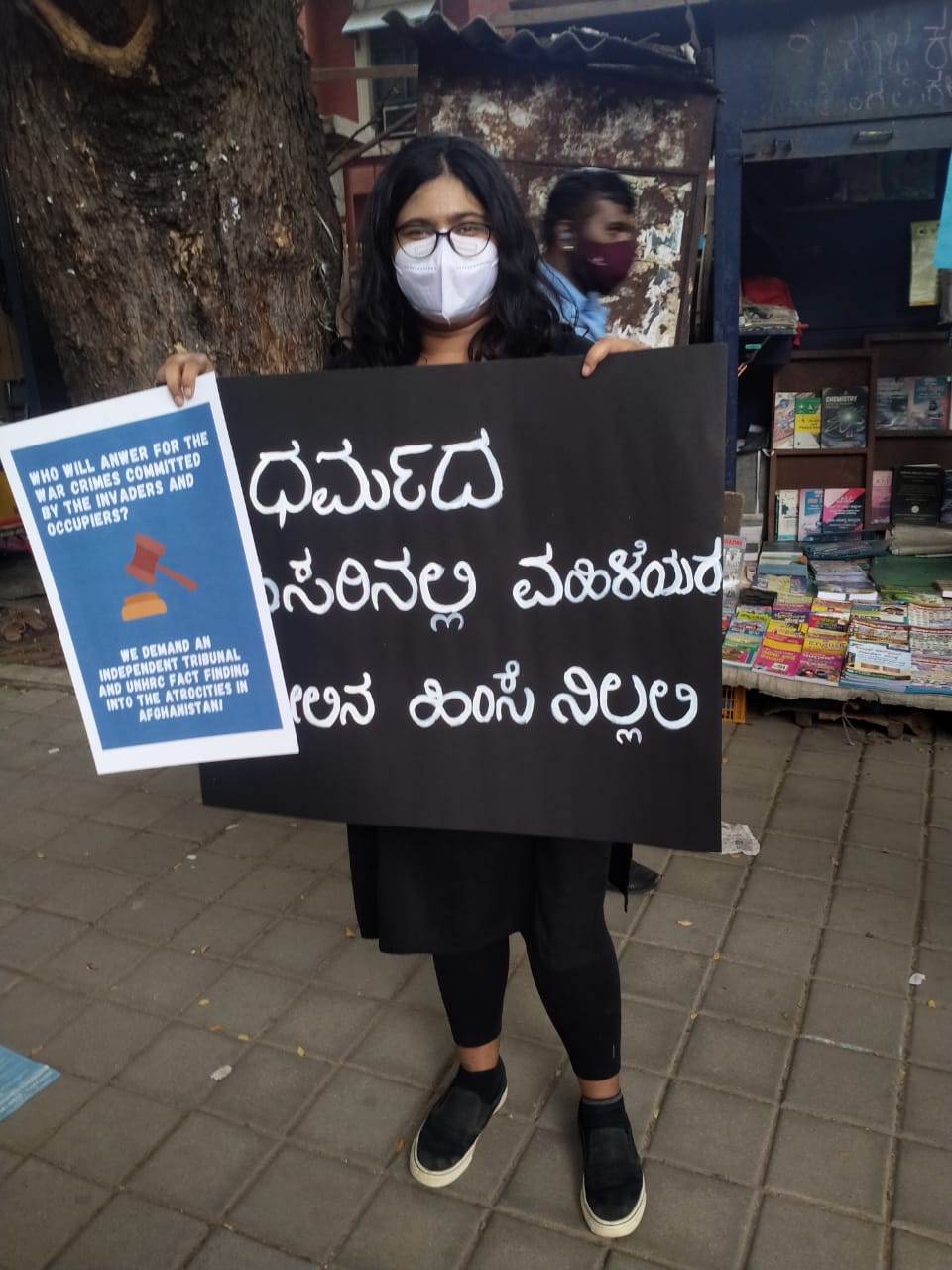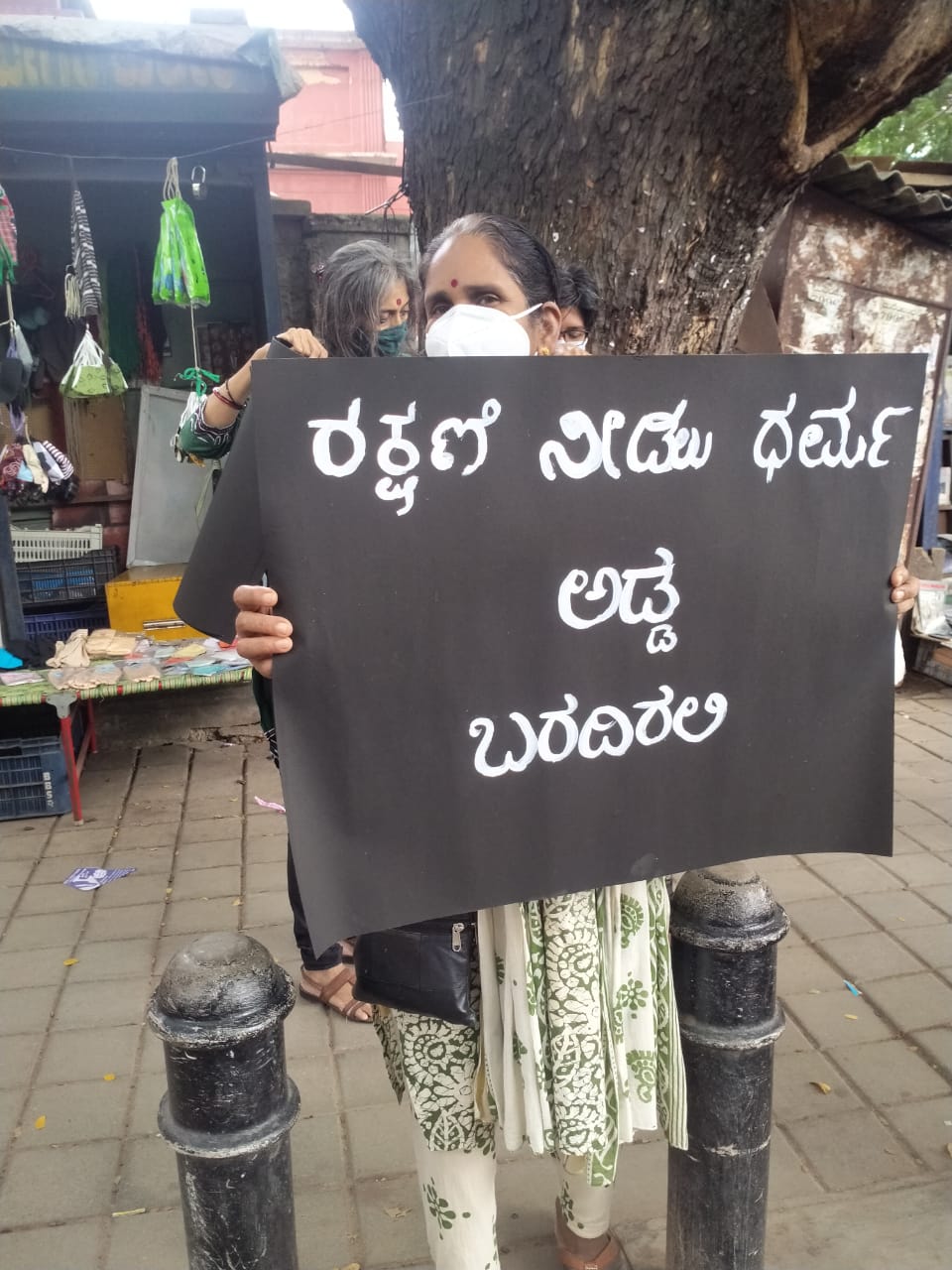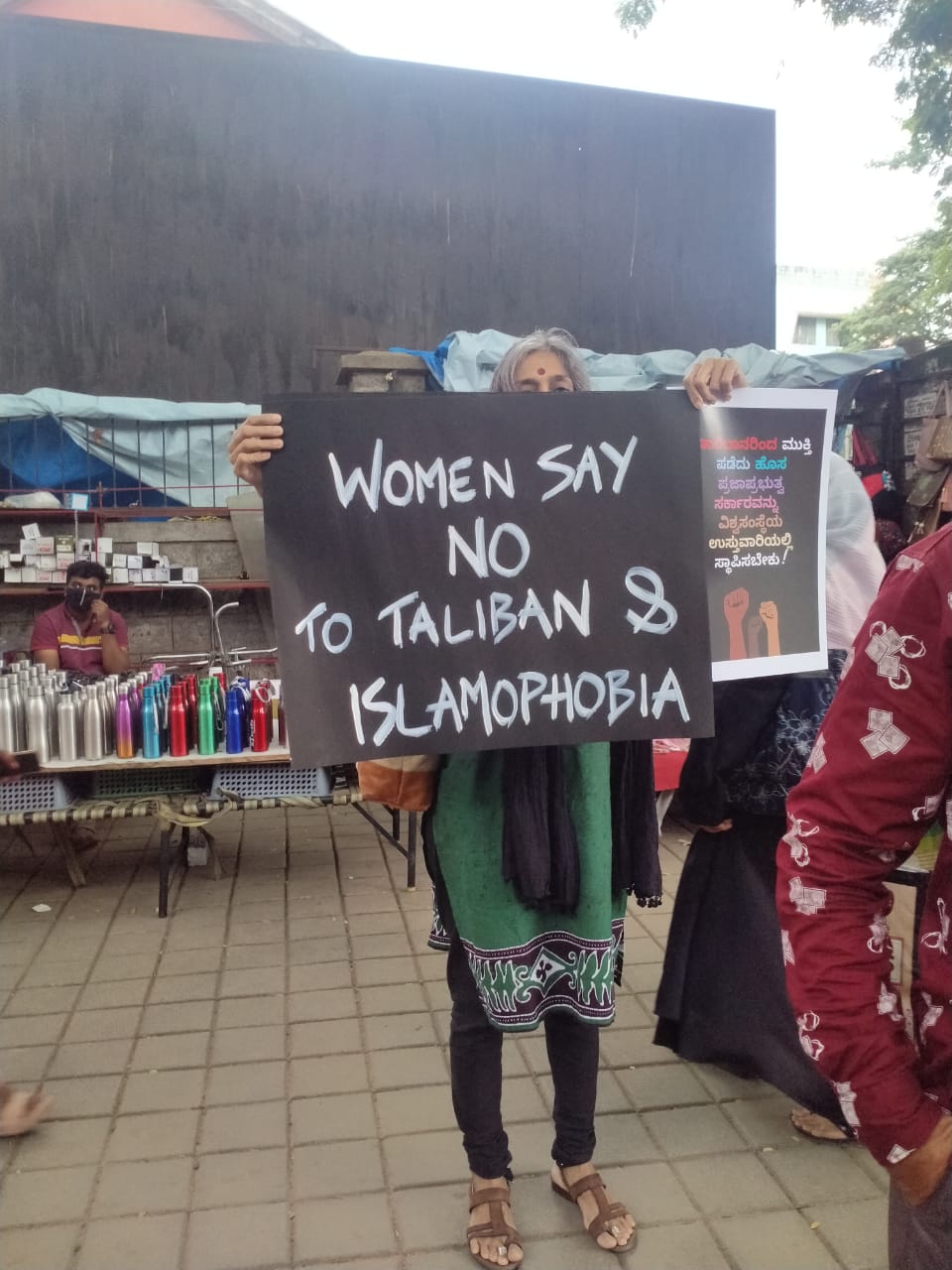 Related:
Indian Muslims must reject the 'Islamic Emirate' in Afghanistan: IMSD
Remembering Meena
Oppressed but not beaten: Afghani accounts on social media
Journalists are targeted by all hardliner regimes, this time in Afghanistan