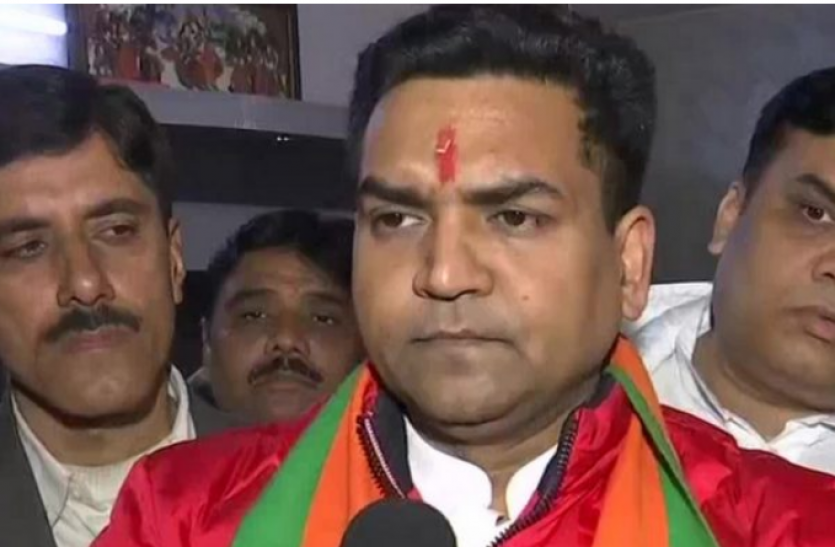 "This is jihad. The one who worked enthusiastically for [hindu] dharma has been selectively killed. This is a terrorist attack, they [the accused] should be treated like terrorists," words uttered by Bharatiya Janata Party (BJP) politician Kapil Mishra, right after he met the grieving family of Rinku Sharma in Mangolpuri.
रिंकू शर्मा जी की हत्या आतंकी घटना है,

कुछ लोग जानबूझकर राम, मन्दिर, जय श्री राम के खिलाफ नफरत भर रहे हैं

हम मिलकर परिवार को एक करोड़ रुपये की सहायता दे रहे हैं #HinduEcosystem pic.twitter.com/IVA4ompPlT

— Kapil Mishra (@KapilMishra_IND) February 16, 2021
Rinku Sharma, an activist of BJP's Yuva Morcha and Vishva Hindu Parishad (VHP), was stabbed last week, by his neighbours reportedly after an altercation at a party in Delhi's Mangolpuri area. The five accused who have been arrested are identified as Muslim, and even though the Delhi Police have officially said that the 25-year-old man was stabbed to death allegedly after a heated argument and scuffle at a birthday party, the Sharma family has alleged that there is communal angle in this murder. They have been backed by leaders of right wing information and some politicians. Each of those are repeating that the victim was stabbed to death because he was collecting donations for the Ram Temple at Ayodhya. Delhi Police have, so far, not agreed to this theory, and investigations are now being done by the Crime Branch. However the reportage and 'information' being shared in some sections of the media, and on various social media platforms only highlights the attempts being made to make this murder appear like a communal hate crime.
Kapil Mishra, has been one of the most well known mainstream politicians who is often the first to comment with a communal tone and intent. However, in this case he is being hailed as the one who had started a crowdfunding drive to collect money for Rinku Sharma's family. On Tuesday, he claimed to have "begun the process of transferring Rs 1 crore," that he says was crowdfunded by over 9,000 contributors. He said he has passed on the condolences of all those who contribute to Rinku Sharma's family.
However, it was not just about handing over crowdsourced funds to help a grieving family, Kapil Mishra has openly said that Rinku Sharma's murder is a "terror act". And he has claimed that it is not just the accused who are guilty but that they are backed by "masterminds". He floated the "jihad" theory and said it is now to be investigated who "are the mastermind who poisong the [accused's] thoughts? They [accused ] attacked him at home, and if that was not enough they went to the hospital and attacked him again" said Mishra even though it is not yet known if the victim was attacked again in hospital. According to reports Sharma succumbed to his injuries and died during treatment.
Kapil Mishra is now fanning the communal crime theory that has been gaining speed online. "He was killed because he was working most enthusiastically for hindu faith," he said, asking how in the national capital Delhi, could someone "be attacked like this", implying that the victim was killed because of his religion.
According to Mishra, "the killers should be hanged to death…" He feels the accused are a part of a larger conspiracy as it were, and has demanded that it must be found "who were behind the killers who created the poisonous intent that they must attack those who come asking for donations for the Ram mandir". Again, the Delhi Police have not said this is the moditve behind the murder.
Rinku Sharma's murder is a heinous crime, however some right wing outfits are making it our to be an attack on those who chant Jai Shri Ram, or work to collect donations for the Ram Temple's construction. According to a report in Navbharat Times, Rinku Sharma's brother Manu Sharma had claimed that in August last year, a march was carried out in Ayodhya over the construction of the Ram temple and Rinku participated. He alleged that the accused began threatening the Sharma family. And this eventually led to Rinku's murder. This is the theory now being encouraged in the Mangolpuri neighbourhood where both the victim and accused have lived for a long time. Over the weekend, groups of angry people, some claiming affiliations to right wing organisations allegedly attacked the home of the accused. The accused have been arrested, however, their families may still be in the area, and be vulnerable to attacks.
According to news reports the local police have been patrolling the area, however on Saturday the doors and windows of the accused's house were smashed by a group that was shouting right wing slogans. The Crime Branch has begun its investigations, and it was reported that the forensic team had also gathered evidence from the crime scene.
Related: