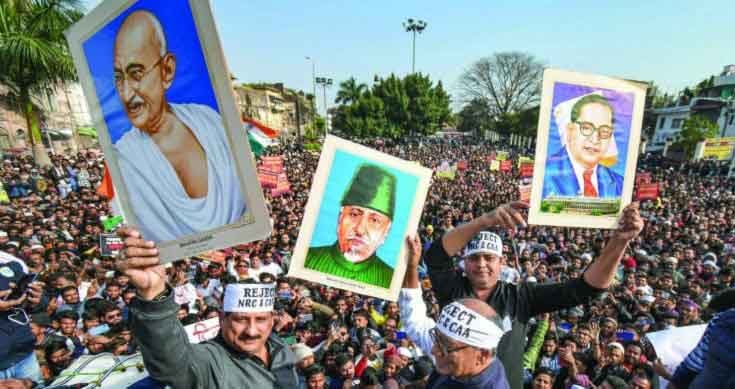 People of India are now coming to see that, if implemented the Citizenship Amendment Act (CAA) and National Register of Citizens (NRC) are going to pose a threat to the future of not just people belonging to the Muslim community, but also the Scheduled Castes / Scheduled Tribes and Other Backward Classes of the country.
To raise awareness about the perils of these fascist policies among all the people fighting for the government to take back the flawed legislation, many leaders fighting for the rights of the marginalized Dalits have come forward to explain why the CAA-NPR-NRC is going to be a nightmare for all minorities and marginalized.
Chandrashekhar Azad, the founder of the Bhim Army that works on the ideals of the Father of the Indian Constitution, Dr. Babasaheb Ambedkar, had written for a publication about the dangers of the CAA NRC to the tribals where he mentioned, "The NRC process will be rigged, mistakes will be introduced in their names and their citizenship will be taken away to deprive them of the reservation benefits."
Prakash Ambedkar, President of the Vanchit Bahujan Aghadi in an interview said, "They don't have land ownership documents. Tomorrow, if the government asks them to produce identity documents, what will they do? The problem is even more serious vis-à-vis the Scheduled Tribes (STs). Do you know that in 1871, the British Government had promulgated the Criminal Tribes Act? This black law was meant to suppress the Tribals who had fought against the British, to alienate them. The Dalit-bahujans of the country should see through this conspiracy and oppose them."
Jignesh Mevani told reporters, "The Citizenship Amendment Act is a black law and is against the India Constitution. The idea of India in the preamble of the Constitution is that of a secular, socialist and democratic country."
Dalit leader Siddharth Parmar, addressed a meet saying that the current fight is between the Indian Constitution, authored by Dr BR Ambedkar, and those who want that the country to live by the codes scripted in the ancient treatise Manusmriti. "The real intention of the government is revive Manusmriti, which codifies inequalities, even as undermining the equality focus of the Constitution."
The SCs, STs and OBCs have been kept away from education and property ownership and the rampant illiteracy coupled with the lack of awareness about maintaining documents is set to affect the Dalits and Tribal Communities if the CAA and NRC are implemented.
Dalit activists like Pawan Rao Ambedkar, Sushil Gautam and Azad too have been attacked in their fight against the CAA.
As if protecting themselves from the rising spate of lynchings by cow vigilantes and the increasing discrimination against Dalits and tribal students in educational institutions wasn't enough, the fight to protect their place in the country is just one more battle they have been forced to take on.