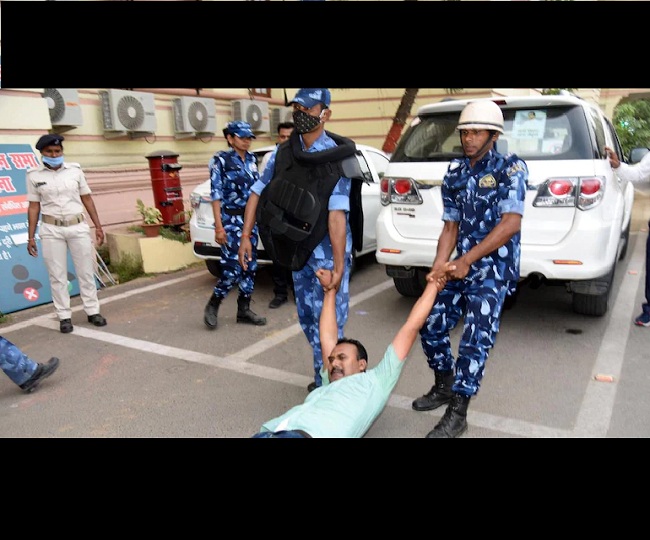 The Bihar Assembly passed the contentious Bihar Special Armed Police Bill, 2021 amidst unprecedented chaos as police were called in to assist marshals in evicting Opposition MLAs from the Hall. The Rashtriya Janata Dal (RJD) led Opposition was protesting the passage of the Bill that grants unprecedented powers to the Special Armed Police including the power to conduct searches and arrests without a warrant.
The Bill was passed late in the evening, past the stipulated time, even as Opposition MLAs protested outside the building and raised slogans. The Bill will now be presented before the Legislative Council for its consideration.
Opposition members allegedly tried to physically prevent the Speaker, Vijay Kumar Sinha, from taking his Chair, reported The Print. He was allegedly held hostage inside his chamber as Opposition MLAs surrounded the exit points from all sides. According to media reports, the Speaker was allegedly prevented from taking his seat by women legislators of RJD, while other MLAs created ruckus in the Well. They allegedly threw away the chair of the Vidhan Sabha secretary, and prevented staff from bringing in another piece of furniture.
Disturbing images of RJD MLA Sudhakar Singh being kicked by the police have gone viral on social media. Other visuals also show police dragging out legislator Kiran Devi. Some images of male police personnel dragging a female MLA have also gone viral on the social media, reported The Print.
Tejashwi Yadav shared many videos of MLAs being dragged out:

नीली शर्ट पहना शख़्स पटना का DM है जो माननीय विधायक को धक्का दे रहा है। दो माननीय विधायकों को घसीटा जा रहा है और प्रशासन का अधिकारी जूते से विधायक को लात मार रहा है।

लोहिया जयंती पर नीतीश कुमार यह कुकर्म करवा रहे है। सड़क और सदन कहीं कोई सुरक्षित नहीं। #नीतीशकुमार_शर्म_करो pic.twitter.com/LjphMICJId

— Tejashwi Yadav (@yadavtejashwi) March 23, 2021
लोकलाज त्याग चुके लज्जाहीन नीतीश कुमार के आदेश पर हमारी क्रांतिकारी माननीय महिला विधायकों को ब्लाउज़ से पकड़ कर खींचा गया। उनकी साड़ी खुली, धक्का दिया गया, बता नहीं सकने वाली बदसलूकी की गयी लेकिन बीजेपी के चरणों में अपमान का आनंद ले रहे CM को शर्म नहीं आती। #नीतीशकुमार_शर्म_करो pic.twitter.com/9mBSKMQLBF

— Tejashwi Yadav (@yadavtejashwi) March 23, 2021
The Bill is facing opposition as it has been touted to usher a "police raj" in the state as it empowers the special police force to arrest and search without warrant. The Bill empowers any Special Armed Police Officer to arrest without a warrant any person who voluntarily causes hurt to, wrongfully restrains, assaults, uses criminal force upon the police officer. The Bill further empowers the officer to arrest any person against whom there is suspicion of preparing to commit a cognisable offence.
Related:
Martyrdom Day brings together Jawaans and Kisans
Jignesh Mevani among those detained outside Gujarat Assembly