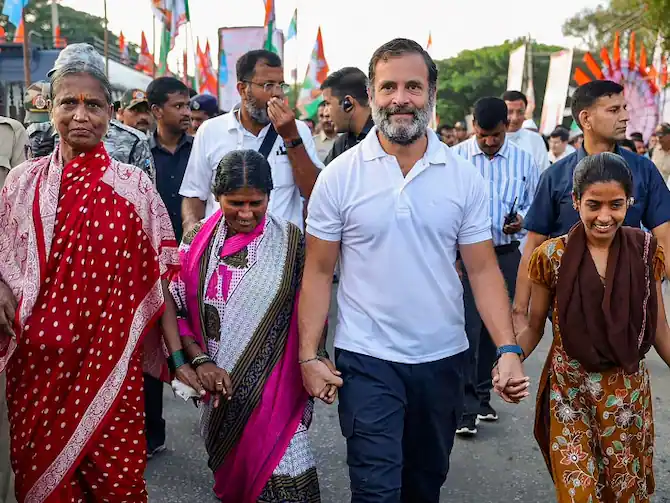 For months since September, I had been devotedly following the forward movement of the Bharat Jodo Yatra (BJY) as it wound its way through India's five southern states. In early November 2022, the Yatra entered Nanded district in Maharashtra, kindling an earnest desire within me to welcome the yatris and walk with them on the soil of the state I call my home.
I am a gay man, someone who is attracted only to other men. My sexuality is an important and indivisible part of my identity, of which I am extremely proud. I work on diversity and inclusion at the national level within the All India Professionals' Congress (AIPC), a forum through which I advocate justice for those marginalised because of their gender or sexuality: these include lesbians, gay men, bisexuals, transgender and queer (LGBTQ) people. I also study history, a discipline which reveals that this marginalisation was not always true for all of our recorded past.
I have spent twenty years in activism for LGBTQ rights, beginning with queer student activism through a collective called Anjuman in JNU, New Delhi, and later fighting the case against Sec. 377 in the Delhi High Court and in the Supreme Court. Victory in that case meant that people like me have the right not to be deemed criminals just because of whom we love. More recently, I petitioned our judiciary to endorse the right of people like me to marry those we love. Our community has worked hard, and made a great deal of progress, but the ascendance of the Modi regime has resulted in a backlash against it, a communalisation of our movement, increasing constraints on our liberties, as well as rising violence from state functionaries.
Since September, I have been watching other progressive LGBTQ people like me walk and participate in the Yatra in Kochi, Hyderabad and later, Nanded. Along the journey, some of them also meet and converse with the chief yatri, Rahul Gandhi, who is an old defender of our community. Encouraged by this egalitarian engagement, I decided to join the Yatra on its last three days in Maharashtra.
I begin my journey in Shegaon, a pilgrimage center in Buldhana district, home to the samadhi of the saint Gajanan Maharaj. Accompanying me is my older brother Yuri, who has special needs because of an intellectual disability, but who was once an athlete, and is more enthusiastic than I am about walking through the rural hinterland. Also with me are friends from the queer movement, community leaders young and old, whose work has made a deep impact on people's lives.
At home in Thane, I have been practicing long walks to train my feet to withstand the ordeals of the path ahead. First, I saunter six kilometers. Then, ten. City-dwellers from privileged circumstances like me are unused to this strain. I am also overweight, unsure of, and perhaps a little anxious about how my body will react to the realities of the road. The Yatra logs in around 25 km a day; I have never walked that much on a single day in my life. Yet, with Yuri and my friends, I turn up in Shegaon because it feels like an historic awakening is enveloping the terrain through which the Yatra traverses. There is joy in the air. Perhaps this is what hope looks like too. Buses and cars are streaming from all over the surrounding districts and beyond for a rally in which local leaders and the former Congress President will speak. Lakhs are here. I am one with the multitudes.
At Shegaon, Rahul Gandhi delivers his address on how hatred, fear, and violence have enveloped India. I notice that his voice is gruff from speaking to hundreds of fellow yatris continuously for the past seventy-two days. When Nana Patole, the head of the Congress in Maharashtra is speaking, a muezzin recites the azaan in a faraway mosque. It is maghrib on a Friday. Nanasaheb halts midway through his speech, almost by instinct. The crowds remain deferentially silent, until the rendition ends. The India I have always loved and cherished, that makes room for everybody, is here.
The next morning, we begin walking at dawn. At this absurd hour on a weekend, crowds from the villages nearby line up the entire route of the Yatra. They are here to catch a glimpse of Rahul Gandhi – groups of women holding up thalis to perform his aarti, to anoint and welcome him to their homeland. When he passes, however, they remain to greet the other yatris in a show of hospitality that is both tender and endearing. They generously offer water to the visitors, put up cultural performances – sometimes dancing with their lezims and playing the dhol tasha, sometimes dressing their kids up as leaders of the freedom movement, sometimes singing patriotic songs to welcome us pilgrims. Maharashtra's kindheartedness is on bountiful display.
This magnanimity, however, does not end at their front door. As the day progresses, some women yatris must use a restroom. They knock on a random door and are welcomed in to use the domestic facilities. This seems almost foreign to townspeople like me, brimming with suspicion and cynicism, who attach metal grills to our home's open windows to ostensibly fortify ourselves from the elements outside.
I walk the Yatra with a rainbow flag as long as my frame, tied like a cape upon my back. This flag with six colors is the international symbol of the LGBTQ community, of the diversity of our gender and sexual experiences as human beings. Yet, as a lyric in the Bharat Jodo Yatra song suggests, India's diversity also makes us a "rainbow nation". The rainbow flag also stands for the beauty that emerges when we overcome our differences and walk together. Wearing the flag on my body is simpler, and makes my journey far easier than mounting it on a stick and holding it in my arms, like some other queer friends did on other legs of the Yatra. Over time, the flag becomes a part of me.
Many fellow yatris who pass me by know what the colors symbolise. To my pleasant surprise, some of the local youth from Buldhana too know what struggles it represents. (Perhaps my surprise indicates my own innate prejudice and arrogance about what the youth of Vidarbha might or might not know.) Some give me a thumbs up as they walk ahead. A crew of documentary filmmakers ask me why I'm wearing it. I tell them, like all flags, this one too carries hope – a thing that is difficult to find, and yet impossible to live without in times like ours.
Many children on the way are amused at the sight of a squat, rotund guy like me wearing a rainbow cape. They assume I've dressed up as a superhero, and scream, calling me Superman, Batman, Shaktiman, and most charmingly, "Jadugar" – a magician. I squeal those appellations back in a fun game of back-and-forth with them. I allow them their fantasy; it is not my place to speak to children about my queer identity, to explain to them what the rainbow flag actually is, without their parents or guardians present. When adults, who are unaware of what the colors symbolize, ask me, I explain to them what diversity is contained within this simple piece of cloth. I ask them if they know people like me in their neighborhoods and villages. The answer is almost always a resounding yes.
At some point during the Yatra, ahead of Matargaon Budruk in Buldhana district, a group of us queer friends have the chance to meet and walk with Rahul Gandhi, because of the extraordinary efforts made by Chayanika Shah, a queer feminist activist from Mumbai. The security cordon around him is huge and intimidating. He walks at a fast pace. Many yatris are simply attempting to enter the cordon to shake his hand or say hello to him. Others call out to him from the outside, as he walks. He is gracious. He smiles and waves as he speaks to the diverse citizens that his staff bring into the cordon to meet him. He is hesitant to meet the men within our group, since it is his grandmother Indira Gandhi's birthday and he has vowed to speak exclusively to women that day, but he makes a noble exception and engages with us too. We are surrounded by accomplished young leaders of the Congress: Jothimani of Tamil Nadu, as well as Praniti Shinde and Varsha Gaikwad of Maharashtra, who pull us forward and help ensure the conversation occurs.
Rahul Gandhi's mind is curious. What are the disabilities that queer people in India face? Why is it that Indian families reject their queer children, especially those that are transgender? What really is behind the mindset that holds on to so much prejudice? I am unable to give him an answer that incorporates the truth of every queer story I know, so I only tell him mine. He listens. Without anxiety, without interruption, with an immense, patient empathy. I notice the tilak on his forehead. Assuming it to be from the samadhi in Shegaon, I tell him why I love the saint Gajanan Maharaj. We converse about food, taste, caste, life, history, meditation, and faith. We speak about his friend Sachin Rao, the head of Training for the Congress, who has begun transforming my life and is helping me grow into a better politician. He offers my brother Yuri a toffee, which thrills him immensely. Rahul's simplicity and straightforwardness are winning me over.
Between the two legs of the day's walk, it is time to recharge and rest. A huge tent with nourishing, delicious food for the yatris is set up by the local Congress organisation. Another tent filled with mattresses and pillows lets us catch a brief nap before we head out on the road once more in the afternoon. Before it is time to walk again, I meet Sachin Rao briefly in his tent. To my surprise, he isn't resting, but reading. He is one of over a hundred yatris who will walk from Kanyakumari to Kashmir. He is doing so barefoot. I don't quite understand this asceticism that is so harsh upon the body. Yet my own feet, padded by the best sports shoes in the market, have already developed blisters like the feet of many other yatris have. Perhaps Sachin has made the wiser choice by stepping out of the cycle. It is 3 p.m. and time to walk again. He parts with a goofy smile that will sustain me for the rest of my trek. I cup his face in my palm, and head out of the tent. On the road, I hear the great Husain Dalwai, former Congress parliamentarian, aged 79, raising slogans to bolster the yatris' spirits.
On the Yatra, on both sides of the roads between villages, we encounter field upon endless field of the local Kharif crop, that will soon be harvested. This is a deeply moving experience for me, ingrained as I am into the ways of the city. On one side of our path, the white fluff of young cotton stands up aloft from above the ground. On the other, the yellow blooms of tur dal bristle in the wind. This is where my clothes might come from, I imagine. Along with the pulse that is indispensable to most Indian kitchens. On occasion, local vegetable patches and even the odd organic farm make an appearance.
I think about the labour that helped sow this crop, the farmhands that would help harvest it soon, many of whom are also walking beside us on the Yatra. Some local farmers in Buldhana tell me that they have been blessed with good weather, but excess rain in some parts of Khandesh and in eastern Vidarbha have ruined the tur. India's farmers have faced the worst assaults on their livelihood in the past few years. The inequities of climate change – with altered weather patterns and more intense rainfall – as well as government apathy will only make their situation worse.
Many Indians who survive outside the structure of agricultural production, too, step out to support the Yatra. In Jalgaon Jamod, I speak to a group of Dalit women, who are worried about rising prices and unemployment. They quote the cost of cooking oil, of jowar to me. They ask me what the meaning of a worker without work is.
Even as we attempt to outpace and remain ahead of Rahul Gandhi's huge security convoy and the crowds that surround him, its momentum quickly overtakes us, the humbler-paced walkers among the yatris. Eventually, the dust that accompanies the onward march of such a horde passes by. A bullock cart loaded with people and produce ambles on. I struggle to tread along. Santra Pardhi, an Adivasi activist sees me flounder. Almost as encouragement, she raises her palm and says, "Nafrat ki lathi todo, aur Bharat Jodo." ["Break the baton of hatred, and unite India!"] I raise my own palm to meet hers.
Now, at twilight, it is just the solo yatri or smaller groups that walk this open road. The sun is about to set. The Satpura mountains that rise high to the north, on the border between Maharashtra and Madhya Pradesh, are in sight. Some local bikers offer me a precious pillion ride to help me get to the evening rest stop. They are flummoxed, when I, burdened by severe self-doubt about my ability to complete the day's route, and clearly dragging myself along, decline their aid and say that this last mile is the best part. It is evidence that no matter how uphill, the task can be done. It turns dark quickly. There are no lights on the highway, and I have only my feet to guide me and keep me on the tar. Right before 7 p.m. I hear the faint strains of the National Anthem in the camp in the near distance. Rabindranath Tagore's tune lifts my bruised, damaged feet across the finish line. Over two days, I clock over 35 km, but as the various human intimacies on this long road teach me, the Yatra is more about the journey than the walk.
(This essay first appeared in Marathi in the quarterly journal Sarvankash; the author is an
AIPC office bearer and also a member of the Congress party)