It appears that tragedy and natural disasters also are occasions for the Sangh Parivar to spew venom and engender division. Social media trolls and hate mongers owing allegiance to the Sangh have, over the past few days, been dishing out hatred instead of empathy. Sample this tweet:
Even nation-wide, apart from Kerala, there have been calls by Sangh Parivar allies to refrain from making donations to the Kerala flood disaster relief fund. However, a temple trust in the state decided to donate its entire treasury collections to the rehabilitation project. Keezhillam Kaniyasseri Vishnu temple of Eranakulam defied this hate mongering: A prominent temple trust's decision to make donations is considered was a befitting response. The head priest Anil Divakaran Namboothiri officially handed over the entire amount to the relief fund.
The campaign initiated by extreme right-wing groups had aimed at isolating the state, especially the Chief Minister's Relief Fund, by urging the public to hold back from aiding the affected, claiming that they deserve it. "Don't donate any money as it will not be used for relief work. It will be used against our country by these leftists by giving it to naxals and JNU Tukde-Tukde gang. Find some other way to help Keralites, not by donating to @CMOKerala" said a tweet circulated by the Sangh Parivar allies.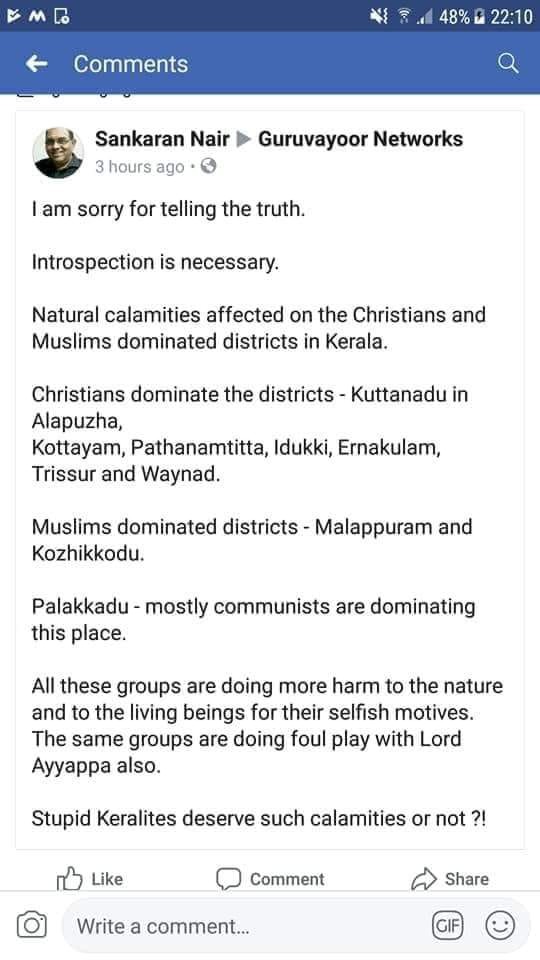 Another tweet went a step further and made an outlandish statement that the natural calamities affected only the Christian and Muslim dominated districts of Kerala. It went on to say that these affected groups are those which engage in foul play with Lord Ayyappa and 'stupid Keralites' deserve such hardships.
Hate Speech
Another tweet (image attached said) "People has taken things in control irrespective of certain jihadees creating mess by lamenting over it. They( people) boisterously welcome the goddess of water when each of the shutter is open. And army also reached yo save everyone…And the jihadis who expected the worst has become disappointed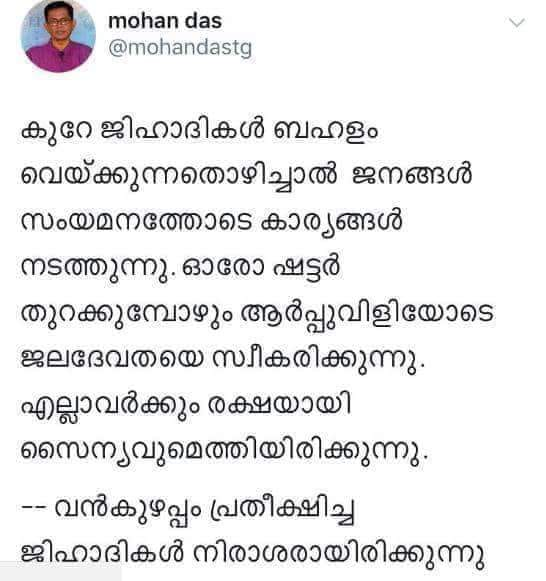 Generous Relief from South India
After the Chief Minister announced the Chief Minister's Distress Relief Fund on Friday, several celebrities from the South Indian film industry came forward with donations and appealed to everyone to help in any way they can. The Association of Malayalam Movie Artists (AMMA), actors Kamal Haasan, Surya and Karthi have contributed a significant sum to the CM's fund. AMMA has donated Rs 10 lakh and Kamal Haasan donated Rs 25 lakh. Surya and Karthi have contributed a total of Rs 25 lakh.
Working President of the DMK, MK Stalin has donated Rs 1 crore and well known business Yusuff Ali M.A of the LuLu group Rs 5 crores. South Indian states have been generous in their contribution..Karnataka has also contributed 10 crores.