Recently a meeting had been called by TRIFED (Tribal Co-operative Marketing Federation of India) with two reportedly RSS-affiliated organisations, Akhil Bhartiya Vanvasi Kalyan Ashram and Sahakar Bharati. However, the two organisations have raised objections against a letter issued by a senior officer of TRIFED. The letter identified these organisations as "political" bodies, and resulted in officials avoiding a meeting called by TRIFED Chairman Ramsinh Rathwa. Ramsinh Rathwa is from Gujarat and a politician, elected 3 times according to Data is Info, and belongs to Bharatiya Janata Party.
According to Indian Express, the meeting was originally convened to discuss the implementation of the Pradhan Mantri Janjatiya Vikas Mission (PMJVM), focusing on tribal welfare. However, the TRIFED Chairman's invitation to the Vanvasi Kalyan Ashram and Sahakar Bharati was met with resistance due to concerns about the organisations' political affiliations. Amit Bhatnagar, General Manager of TRIFED, responded to Rathwa's invitation, stating that participation in a meeting involving organizations with political aspects contradicted government service rules, which mandate political neutrality.
The minutes of the meeting reflected discussions about potential collaborations between TRIFED and the two organisations, both of which are described as NGOs engaged in social activities.
Under the 'Unnat Bharat Abhiyan' by the Ministry of Education, the ministry was aimed at connecting IITs and IIMs with rural and tribal development. However, at the meeting held on March 28, representatives from the Vanvasi Kalyan Ashram and Sahakar Bharati attended, alongside Chairman Rathwa. Notably absent were other TRIFED officials, highlighting the gravity of the issue.
Expressing their dissatisfaction, Sharad Chavan, the Vanvasi Kalyan Ashram's main liaison with the government, and D N Thakur, Sahakar Bharati's national president, expressed concerns over the characterisation of their organisations as political bodies. They sought clarification on future talks with government officials, prompting Ramsingh Rathwa to reveal that service rules had prompted Bhatnagar's decision to exclude them due to their political association.
The dispute escalated in the following months. The Vanvasi Kalyan Ashram sent a legal notice, challenging its classification as a political organisation and demanding the withdrawal of Bhatnagar's letter. Sahakar Bharati's Thakur also criticised the labeling and stated their commitment to their cause.
Thereby, in response to mounting pressure, Bhatnagar sent a letter on July 22 to withdraw his earlier communication, acknowledging the miscommunication. Nevertheless, the controversy remains unresolved, with the two organisations intentions and work coming under scrutiny.
What is TRIFED?
According to TRIFED's official website, the Tribal Co-operative Marketing Federation of India is a significant national-level cooperative entity that operates under the administrative jurisdiction of the Government of India's Ministry of Tribal Affairs. The foundation of TRIFED dates back to its establishment under the Multi-state Co-operative Societies Act of 1984, initially falling under the purview of the former Ministry of Welfare. However, it eventually transitioned to the Ministry of Tribal Affairs.
The core of its mission, according to the organisation, is the upliftment of marginalised tribal communities. TRIFED started by initiating the procurement of tribal art and craft items back in 1999. This endeavour found expression through its retail platform known as "Tribes India," which has since been a valuable outlet for these unique and culturally rich creations.
Do the two organisations have any "political link"?
According to Akhila Bharatiya Van Vasi Kalyan's website, it is a non-profit, and "the main objective of VKA is to eliminate the chasm between Hindu community and their Vanvasi brethren with affection and good faith. It will certainly help in developing a sense of belonging, among the Vanvasis."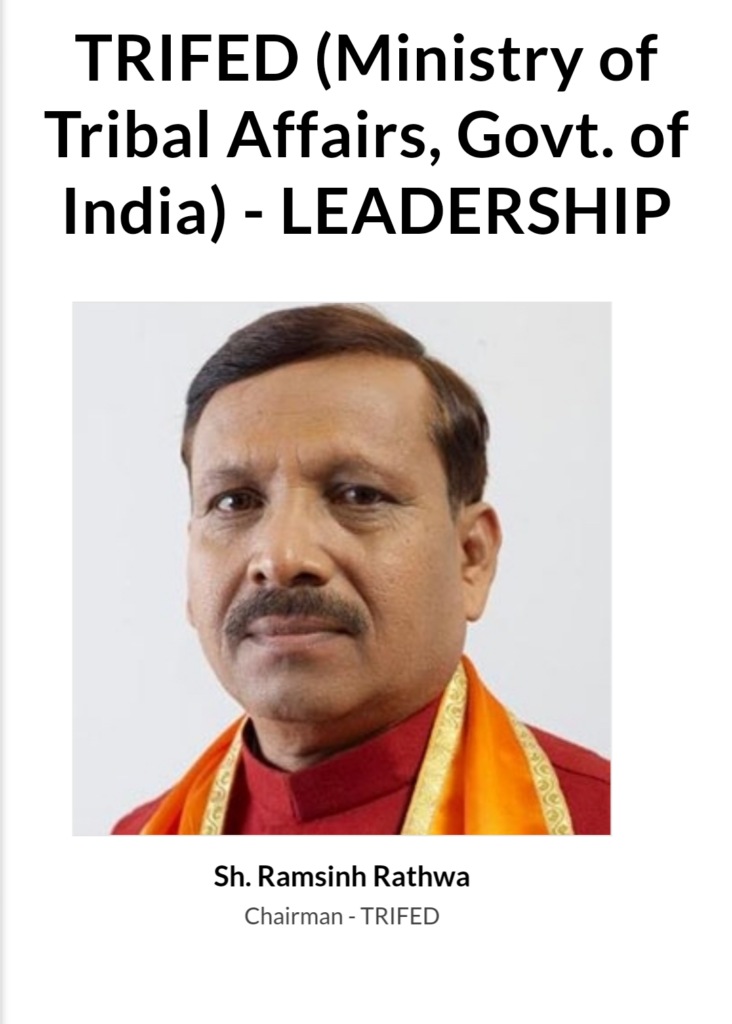 The organisation was founded for commitment to "tribal residents of India since 1952." However, its links with the RSS have been widely known. Here is a tweet from an account that claims to be the organisations official Twitter with a photo of its founder, who has been a Sarsanghchalak of the RSS.
समाज के अपेक्षित घटकों में जाकर निरपेक्ष भाव से उनकी सेवा करने के लिए लाखो स्वयंसेवकों को प्रेरित करने वाले तृतीय #सरसंघचालक स्व. बालासाहब देवरस जी को उनके स्मृति दिवस के अवसर शत शत नमन। pic.twitter.com/m2MmNqIQZE

— Akhil Bharatiya Vanvasi Kalyan Ashram Bharat (@abvkaorg) June 17, 2023
The organisation also mentions the presence of tribals in Hindu religious texts, "The Vanavasis find a mention in all ancient scriptures/literatures of our nation. In Ramayana, there are several references like Shabari, Baali, Sugreev, etc while Mahabharata has references of Eklavya, Barbarik, Ghatotkacha etc." Founded in MP in 1952, the organisation now claims to have a wing in "every state which has a tribal population from 1978 onwards." The organisation claims amongst its main visions, "To eliminate the chasm between mainstream Indian community and their tribal brethren through social assimilation." It also claims that of its objectives was "counter the appeal of Christian Missionary schools in tribals." Similarly according to its website, the organisation was inaugurated by then RSS chief MS Golwalker.
The organisation also has an affiliation with Ekal Bal Vidyalaya schools, as per its website. According to International Policy Digest, the Ekal Vidyalaya Foundation of USA, which is directly associated with the RSS, received loans totalling $70,000. A committee report from 2009, established by India's Ministry of Human Resource Development, stated that Ekal Vidyalaya-run schools in India had the primary focus of spreading communal disharmony and inculcating a fundamentalist political ideology.
The report further noted their role in creating enmity among communities based on religion.
Sahakr Bharti's opening page on their website holds a photo of CM Yogi Adityanath and Home Minister Amit Shah at an event the organisation. The organisation also boasted of having, 'Vakil Saheb' or Laxman Rao as its mentor and founding members, according to its website.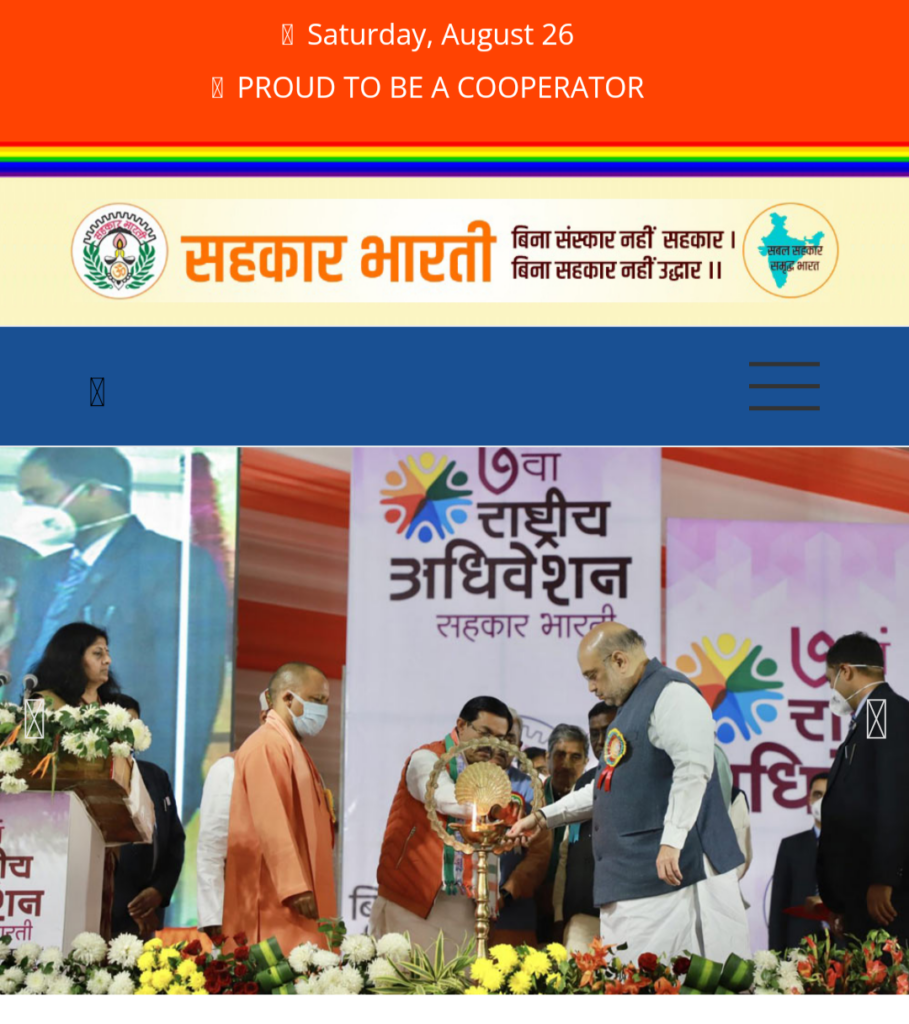 One of its other founding members, Satish Marathe's X, formerly Twitter, profile expressed vivid supposed to the RSS.
स्वतंत्रता दिवस की सभी देशवासियों को हार्दिक शुभकामनाएँ।

"15 अगस्त, 1947 को हमको स्वतंत्रता मिली। अंग्रेजों से हमने अपने देश को अपने हाथ में ले लिया। यह हमारे लिए गौरव का क्षण है और हमारे लिए संकल्प का भी क्षण है। यह यकायक नहीं हुआ। हमने लिया, किसी की कृपा से नहीं मिला, लंबा… pic.twitter.com/eoB5Nu3mJN

— RSS (@RSSorg) August 15, 2023
Both organisations use Vanvasi as a term for tribal populations. Vanvasi, literally forest dwellers, is a term generally known to be used to refer to Adivasi or tribal population in religious texts like the Ramayana. Vanvasi is also a term that has been repeatedly used by the BJP over other terms of reference. In 2022, Congress MP Rahul Gandhi criticised the BJP for using Vanvasi over Adivasi, stating that the BJP's usage is a distortion of history as it restricts tribal population to the 'jungle', whereas the term Adivasi asserts that they are owners of the land (India).
This is not the first time TRIFED has been in the news. In August 2020, a controversy brewed around a set of discussions TRIFED partnered with the IIT's and IIIMs. The webinars offered under this initiative at IIT campuses sparked controversy due to speakers allegedly promoting the RSS and BJP's perspectives.
According to The Print, IIT-Delhi, the leading institute for this campaign, partnered with TRIFED to uplift tribal livelihoods. These discussions, aimed at students from prestigious institutions, covered topics such as 'Urban Naxals' and religious conversion. Swadeshi Vigyan Abhiyan, another organisation alleged to be affiliated with RSS, joined hands with IITs and TRIFED for these webinars.
While critics claimed that there was an attempt to impose the Sangh's ideological influence, IIT management's retorted that they invite domain experts regardless of their beliefs.
As the controversy raged on, the underlying question remains why such groups that have affiliations with groups like the RSS, Ekal Bal Vidhaya –that are supremacist in their ideology, claiming identity subversion of Adivasis who pre-date Sanatan Hinduism, and who have been known to sow communal sentiments and seem to clearly have objectives that cannot be categorised as neutral, are invited to collaborate with government bodies wedded to the Indian Constitution?
Related:
Only 8 states use the Institutional Support for Tribal Produce scheme
Delhi: SKM, Central TUs Call for end to 'Corporate-Communal Nexus', 'Oust BJP'
Odisha Government removes "deemed forest" provision
UAPA slapped on activists of Niyamgiri Suraksha Samiti: Kahalahandi, Orissa