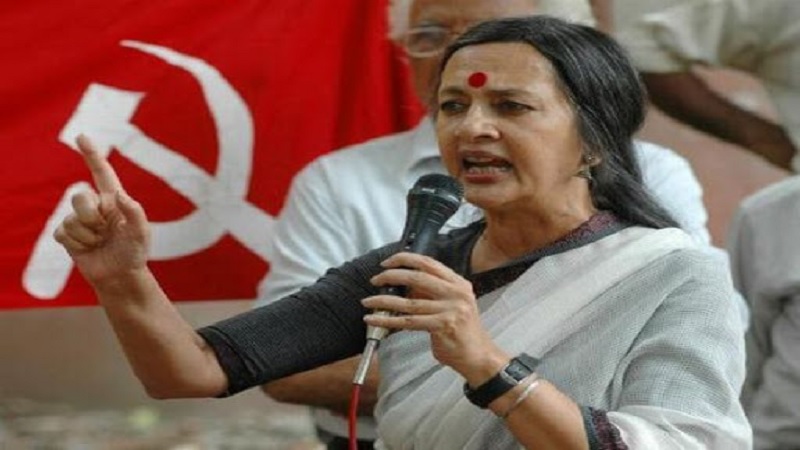 Image Courtesy:muslimmirror.com
"The ruling is surprising and disappointing," stated CPI(M) Polit Bureau Member, Brinda Karat, in reaction to the hate speech case against Bharatiya Janata Party politicians Anurag Thakur and Parvesh Verma being dismissed by a Magistrate Court in Delhi. In January, Karat had filed a complaint against the hate speeches made by BJP leaders Anurag Thakur and Parvesh Verma and asked Delhi police for filing a First Information Report (FIR) under relevant sections, including Sec 153 a IPC. After the Police refused to respond, an application was filed in the appropriate Magistrate's Court, as per procedure.
Karat states that "the court heard full arguments from our side as the complainants, as well as from the Delhi Police who argued that no cognizable offence was made out. Judgement was reserved but since others went to the High Court it was delayed. Now that HC asked the magistrate to dispose of the application, at this stage to rule that prior sanction even to direct registration of a FIR is required under Section 196 of CrPC is most surprising. The police had not raised this objection. Why hear arguments on merits then? Why not hold this at the threshold in February?" She has called this an "unfair judicial process which has resulted in excusing those who make hate speeches even where there is prima facie evidence."
The Additional Chief Metropolitan Magistrate Vishal Pahuja dismissed Brinda Karat's application on a technicality. It was noted that for prosecution of the respondents, who are Members of Parliament, the prior sanction of the Central government, was required under Section 196 CrPC.
According to a news report in the Indian Express, during arguments, Karat's legal team was asked if they had procured sanction, they replied in the negative, and the court noted: "Admittedly, there is no previous sanction obtained by the complainants from the competent authority to prosecute the respondents for offences alleged in the complaint. Hence, in view of the settled position of law… the complaint deserves to be dismissed for being not tenable in the eyes of law. Accordingly, the same stands dismissed."
The news report added that the counsel for the complainant had argued that "sanction is only required before taking cognizance by the court and not before passing of order of registration of FIR…"
Related:
Delhi HC again adjourns petition about police accountability for 'indiscriminate'
Delhi violence: LG order appointing MHA picked officers way to defend the
Is Delhi Police hiding key information, documents of riot cases?
Brinda Karat files police complaint against IPS Nageswar Rao