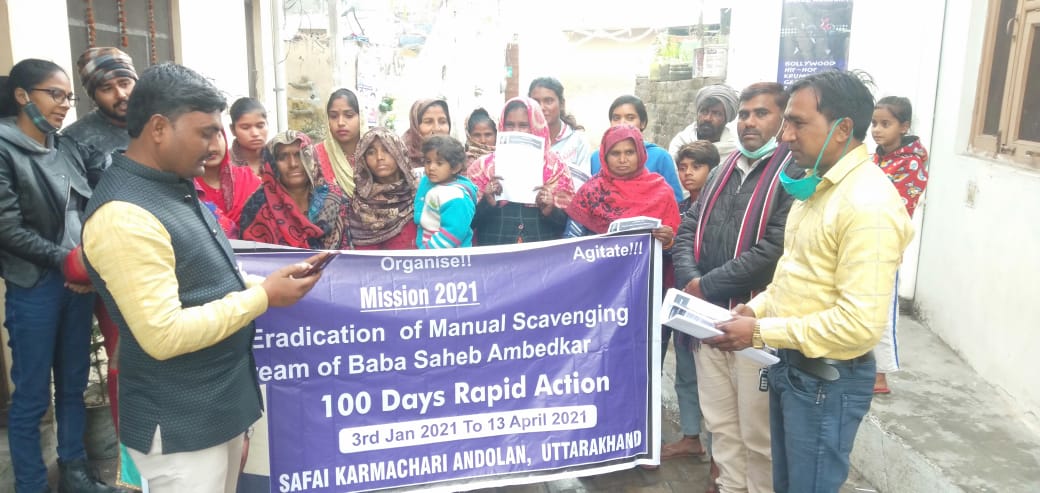 The Safai Karamchari Andolan (SKA) has started a hundred-day campaign at Bhagwanpur Uttarakhand, to put an end to the inhuman practice of manual scavenging. They plan to take this campaign to seven states and their primary focus is to bring an end to dry toilet, which unfairly and disproportionately affects Dalit women.
The campaign was announced by Safai Karmachari Andolan concvenor Bezwada Wilson on Twitter:
Talking to deaf years! Even when a law exists, these women manual scavengers have to resort to submitting memorandum every time to reclaim their dignity! #Mission2021 #EndManualScavengingnow pic.twitter.com/jUNln3jL1Y

— Bezwada Wilson (@BezwadaWilson) January 6, 2021
In a developing nation such as India, not everyone has access to hygienic toilets with flushing capacity. Many people often need to rely on dry toilets (toilets without flushes) to meet their needs.
The hon'ble Supreme Court in Safai Karamchari Andolan And Ors vs Union Of India And Ors (2014) held that there are 96 lakh dry toilets in India. These are the figures of 2014, when the government's Swach Bharat Abhiyan (SBA) was only in its initial stages. This scheme incentivised rural areas to set up more toilets; however, due to lack of infrastructure, they could only set up dry toilets.
Here lies the irony of the SBA campaign, while it assures dignity to women by providing them with a toilet, it takes away the dignity of Dalit women who must clean these washrooms with their bare hands. The burden of cleaning dry toilets unfairly falls on women because these toilets are typically within households.
A report by the International Dalit Solidarity Network reveals that 95-98 percent of manual scavengers in India are women. This insidious practice robs women of all their dignity and reputation in the society, as members begin to shun them and tacitly declare them as untouchables. Along with this, the report also stated that women performing these tasks are sexually harassed by upper caste and even lower caste men. Moreover, unlike male manual scavengers who are paid Rs. 300/day, women are only paid Rs. 10-50/day.
Women carry human excreta, from dry toilets to the disposal areas, in buckets which they carry on their heads and hips. When it rains, the excreta drips from the buckets onto the women's clothes and their face. Baby, from Madhya Pradesh told Human Rights Watch, "I was 15 or 16, my sister-in-law and I cleaned toilets in 100 houses. I carried the basket on my head and during the rains it would leak all over my body. My hair fell out in patches. No one helped me. They ridiculed me."
Such abject humiliation is still a secondary concern, because human excreta carries dangerous viruses such as Hepatitis A, E. coli and Rotavirus. Which causes death in early 40's in the manual scavenger community. Since manual scavenging falls under the informal sector, women find it difficult to enforce rights such as maternity leaves. Kiran, a manual scavenger, told the Human Rights Watch, "I was three or four months pregnant. There was no one to help me carry the heavy baskets. We that had to collect the feces, carry it on our head and our hip, and then go and throw it somewhere else. Because of that reason my baby miscarried."
This barbaric practice eventually locks Dalit women of every generation into its evil tentacles. The burden of cleaning toilets is passed on to younger women within the family and any reticence, would instigate a social boycott by their villagers and even the family.
The discrimination faced by the women doesn't stop at them, it goes to further haunt their children. Moreover, children from these families rarely get education, even if they do, they are forced to sit separately from the other students and have minimal interactions with the other kids because of the fear of getting polluted. Worse, many children are forced to clean the washrooms at their schools. Such humiliation causes children to undergo severe mental trauma which eventually leads to them dropping out of school and giving up on their dreams of becoming doctors and scientists.
Seema, a mother from Madhya Pradesh, told Human Rights Watch, "I learned my daughters were being made to sweep the floors in school. I went to the school and asked why my children were being made to sweep. First, the teacher said "They are not being singled out." Then, she said, "What do you expect? Your caste is responsible for this work."
The existence of such a task itself is an affront to the dignity of mankind at large and makes one wonder, whether humans are truly developing or is it just the 'upper-castes' and privileged people who are enjoying the fruits of development?
Forcing women to do such tasks clearly violates article 14 of this constitution which promises not only equality, but also equity. Women who are forced to do such tasks are not given adequate pay, education, basic amenities, and healthcare. This forces them to continue doing what they are doing and are robbed of the chance to lead a better life. Articles 15 & 17 of the Constitution are also violated as there is sufficient evidence to prove that manual scavenging only propagates discrimination and untouchability. Further, it also violates article 21. In Kharak Singh v the State of Uttar Pradesh and Others it was held that "life" doesn't mean mere animal existence, rather it means a life with dignity.
Existence of manual scavenging also violates numerous international conventions such as articles 1 and 23 of the Universal Declaration on Human Rights which mandates States to uphold dignity, equality, fair remuneration and social security for all human beings. It also violates International Labour Organization's conventions such as the Forced Labour Convention, 1930 (No 29) and the Equal Remuneration Convention, 1951 (C100).
The campaign taken up by Safai Karamchari Andolan is a noble one, and the State ought to support this initiative and it must also take up the additional responsibility of sensitising the masses on the evils of untouchability and caste-based discrimination. For ending dry toilets, won't resolve this complex issue by itself.
Related:
Manual Scavenging: Why the gov't's conscience is not clean about the Swachh Bharat Mission