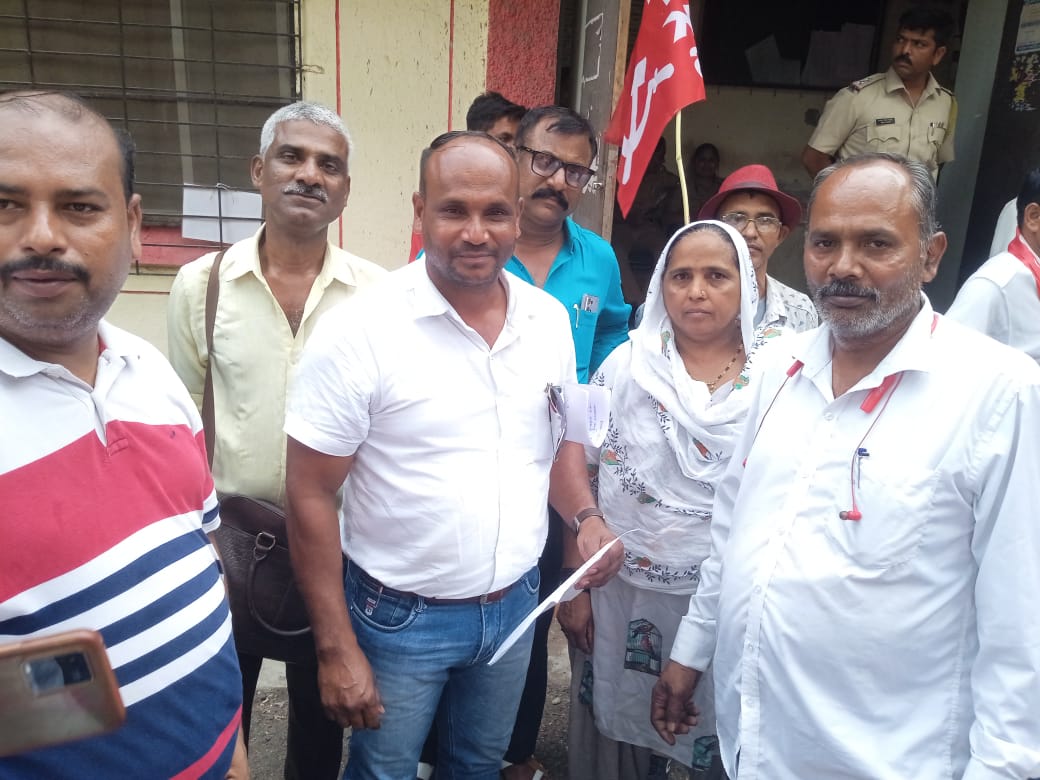 On March 13, the Safai Shramik Union wrote to MLA Vinod Nikole, CPI(M)), highlighting the lack of legal protection afforded to the Valmiki Samaj, which traditionally indulges in sanitation and cleaning work in our society, and demanded that a new legislation be drafted to establish and protect sanitation workers' rights. The letter emphasised the ill-treatment of sanitation workers by moneylenders and contractors, who treat the workers like slaves and even use casteist slurs. Workers face threats of termination because they have no job security, even after working for the same people for the last 10-15 years.
A sanitation worker (or sanitary worker) is a person responsible for cleaning, maintaining, operating, or emptying the equipment or technology at any step of the sanitation chain. Presently, labour laws –recently truncated into labour codes—are supposed to, but have been found wanting to address needs of workers in workplaces. For example, it is mandatory for factories to have separate latrines and urinals for men and women under the Factories Act, 1948.
For the worst of the jobs in this sector, manual scavenging, a central law already in place that is meant to protect the rights of manual scavengers who use buckets and brooms to clean human excreta is presently completely ineffective, with the Indian Railways as the greatest violator. This law, the Prohibition of Employment as Manual Scavengers and Their Rehabilitation Act, 2013, ten years down lacks implementation. According to Section 2(g) of the latter Act, the definition of Manual Scavenger was expanded to A detailed look into the jurisprudence governing manual scavenging, researched consistently by Citizens for Justice and Peace, can be accessed here.
Furthermore, this letter of the Safai Shramik Union, drew attention to the lack of support shown by police, who refuse to file complaints or take action, making justice inaccessible. The letter also describes how, despite legal prohibitions, manual scavenging has continued in our country, providing a way for the community to earn money and make ends meet. However, as this work becomes more mechanical, the community is facing an abyss of unemployment. This community is now buried under debt from private moneylenders as it suffers from the taint of unemployment and gross ignorance.
The letter likewise points out the sanitation workers' inability to advance due to a lack of government and cooperative facilities, as well as a lack of education, job security, and financial support. Considering the aforementioned issues, the workers have demanded a law that includes provisions for providing shelter, education, business, job, and respect to sanitation workers, as well as an employment guarantee, so that unemployment does not rise and the practice of contractual work, which is exploitative in nature, is discontinued. The said letter was signed by Santosh Makwana, President of the union, Kuldeep Kagra, General Secretary, K. Narayan, Executive Officer, Rajendra Kumar Kagra, Treasurer, and Raju Laliram Kangra, President, Mira-Bhayander.
The entire letter may be read here: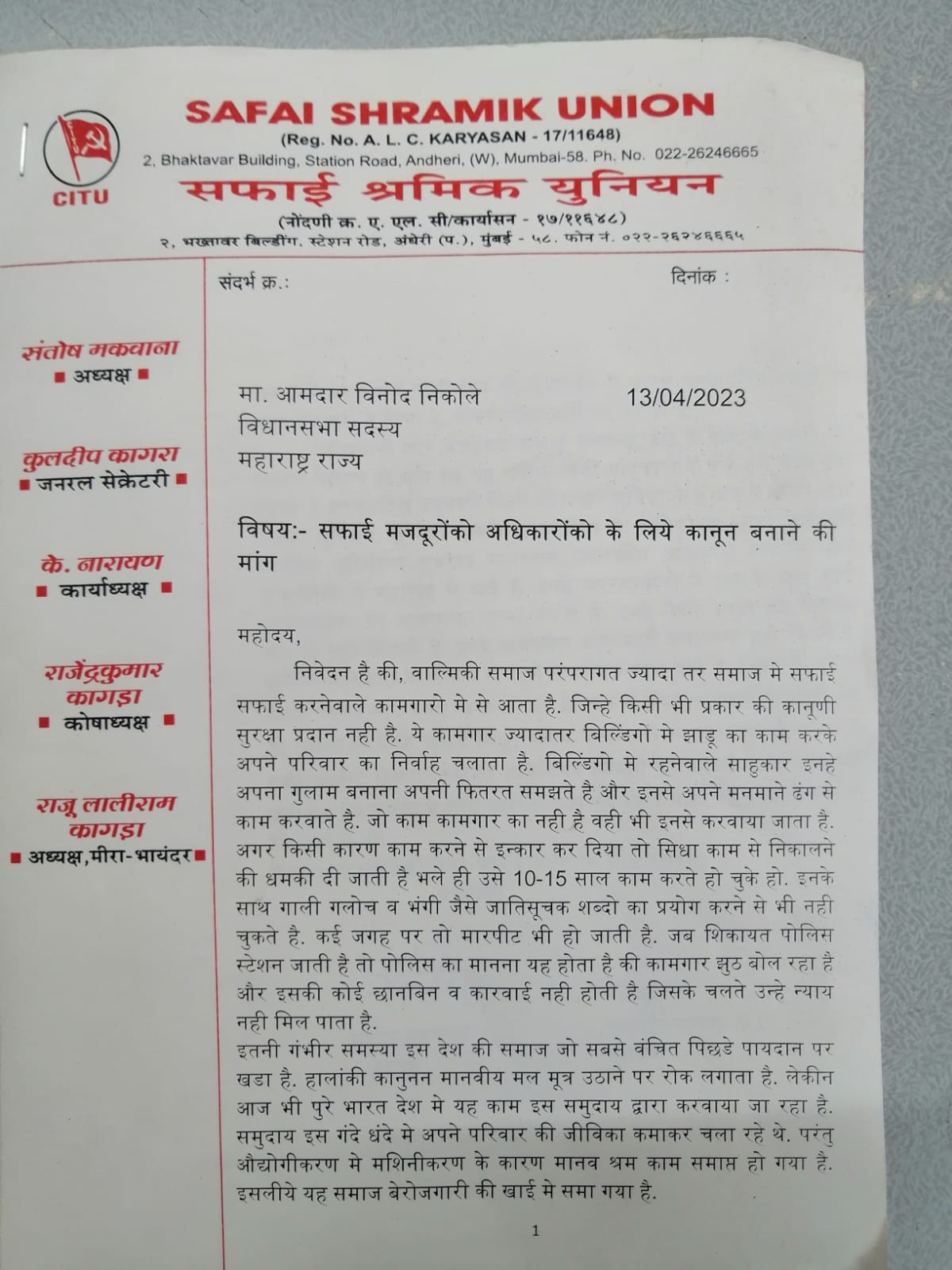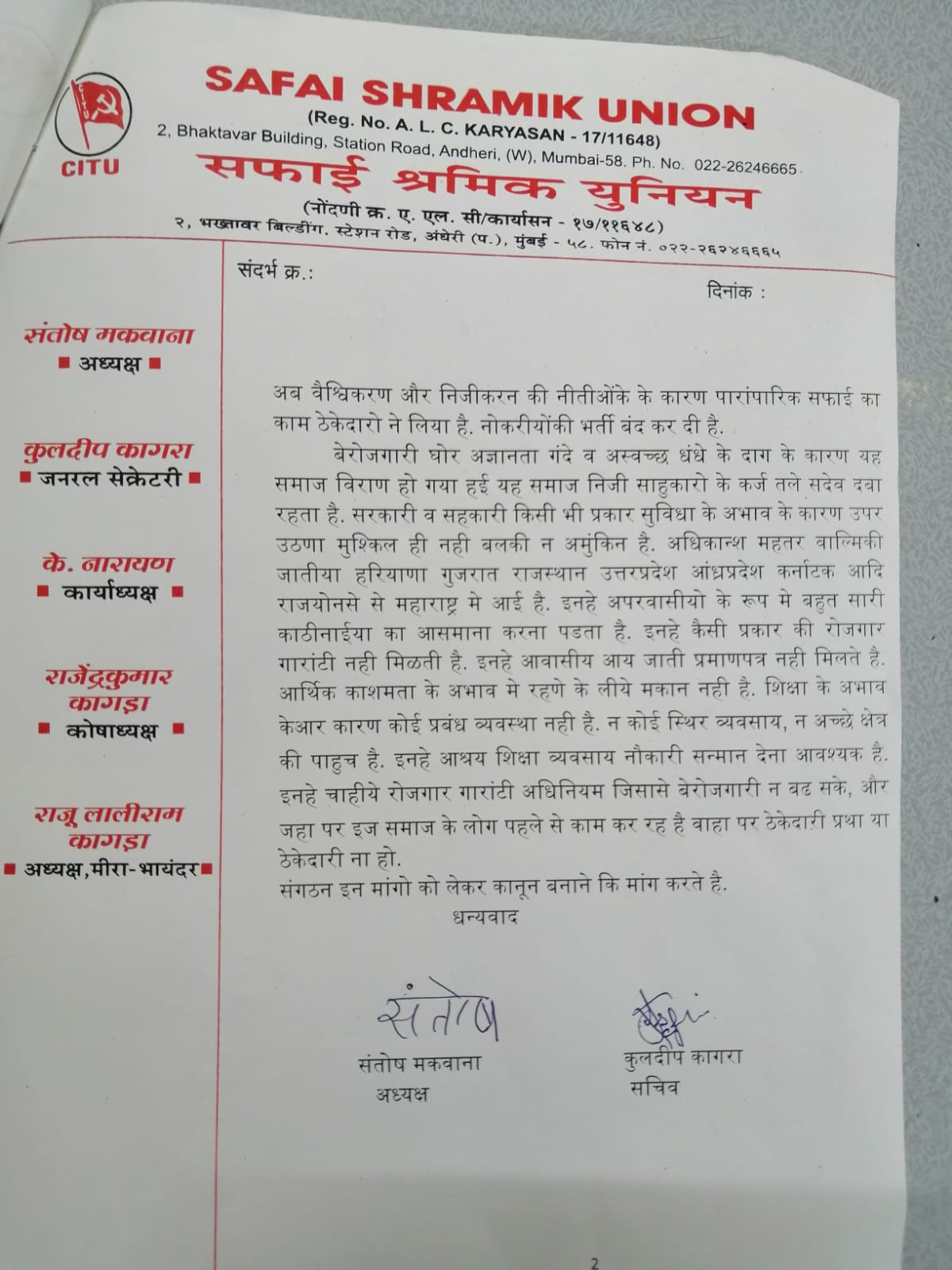 Related:
Anti-Dalit violence all pervasive even in April 2023, #DalitHistory month
March 2023 Round up of attacks on Dalits
How long will Dalits and Adivasis students succumb to violent caste discrimination before effective measures are created?
Dalit MBBS female intern allegedly died by suicide due to caste discrimination
Dalit Sanitation Worker Dies by Suicide in Gram Panchayat Office in Telangana
Courts say, calling a person by caste name is not an offence: Explained
Manual Scavenging continues unabated, Indian Govts turns a deaf ear to acknowledge this systemic, extreme violence