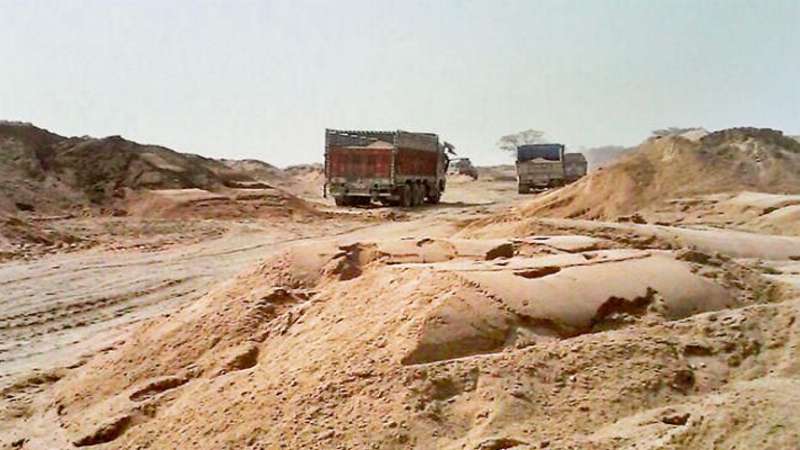 Representation Image
Today, November 6, thousands of sand mine workers assembled at Bheeta Hill, Ghoorpur to discuss the problem of illegal sand mining and the ban on 'boats' on the river bank of Yamuna in Allahabad, resulting in massive unemployment.
The Yamuna valley villages are seething with unrest after the ban which has been imposed in the name of an order from the National Green Tribunal (NGT). While the NGT makes no mention of the stopping of boats, the order clearly mentions the ban on JCB machines.
Yet, giving in to the land mafia, not only has the illegal mining from the river bed mid-stream has not stopped, it has stolen the rights of sand workers while destroying aquatic and biotic life on the embankments. It has not only changed the course of the river but also made its riverbed unstable, thus disturbing the biodiversity of the region.
Several meetings have been held in last few days in Jagdishpur, Kanjasa, Amiiliya, Pratappur, Nanda Pura, Jalalpur, Mainapur, Khurd, Madaripur, Baswar, Palpur, Beekar, Lavain, Dehwa and other villages where sand workers have expressed their anguish on the issue.
The villagers have now called on the support of the All India KisanMahaSabha (AIKMS) in the matter and further their case to the Allahabad administration. The administration has agreed to look into the false charges in cases filed, where workers have been booked for illegal mining and mafia has been spared.
The AIKMS had earlier too sent a detailed report in the matter to the Allahabad Commissioner on December 10, 2018, but has failed to see any progress in the matter.
AIKMS has appealed to the officials to permit sand mining and use of boats, grant permits to boatmen and to not snatch the livelihood of more than a lakh families. The lone lease holder of the area, linked to BJP, is extracting huge profits by charging Rs 6000 for a permit for which he pays less than Rs 600 to the government, the AIKMS has said.
According to the calculation of an officer in mining department, sand mining worth Rs 55,000 crore is done every year in UP, of which 60 per cent is carried out illegally, which means a loss of Rs 33,000 crore.
It has also accused the police has deployed its own persons to extract bribes from trucks and tractors supplying sand.
Related:
"Jaan de dengelekinzaminnahidenge" (we will give our lives but not the land): Sonbhadra
Tamil Nadu Anti-Sterlite Activist Mugilan missing
Journalists labelled spies, illegally detained for probing illegal sand mining