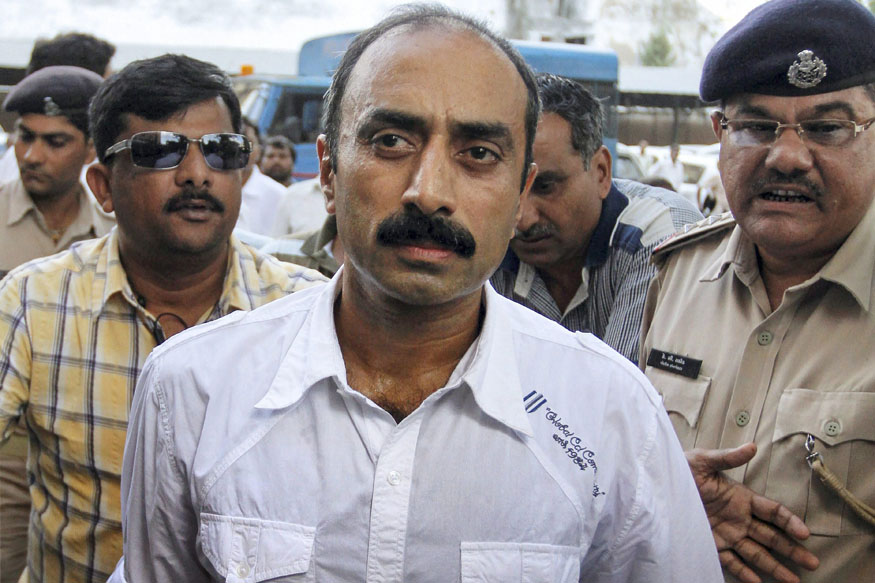 A Supreme Court Bench comprising Justices Ashok Bhushan, MR Shah and R Subhash Reddy granted adjournment for six weeks in a petition filed by former IPS officer Sanjiv Bhatt to suspend his sentence in a custodial death case from 1990, at the request of his lawyer Senior Advocate Kapil Sibal.
According to LiveLaw, Mr. Sibal suggested that it is better for the court to first consider the pending review plea against the June 2019 order which dismissed the ex-IPS officer's plea to examine additional witnesses in the trial. He added that this was a case of "mistrial" and "travesty of justice".
The senior lawyer said, "I am saying that this is a case of complete mistrial because my witnesses have not been called. How 23 witnesses have been examined? I am not on merits at all. I am telling you the procedure adopted. It is binding on every court. Out of 300 witnesses, they called only 37."
LiveLaw reported that Senior Counsel Sibal informed the Bench that the top court had dismissed Bhatt's plea for examination of additional witnesses in June 2019 and that review against that order is pending. He suggested that it is better if the court hears that review first, and considers the present plea in open court.
He argued that the case was related to the death of an accused, who was taken into custody during communal riots in 1990 and that he died several days after he was released from custody. Sibal submitted on behalf of Bhatt, "Five years passed pursuant to the investigation and then a summary report was filed in 1995. I had nothing to do with it then. The Magistrate dismissed it and then the State filed an appeal. I had no role to play in this. From 1996 to 2011, I was not involved. Then suddenly the State decided to withdraw the Application and I opposed it. The Court passed an order saying that there was some political ramification. There was no stay, no delay."
He further contended, "Then the State submitted 300 witnesses. From 1990 to now, I have not got a stay from any court, I had no role to play in any of this. Then at the last moment, the State chose to not show some vital witnesses. I filed an application." He argued that Sanjiv Bhatt was in no way responsible for the delay in trial and the proceedings were stayed at the instance of other accused officers.
Bhatt was sentenced to life-imprisonment by a Sessions Court in Jamnagar in June 2019 for his involvement in the alleged custodial death of one Prabhudas Vaishnani in November 1990. The former IPS officer, who had filed an affidavit in the Supreme Court in 2011 accusing the then Chief Minister Narendra Modi of complicity in the 2002 riots, is currently lodged at Palanpur jail.
In October 2019, the Gujarat High Court had refused to suspend his sentence observing that he had no respect for Courts and had deliberately tried to mislead them and the instant special leave petition filed by him is to challenge this High Court order.
Bhatt, who was sacked in 2015, approached the Supreme Court alleging that although nearly 300 witnesses were listed by the prosecution, only 32 were actually examined in trial, leaving out many crucial witnesses. Three policemen who were part of the team which investigated the offence, and few other witnesses who denied any incident of custodial violence were not examined by the prosecution. He argued that the case against him was a part of "political vendetta".
Groups like the Hindus for Human Rights (HfHR) and Indian American Muslim Council (IAMC) have condemned the harassment and appealed to the Supreme Court to grant him bail, stating that his conviction was wrong and based on fraudulent evidence.
Related:
Indian American groups demand justice for Sanjiv Bhatt
Our father, Sanjiv Bhatt is paying the price for being, honest, upright, courageous: Aakashi & Shantanu
Life sentence for Sanjiv Bhatt in 30 year old case example of state vendetta?